Collinsville man who restored Wild Cherry agrees to plea deal. And he gets to keep van.
---
There's a wild story that surrounds "Wild Cherry", a movie van that made an appearance in the cult classic 1979 movie Van Nuys Blvd. This vintage van was seen cruising on the big screen for a few moments in the B-rated movie that took just 18 days to film. Of course, the van didn't reach the movie car stardom and cult followings such as Eleanor, Bullitt, or Bandit, but it will forever have its few seconds in the spotlight in Van Nuys Blvd. It was the story that followed that made this funky van an internet sensation.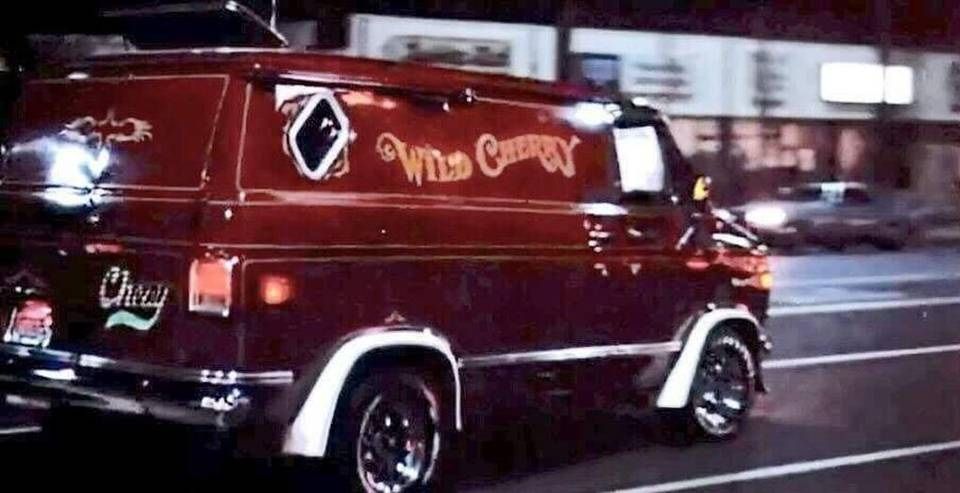 It's safe to say that Wild Cherry has been on a wild ride. An Illinois man named Chris Carter saw a Facebook photo of the 1975 Chevrolet G-10 van covered in rust, and it was an image that stuck with him. In fact, the van had been through two wildfires, and sustained damage from a fallen tree that still rested upon its roof. He then spent a solid year researching its location through emails and messages. Once he located the then-decrepit van, Carter drove 1,900 miles to pick it up in a desolate area of California in November 2017.
"After I saw the picture, I just couldn't get it out of my mind," said Carter, who works at a Gillespie body shop. "To see that van abandoned with a tree on it, and to know its former glory, how nice that it looked, how it was in a movie ... I knew I had to do something."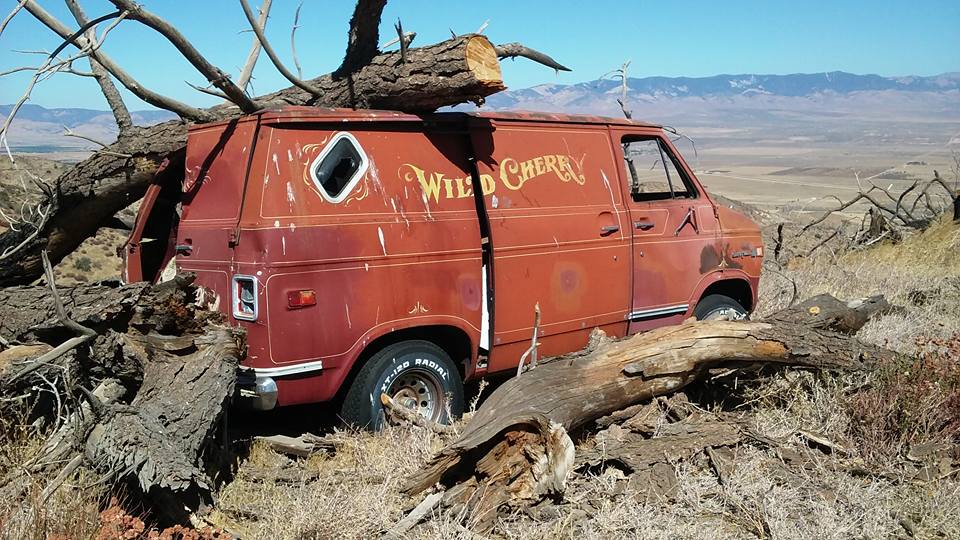 Once Carter had the van in his possession and back home, he went to work restoring it to former glory with the help of donations from a GoFundMe account and selling t-shirts. Carter became a celebrity of sorts during the restoration process. After the restoration was complete, an unexpected turn of events put Carter in quite a jam. On June 25th, 2018, the van's owners, Laura and Steven Godwin, reported Wild Cherry stolen. Once approached about the situation, Carter denied ever stealing the vehicle and said that the neighbors had informed him that it had been "abandoned" as they unlocked a gate to permitting access to the vehicle. That's when he and a friend loaded the van onto a trailer and towed it back to Illinois.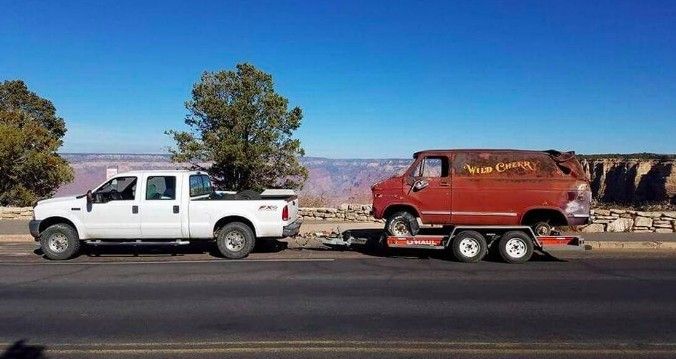 Nick Massalas bought the Chevy van from its original owner in 1977 right off Van Nuys Boulevard. Since naming vans was what people did back then, he almost went with the name Sweet Cherry since he played in a band called Sweet. When his girlfriend was exiting their high school, she was holding a can of Canada Dry Wild Cherry soda, and the name stuck. At 19 years old, Massalas didn't have much money but he did get the van's name painted on the sides and added wheel flares, but they remained white since painting them cost about about $800.
Massalas was out cruising around in Wild Cherry on a Saturday night when the film crew from Van Nuys Blvd asked if he wanted the van to make an appearance in the movie. Of course, he agreed and the van can be seen in its funky glory for about 3 seconds in the movie and in the trailer. In the summer of 1980, he traded in Wild Cherry for a 1957 Chevy and $2,500 cash. He lost track of the van's whereabouts after that.
Steve and Laura Godin purchased Wild Cherry from a neighbor. The van was a present for Steve's 18th birthday when he chose to buy it over a Chevy Nomad. The couple married when they were teenagers and drove the vehicle for many years where it visited Big Sur and Yosemite. They cruised Wild Cherry down that same Van Nuys Boulevard and actually lived out of it for six months at one point. Eventually, Wild Cherry was left in a field at their mountain farm where it suffered decades of neglect including two wildfires and a fallen tree to the roof. Those wildfires also took the Godin's home.
According to Carter, he complied with the state's laws to obtain the van, but the Godin family claims that he had illegally removed the vehicle from their property. According to the Godin's, the van holds sentimental value, and they had planned on restoring Wild Cherry themselves. Despite not being registered since the early '90s, Laura Godin said, "Nobody has the right to go onto anybody's property and do this." She also said that the title was actually inside the van at the time, but after Carter stripped the vehicle down to bare bones that no such title could be found. Even more, Carter says that a vehicle in California must be registered every year, and once so much time goes by without doing so, ownership is lost. "If it's abandoned, the state can impound it and sell it for scrap or whatever." Once hailed a restoration hero, the rebirth of Wild Cherry had the internet up in arms of what was right and wrong regarding the situation.
Carter had started the "Wild Cherry Van Run" where he leads a caravan of vehicles from Illinois to Los Angeles. Once he arrived to Van Nuys Boulevard, Carter and the van disappeared from sight.
In an article posted by Hagerty dated March 28th, 2019, Chris Carter was facing a judge in an L.A. courtroom. At this point, six months had passed since Carter was arrested for theft regarding the '75 custom van. Three postponements were requested by the defense for the two felony counts of driving or taking a vehicle without consent, trespassing misdemeanor of driving onto property, and another misdemeanor charge for dissuading a witness from prosecuting a crime. With all of these combined, he could have received a four-month prison sentence.
One of the misdemeanor charges was added due to Carter suing Steven and Laura Godin. Carter asks to be reimbursed for the restoration, although the van has found vandalized in worse shape than the day he loaded it up on a trailer in California.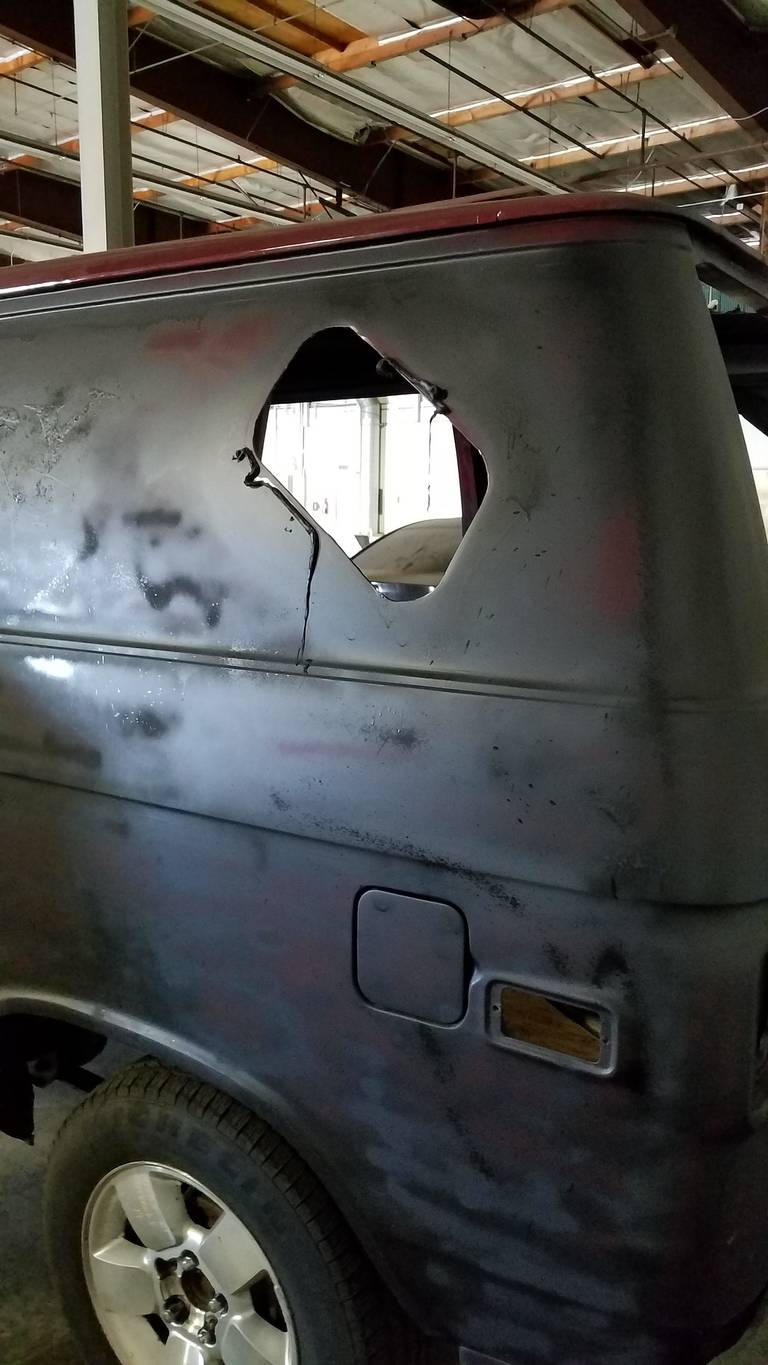 The Godin family says that the reason the van remained in the field was because of the two wildfires that destroyed their home that sat on 20-acre property, so they ended up moving to Burbank. According to Laura, they didn't visit the property very often so they didn't know the van was taken until six months later after it was almost already restored by Carter.
"I did not wait. I called the police as soon as I found out it was gone," she says. "We don't go to the property often—the last time we'd been there was about 2½ years before Carter took the van."
According to Godin, one neighbor watched over their land but had passed away in May 2017 not long before Carter took the van. Also, the vehicle was hidden from sight from anyone driving on the main road. Laura learned that the van was taken on June 1st, 2018, after her son was contacted on Facebook by Carter. Going to the police immediately with the information, she couldn't file an official report unless she provided ownership which had burnt down with their home. Finally a visit to the DMV provided the ownership documentation, and she made an official report on June 25th with the Los Angeles County Sheriff's Department. Also, the neighbor who opened the unlocked gate for Carter was actually reluctant to do so initially and told him to leave. That neighbor went to run an errand and saw that Carter was still there once she arrived back home.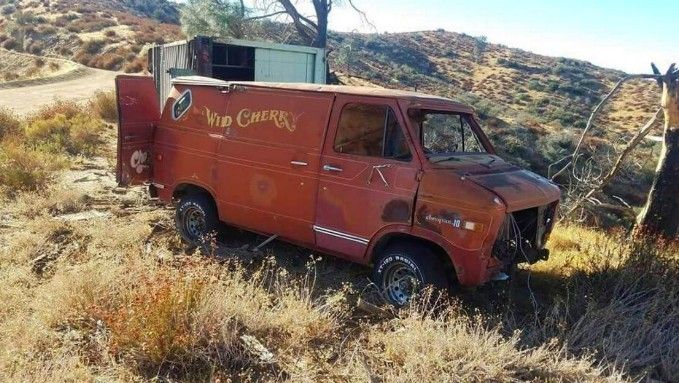 On October 3rd, Carter was arrested in his home state of Illinois and was not cooperative with the investigation. Wild Cherry was nowhere to be found at the time of his arrest. Finally on October 23rd, the van was found, but it was in awful shape, worse than when he came to pick it up that day from California. The van was stripped down and spray painted which undid all restoration work done to it by Carter.
Forced to pay $5,000 in restitution and close to $1,000 to the L.A. County Sheriff's Department for fees associated with towing and storage on the impounded van, Carter was given no additional prison time beyond the 23 days he already served in Madison County after his arrest. He also got to keep the van.
Unsurprisingly, the Godin's were not happy with this sentence. All Laura wanted was to keep Wild Cherry. Now, Carter can restore the van back. Also, as of last year he started making t-shirts to sell on his Facebook page that features the van along with the saying "Drive It Like You Stole It" to help him fund the new restoration.