Bullet holes come standard!
---
Michael Bay's 2003 movie Bad Boys II has some high-action car chases, but the best one features Will Smith and Martin Lawrence in a Ferrari chasing a pack of classic muscle cars through the streets of Miami. One of those muscle cars is this 1971 Chevrolet Nova that still has a unique Hollywood look, and it's up for sale through Streetside Classics.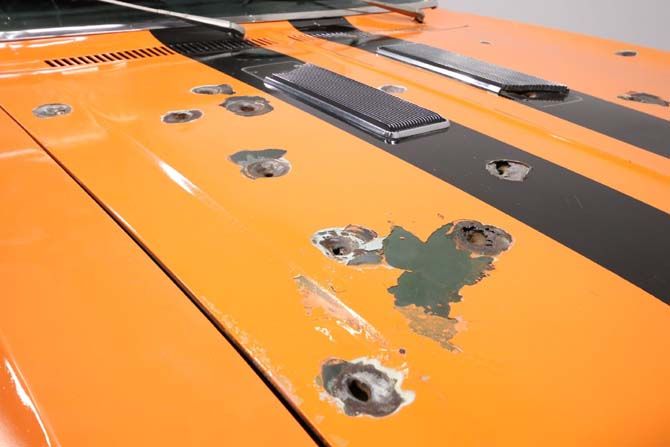 Looking like it actually survived a shootout, this Nova is riddled in holes that are neither CGI or paint. While these bullet holes remain, body damage to the passenger side door and fender have been repaired and with the exception of the windshield, all of the other glass has been removed.
If the bullet holes don't get this car noticed, the bright orange paint job with black racing stripes and American Racing wheels definitely will! Designed to look good flashing across the big screen, the inside of this Nova definitely isn't as flashy as the exterior, and the trunk and undercarriage are both in surprisingly good shape.
Just like the bullet holes, this 1971 Chevrolet Nova packs some real muscle under the hood, although not quite as exciting as the SS 427 badges suggest. Lifting the hood reveals a 383 cubic-inch stroker V8 backed by an automatic transmission, and this car is sure to sound just as strong in person as it does in the movie.
Streetside Classics has this unique movie car listed for $29,995, but you can click HERE to make an offer. To see the Nova in action, check out this video, but beware that there is language and violence that isn't suited for kids and could be offensive to some viewers.