The movie was based on genuine places and faces from actual historic Route 66 that are worth adding to the bucket list.
---
Everyone is familiar with the Disney Pixar movie Cars, a favorite among children and adults alike. The film had us fall in love with the characters that lived in the town of Radiator Springs. I mean, who wouldn't want to hang out with Tow Mater or Filmore?
What some might not know is that the whole movie is actually based on real locations and people along iconic and historic Route 66. Check out these real-life locations and people that inspired the movie and see if you can recognize any of them. If not, it's time to add them to your bucket list.
Cadillac Range / Cadillac Ranch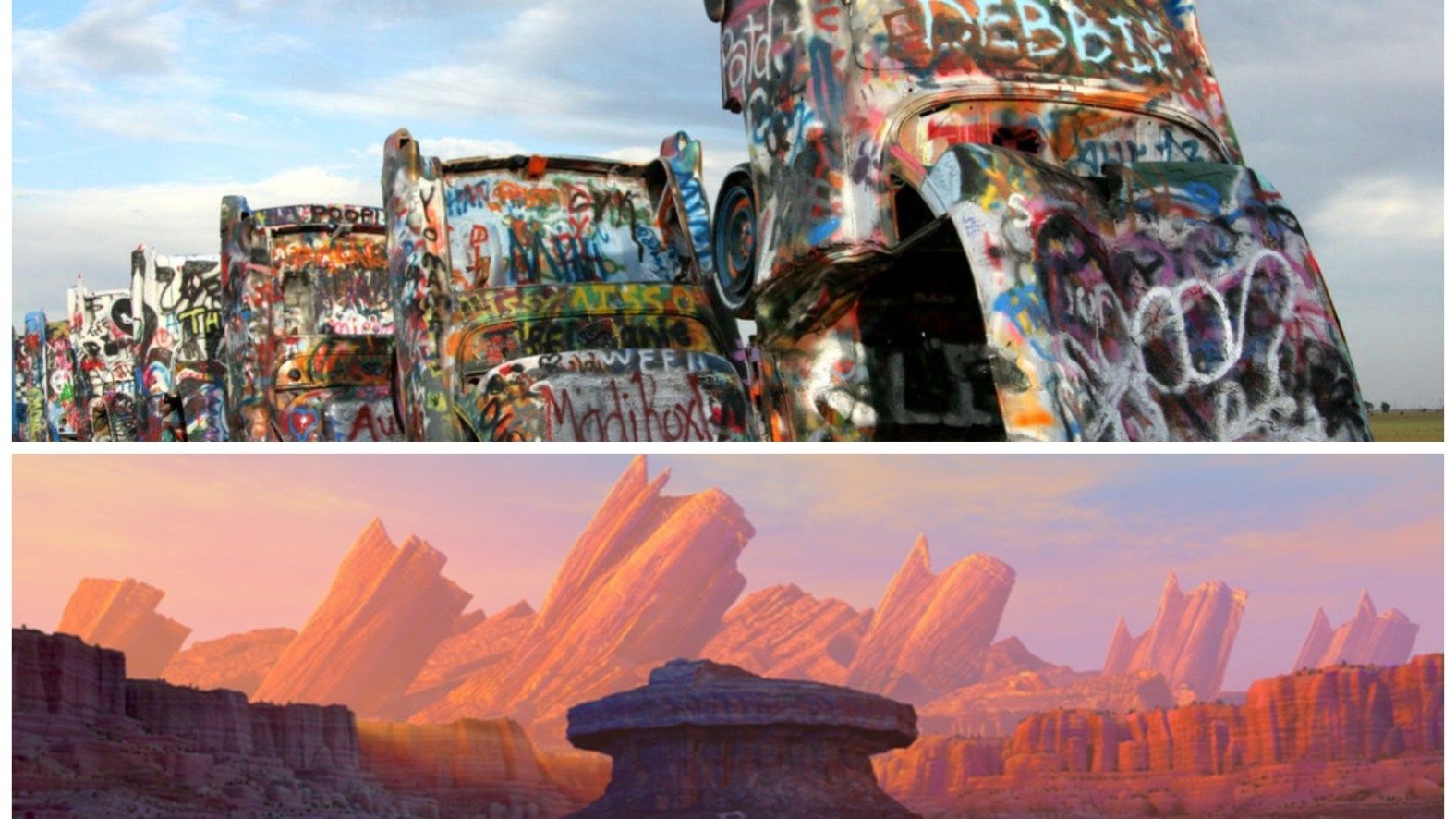 One of the most iconic places found in the movie is called "Cadillac Range" which mimics one of the most recognizable real-life stops we all know as Cadillac Ranch. One traveling on I-40 just outside of Amarillo, Texas, may notice an open field with ten vintage Cadillacs with their noses buried in the ground and the bodies sticking out in a long row.
Cadillac Ranch was an interact art project installation where visitors can take spray paint and tag the cars in graffiti. The layers of the spray paint on the cars are thick as the landmark has been in place for quite some time.
Cozy Cone / Wigwam Motels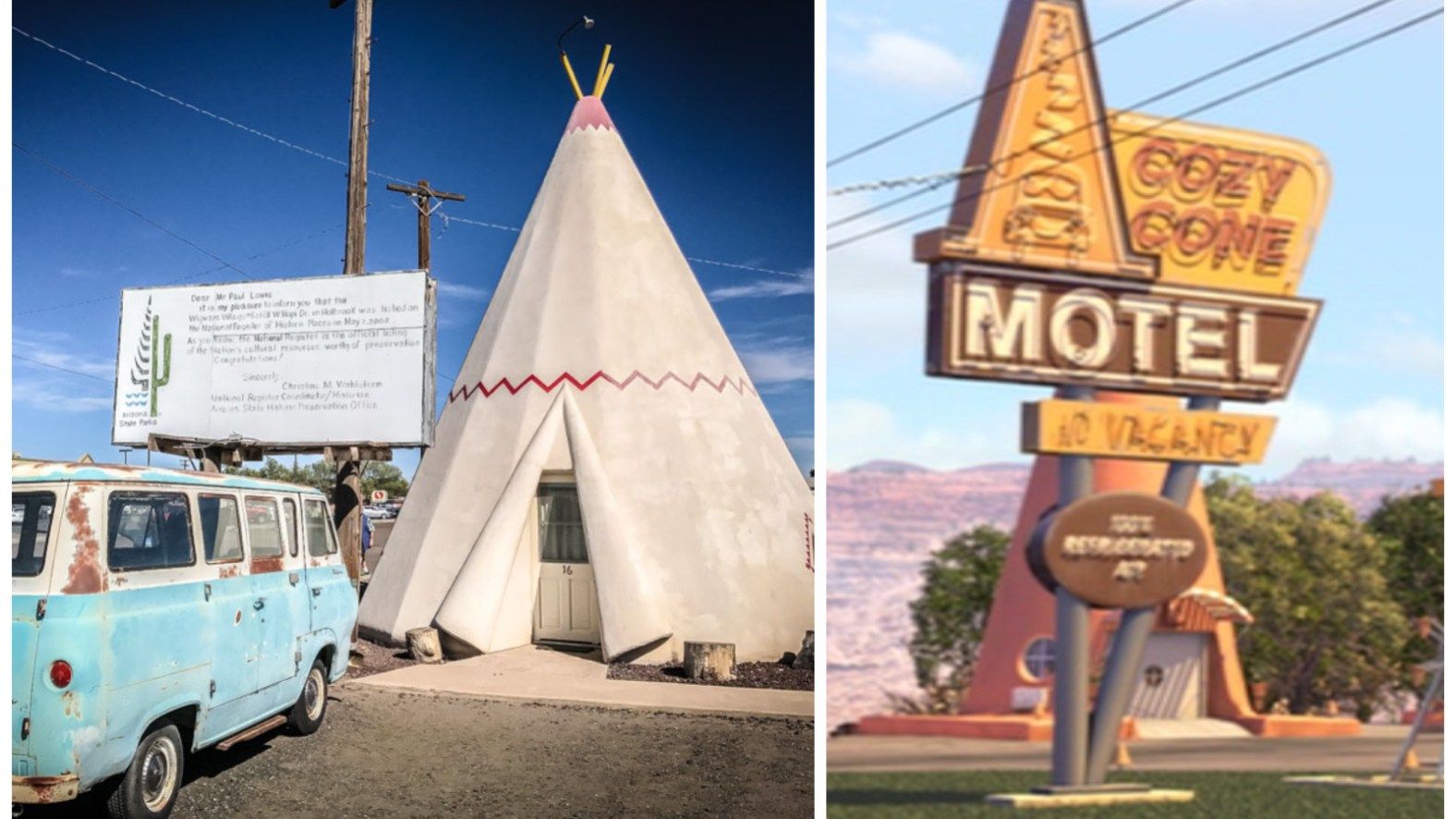 The "Cozy Cone" in the movie is a motel with rooms shaped like traffic cones. This wasn't completely made up as it was inspired by the two Wigwam Motels found on Route 66, with motel rooms shaped like teepees. At one point, there were seven of these fun motels, but currently only 3 exist with two of them on Route 66.
If you are traveling east to west, the first Wigwam Motel can be found in Holbrook, Arizona, and features classic cars and, of course, bright neon green sign. The motel can be just a tourist stop to take some memorable photos or one can still check in and rest for the night. The second Wigwam Motel can be found in San Bernardino, California, and also is surrounded by classic vehicles.
The name Cozy Cone may not just be a cute name, but may hint to the Cozy Dog in Springfield, Illinois. Why? Well, the Cozy Dog's founder, Ed Waldmire, is said to have invented the corn dog. Also, his son, Bob Waldmire, is a legend on epic Route 66.
Ramone's / U-Drop Inn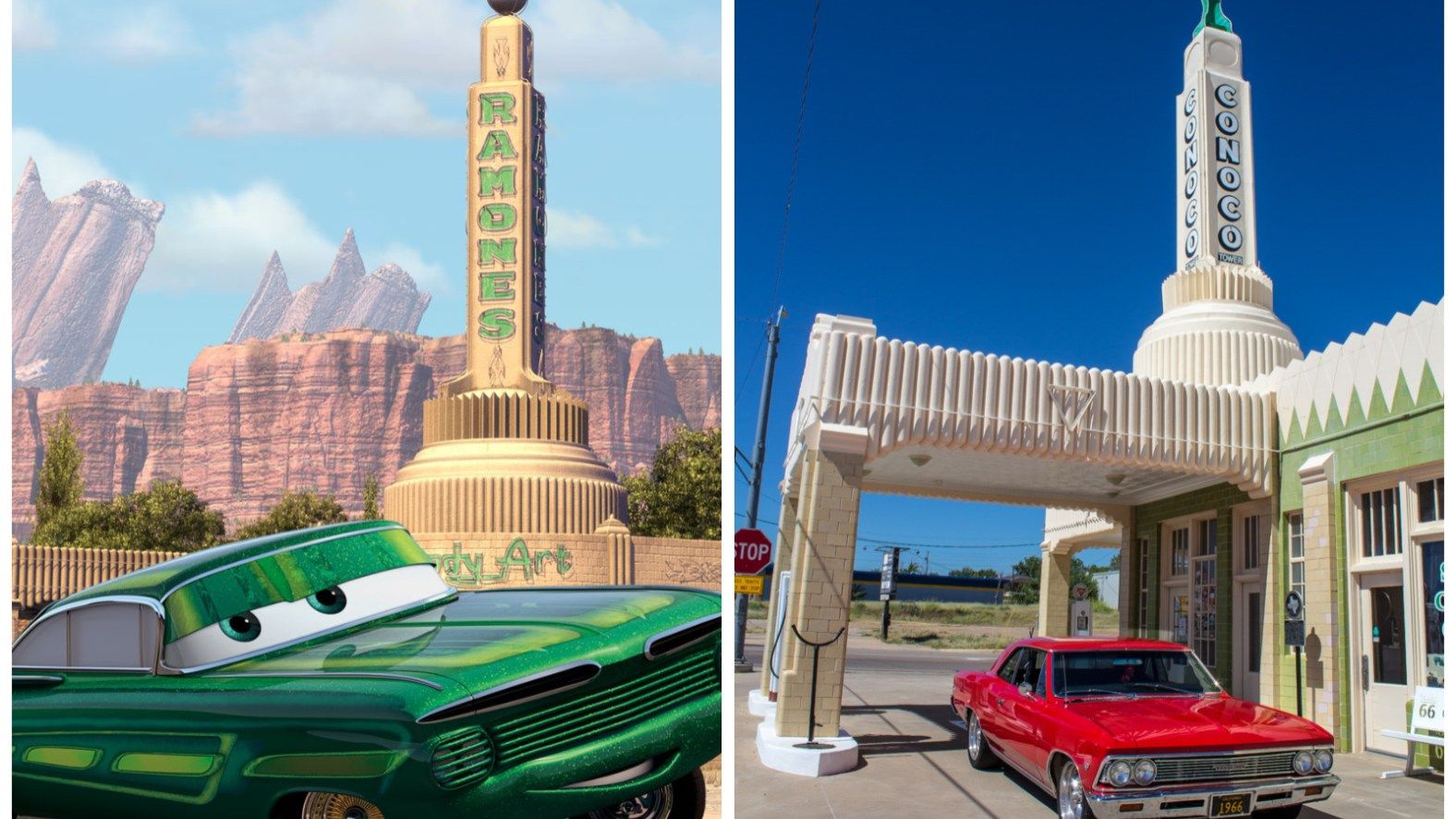 Another spot that obviously was inspired by a real-life location is Tower Cocono which is modeled after the U-Drop Inn in Shamrock, Texas. U-Drop is known for visits from Elvis Presley himself. The U-Drop was once abandoned but has since been restored and features a gift shop that even has a Cars section with likely has the perfect gift for any child or grandchild.
Lizzie's / Hackberry General Store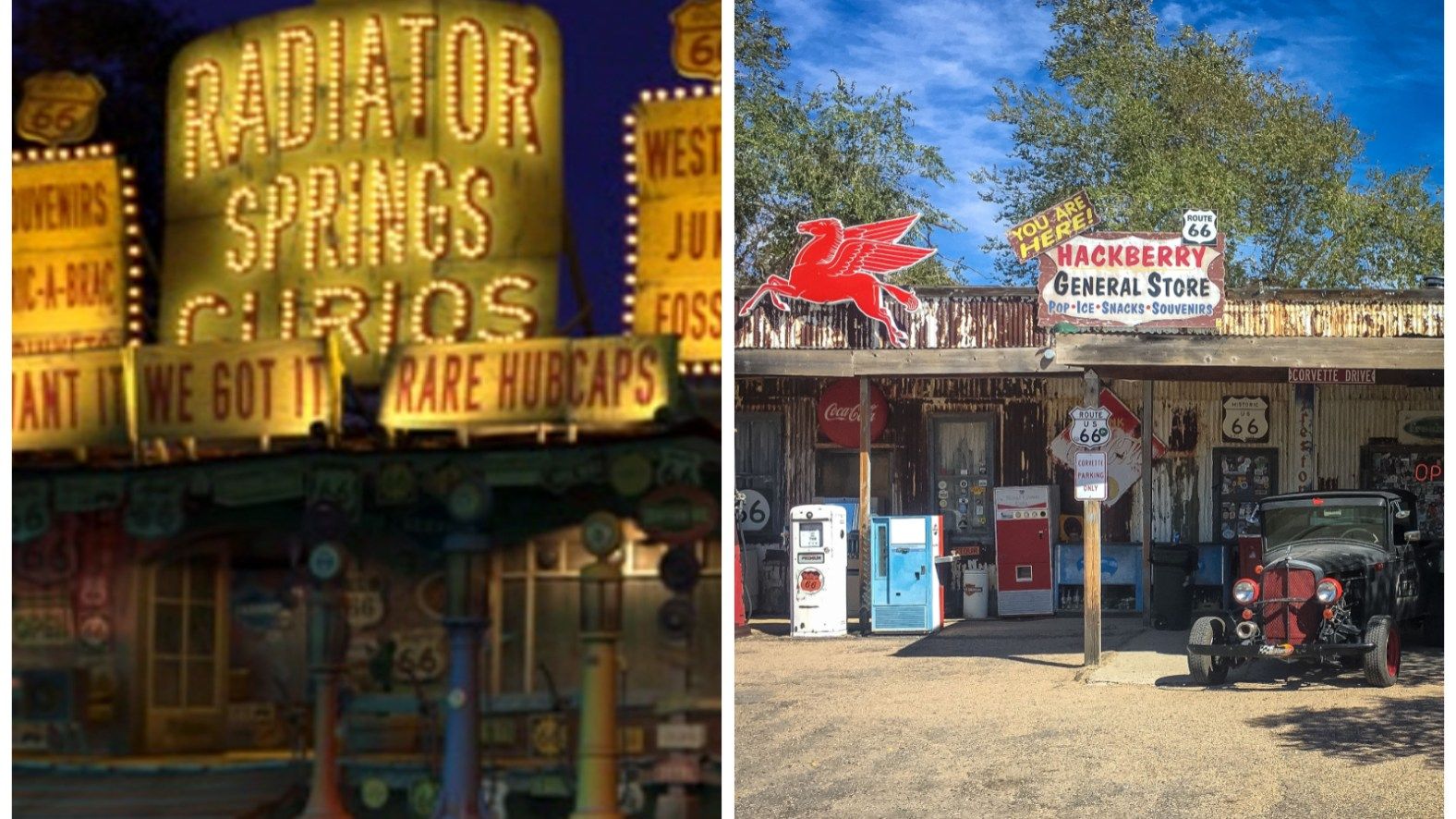 One place on the legendary route still has that old-school feel, and that would be the Hackberry General Store. In the movie, Lizzie's Curio Shop resembles the old shop found in Arizona surrounded by old cars that are falling apart among the red rock hills. Mentioned earlier was Bob Waldmire who owned the store for awhile.
Wheel Well / Wagon Wheel Motel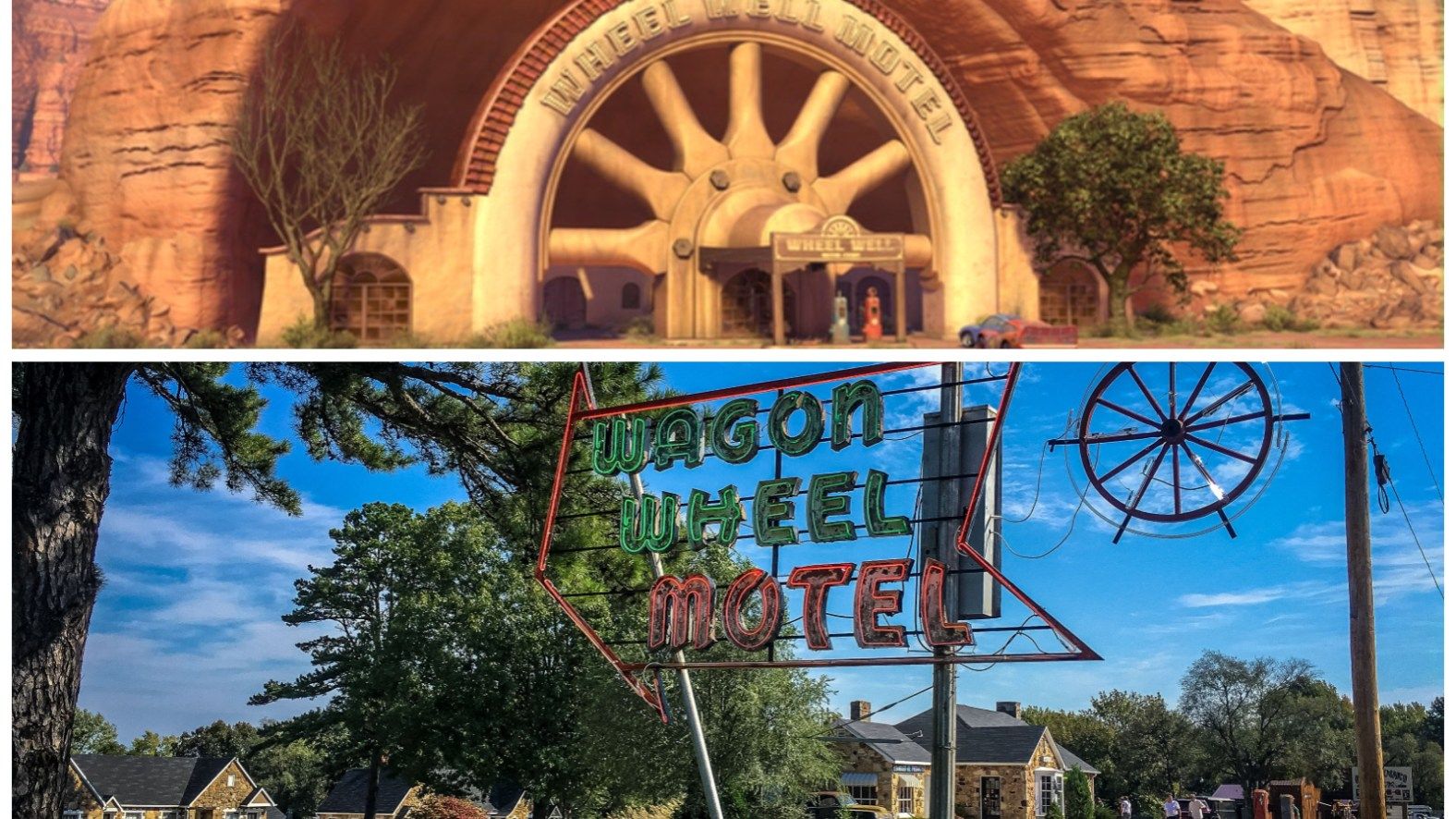 In the movie, Lightning McQueen and Sally (Holy Por-sha!) go for a drive. They end up at the Wheel Well motel that has seen better days, but the duo restored the motel back to tip-top shape by the end of the film. This is similar to the Wagon Wheel Motel located in Cuba, Missouri, that was built in the 1930s. Back in 2009, the motel was bought and brought back to life by Connie Echols. This is also another place that is perfect for memorable photos, to purchase that perfect gift, and for an overnight stay.
'Here It Is' Sign / Jack Rabbit Trading Post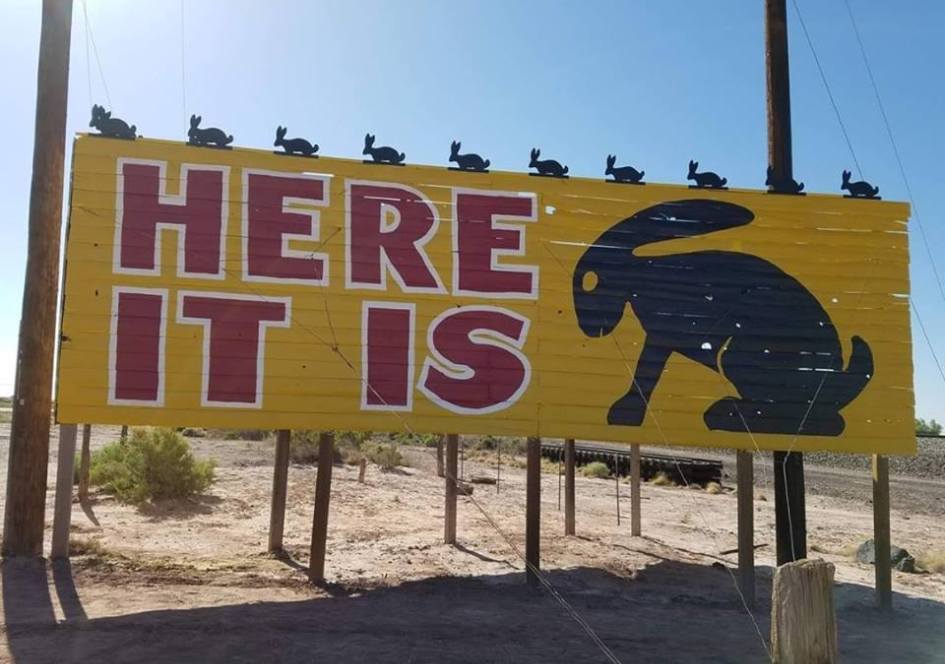 In the movie there is a big yellow sign that can't be missed. It displays the saying "Here it is". This little detail isn't made up, as it resembles a sign in Joseph City, Arizona, for the Jack Rabbit Trading Post. This sign stays fresh thanks to new paint every so often, and it is another hot spot for photos. It also is a great place to pick up that perfect gift for a loved one.
"Radiator Springs" / Seligman, AZ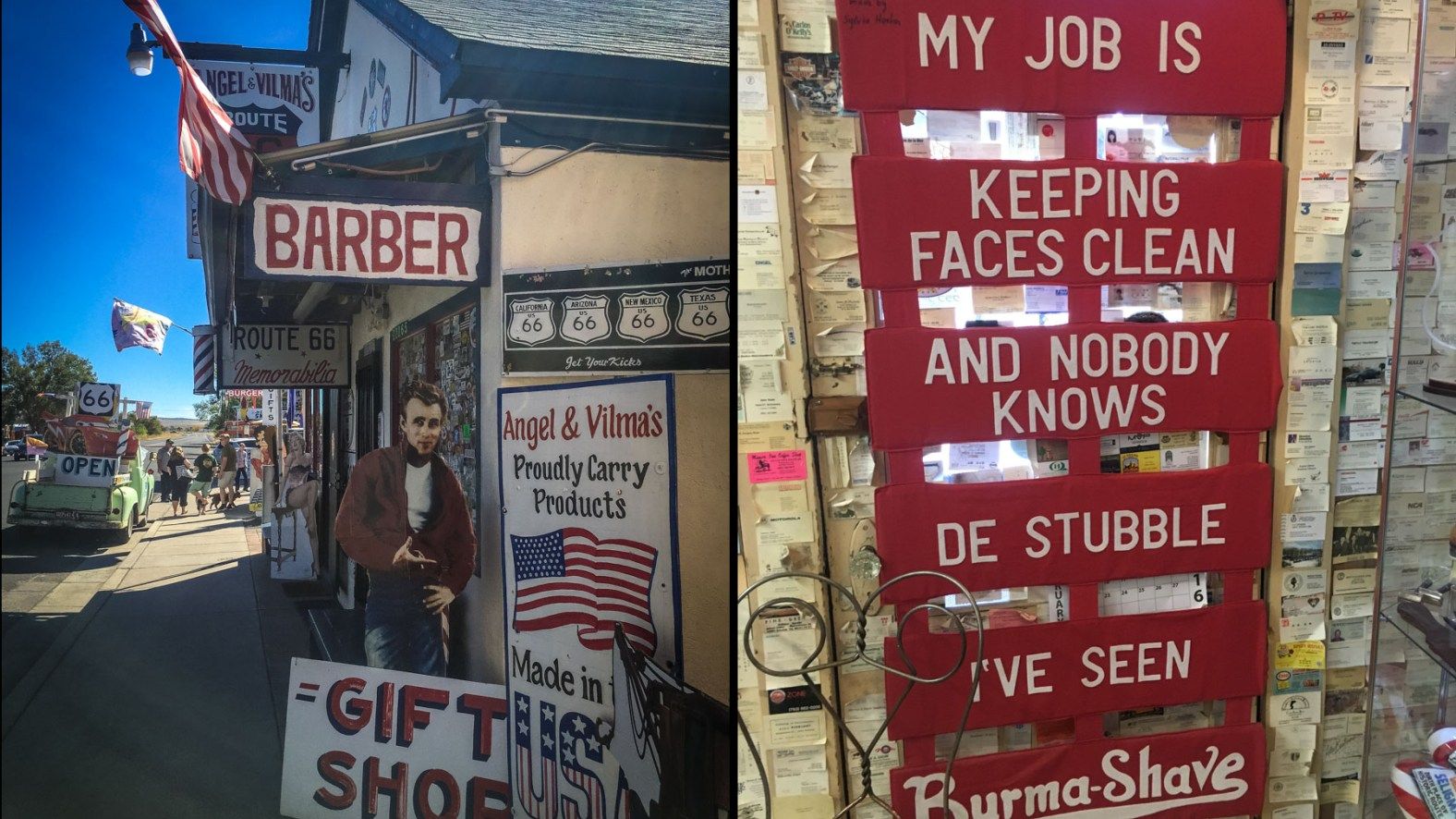 Is Radiator Springs inspired by a real town? When creating the fictional town, producer Lasseter modeled it after Seligman, Arizona. The name can arguably be linked to Peach Springs or Baxter Springs, Kansas.
A barber in Seligman, Angel Delgadillo, was interviewed by the production crew for hours as he knew the entire history of the town and Route 66. Sure, the town could be based on many towns along the historic road, but Angel's stories make Seligman the most realistic Radiator Springs, and because of this more people are visiting the town. If you do make the stop here, make sure to visit Angel & VIlma Delgadillo's Original Route 66 Gift Shop.
Flo / Fran Houser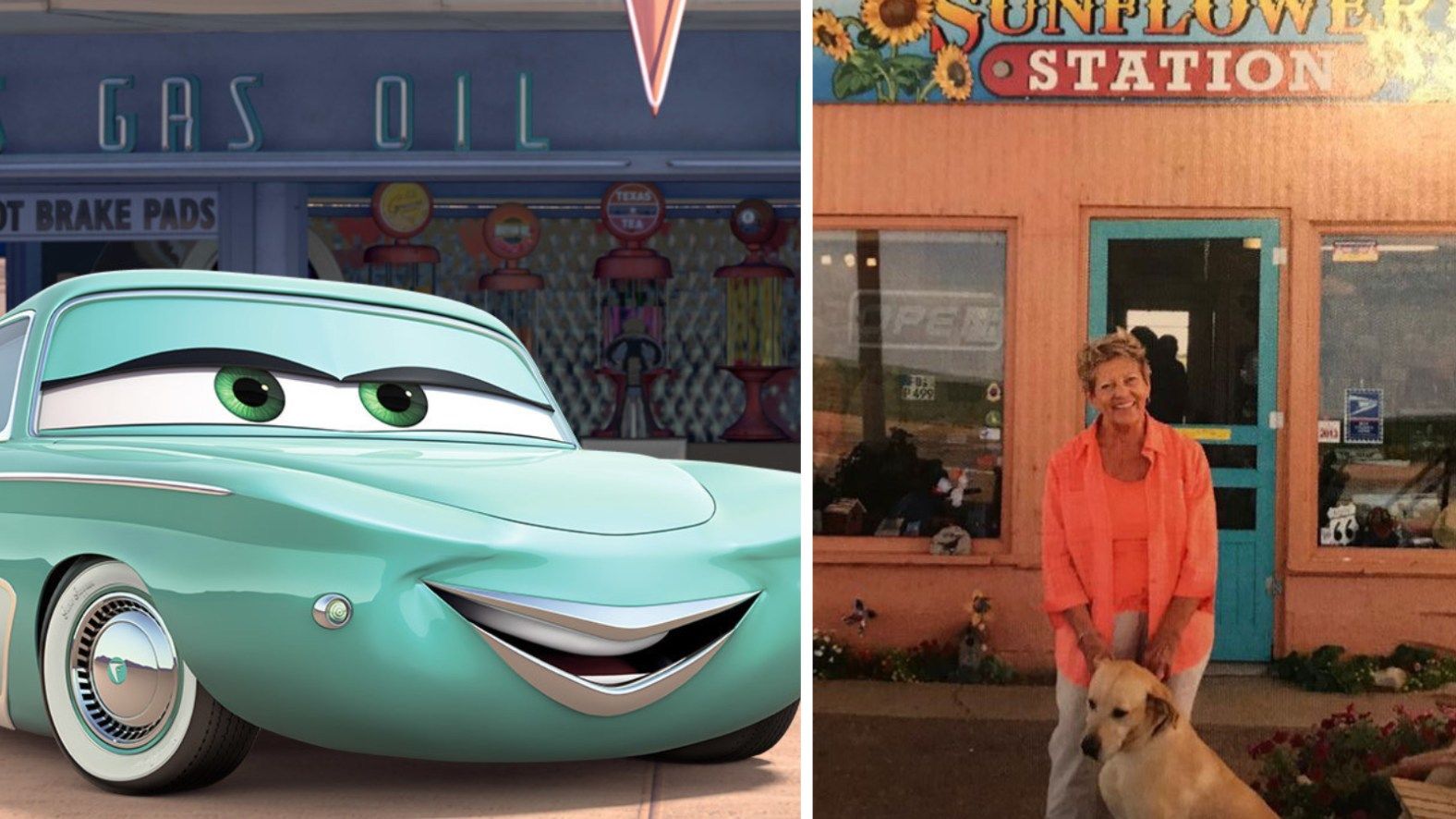 The halfway point on Route 66 is the Sunflower Station, a gift and antique shop in Adrian, Texas. Fran Houser and her dog run the place, and she even used to run the cafe next door when the Cars crew popped in for a surprise visit. This little spot inspired Flo's V-8 Cafe in the movie, and Fran is the basis behind Flo.
Filmore / Bob Waldmire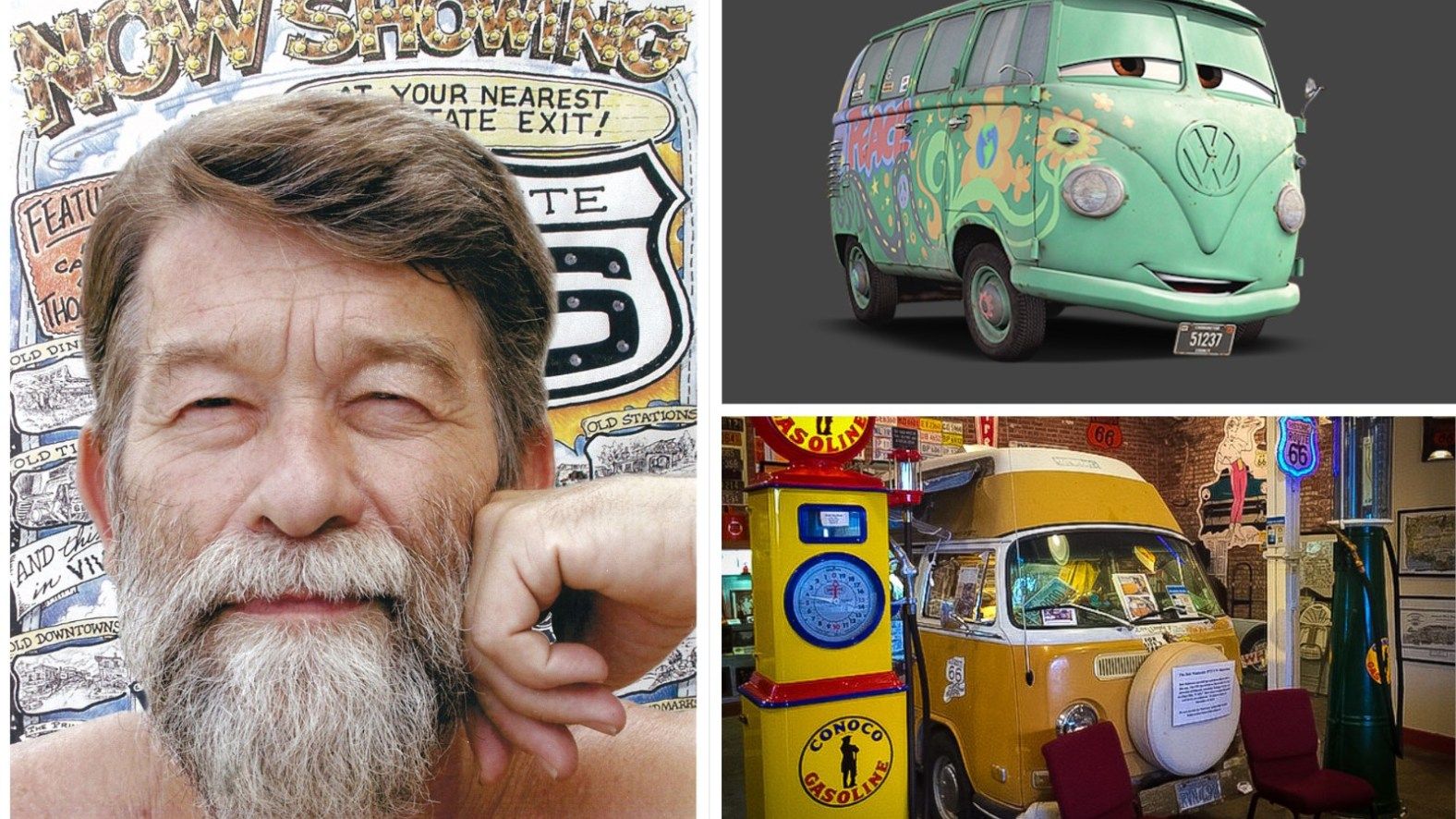 One of the funniest characters in the movie is the Volkswagen Microbus known as Filmore. His character is based on Bob Waldmire, a legend on Route 66, who painted murals along the route while traveling in his VW bus before making the switch to a motorhome. His paintings can also be found on postcards and prints along the way. Unfortunately, Bob passed away a few years ago, but his art can still be found everywhere. Even more, his VW bus and motorhome can both be found in Pontiac, Illinois, at the Route 66 Hall of Fame and Museum.
Sheriff / Michael Wallis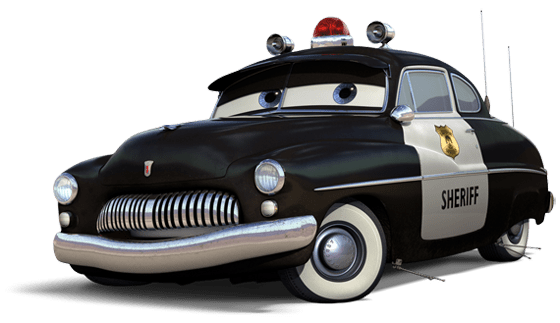 One of the most familiar with Route 66 would be Michael Wallis. He wrote plenty of books on the legendary road and became the tour guide for Pixar. While his knowledge was vast, his deep voice nabbed him the role as Sheriff in the film.
Source: 2 Lane America
Read More Car News Here...