Peace, love, and happiness radiates from this 13-year project.
---
What was once considered a standard G10 panel van can no longer be considered as such. Customized from head to toe, there's no doubt that this groovy van will demand attention anywhere it goes while delivering waves of '70s nostalgia. Just one glance at this "Boogie Van" and it's as if you entered a time machine and transported back to groovier times. Garage Kept Motors is pleased to offer the opportunity to own this psychedelic 1975 Chevrolet G10 Van.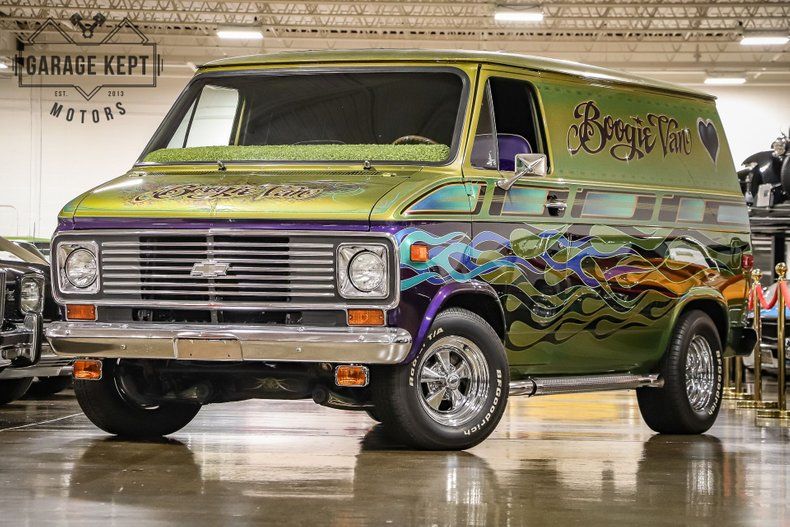 On the outside, this '75 G10 van features an intricate paint job with an insane amount of detail. The base is sprayed in a shade of green with plenty of metal flake and is topped with flames in aqua, blue, and purple. This incredible "Boogie Van" can be seen coming from a mile away, especially with its name in big, bold airbrushed lettering on the sides. Other exterior highlights include gold pinstripes, chrome grille, chrome bumpers, and amber auxiliary lights. A set of 15-inch Cragar wheels sit on all four corners, and the chrome side pipes add to its old-school aesthetic even more.
Tucked inside the engine bay is a 350-cubic-inch V8 built by Avenger Race Engines of Muskegon, Michigan is backed by an automatic transmission and generates 325-horsepower. It's safe to say that this van can boogie in more ways than one.
Open the doors to this van to a mind-blowing custom interior full of '70s goodness. Groovy vibes come from green shag carpeting throughout with plenty of purple vinyl and microfiber contrasting accents. The interior is complete with captain's chair and even has a bed in the back in case you need to rest your eyes after a long night of disco dancing.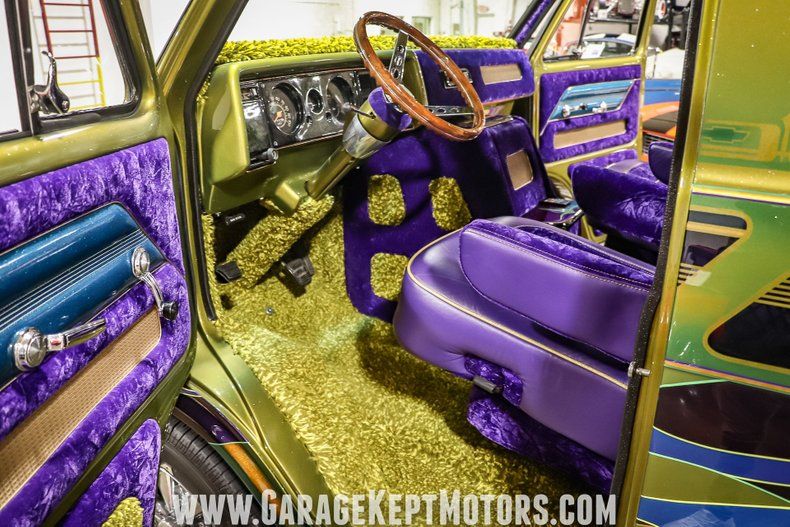 A definite show-stopper, this amazing van took home first place honors in class at the Ohio AutoRama. This van is not for anyone looking to blend in, but is meant to stand out and send happy vibes to everyone you come across. If interested in this funkadelic 1975 Chevrolet G10 Boogie Van, get ready to bust out those bell bottoms and platforms go ahead and contact Garage Kept Motors today.