After a long illness, racing icon and British Formula One driver Sir Stirling Moss passed away at the age of 90.
---
The world of racing is mourning the loss of Formula One racing legend Sir Stirling Moss, who passed away at the age of 90 following a lengthy battle with illness. With a racing career that spanned from 1948 to 1962, the British Formula One driver is regarded as one of the greatest of all time.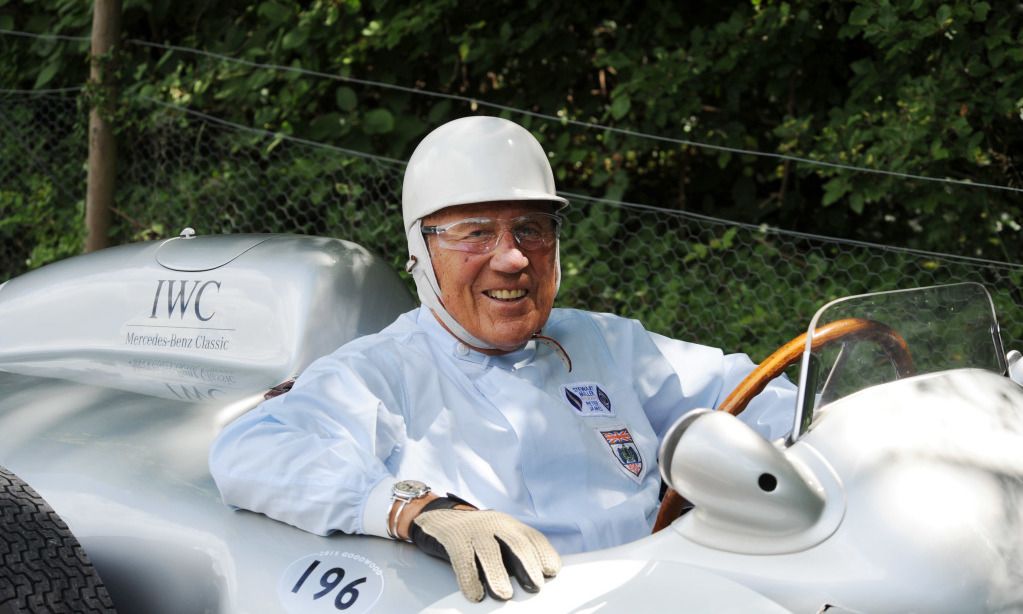 There was no doubt that Moss's passion for racing ran deep as he would participate in as many as 62 races a year. Having entered 529 races total, Moss won nearly half of them with 212 victories under his belt, including 16 first place finishes in the Formula One Grand Prix. Although, the racing legend preferred to pilot British cars across the finish line, Moss raced an impressive 84 makes throughout his career on the track.
"Better to lose honourably in a British car than win in a foreign one," Moss once quoted.
Moss held the record for an English driver having the most Formula One victories up until 1991 when he was surpassed by Nigel Mansell.
The Beginning
Moss started his career in racing behind the wheel of his father Alfred's 328 BMW, DPX 653. His father was not a fan of his son's passion for racing as he wanted him to pursue dentistry instead. Despite that, Moss continued to save money from equestrian events, and eventually he had enough to purchase a Cooper 500 race car in 1948. After persuading his father into letting him purchase the car, he became one of Cooper Car Company's very first customers.
Behind the wheel of his Cooper race car, Moss proved his skills on the track where he proved victorious nationally and internationally. With his racing talent sending him into more senior categories, he continued to race for Formula Three under the Cooper and Kiefts name.
1950
The day before his 21st birthday, Moss piloted a borrowed Jaguar XK12o to nab his first huge international racing win during the 1950 RAC Tourist Trophy at Dundrod Northern Ireland. Moss competed six more times with a Jaguar C-Type, a Mercedes-Benz 300SLR, an Aston Martin DBR1, and a Ferrari 250 GT. After racing in the 250 GT, Enzo Ferarri approached him and offered a Formula Two car for him to drive in the 1951 Bari Grand Prix along with a full season under the brand for in 1952, but were enraged to find out that the spot would be given to Piero Taruffi instead.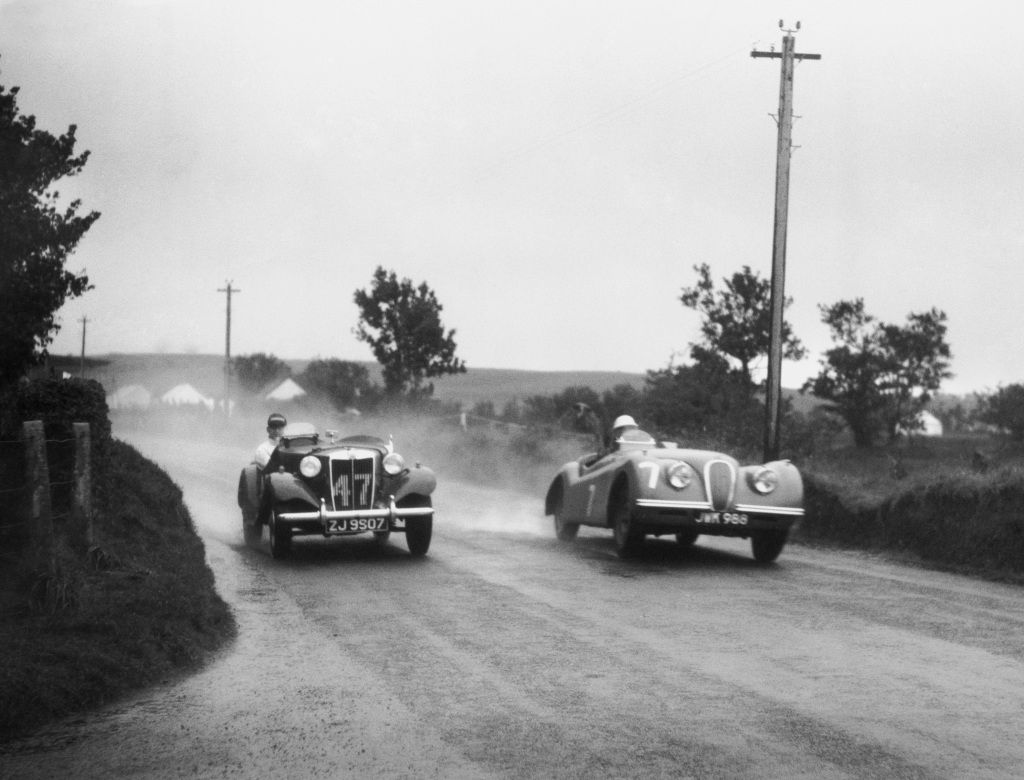 1952
Moss was also skilled with rally cars, and is just one of three drivers to win the Coupe d'Or (Gold Cup) navigating through three consecutive runs without penalties. He piloted a Sunbeam-Talbot 90 to a second-place finish in the 1952 Monte Carlo Rally.
1953
In 1953, Moss's driving skills grabbed the attention of Mercedes-Benz racing's Alfred Neubauer where he approached Ken Gregory, Moss's manager, about joining the Mercedes Grand Prix team. Suggesting that Moss purchase a better car for his talents such as a Maserati.
1954
Another big accomplishment for Moss was winning the 12 Hours of Sebring in 1954 as the first non-American to ever secure the spot. He drove the Cunningham Team's 1.5-liter O.S.C.A MT4 that he shared with American driver Bill Lloyd.
Moss purchased a more competitive car after the suggestion by Mercedes - a Maserati 250F for the 1954 season. Although the car was unreliable and hurt his score, he still qualified with the top Mercedes contenders. He then went on to win his first Formula One race - the Oulton Park International Gold Cup.
Another incredible Moss accomplishment would be during the Italian Grand Prix at Monza where he passed Juan Manuel Fangio's Mercedes and Alberto Ascari's Ferrari, both considered the best Formula One drivers at the time. The front runner until Lap 68, engine failure allowed for Fangio pass him for the win. Ascari retired due to engine issues, but Moss pushed his Maserati across the finish line. After that, Mercedes signed him for the 1955 season.
1955
Moss was the first British driver to win the 1955 British Grand Prix at Aintree after he nabbed the World Championship. Moss won over his teammate Fangio for the first time, friend and rival. He also won the RAC Tourist Trophy, Targa Florio, and the Mille Miglia.
1956/1957
More incredible feats include victory at the Nassau Cup in 1956 and '67 during Bahamas Speed Week. In 1957, he won the Pescara Circuit, the longest circuit (16-miles) for the World Championship Grand Prix, and he beat out Fangio again by just 3 minutes  during an event that took three hours.
Also a talented sports car driver, he won consecutively from 1956 to 1960 in the 1000 km Nürburgring with two wins behind the wheel of an Aston Martin.
1958
In 1958, Moss piloted a rear-engined F1 car to victory during the first race of the season. Also, he drove a single-seater "Eldorado" Maserati to victory at Monza, the first car ever sponsored by a brand not involved with racing - the Eldorado Ice Cream Company.
1960
Moss won the 1000km Nürburgring consecutively from 1956 to 1960. This year, he the race while piloting a Tipo 61 "birdcage" Maserati, not behind the wheel of an Aston Martin like years prior.
For the 1960 season for Formula One, he won the Monaco Grand Prix in a Climax-powered Lotus 18. After that, he broke both legs after an accident during the Belgian Grand Prix. He missed out on three races that season, but he came back for the final race at the United States Grand Prix held in in Riverside, California.
1961
New rules were set in place for the 1961 Formula One season. Moss raced his underpowered Climax-powered Lotus agains Enzo's "sharknose" Ferrari 156 stuffed with a powerful all-new V6 engine. Moss won the 1961 Monaco Grand Prix by 3.6 seconds and defeated three Ferraris. Also, he won the German Grand Prix on a track that was partly wet.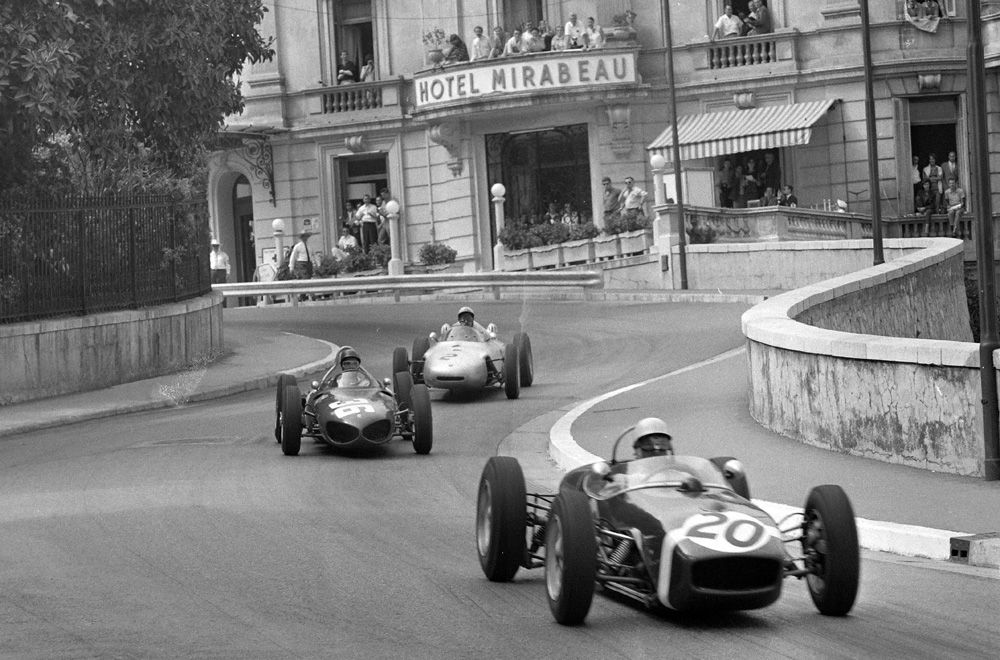 1962
During the Glover Trophy in 1962, Moss seriously wrecked his Lotus at Goodwood on April 23rd. The crash put him in a month-long coma, and he was paralyzed on the left side of his body for six months. While he did recover from the incident, he retired from the race track the next year after testing his Lotus 19 and finishing with a lap time that was a few tenths slower than his normal.
A runner-up in the Driver's Championship for four straight years (1955-1958), and was third runner up three years consecutively afterward.
Life After F1 Front-Line Racing
After his retirement from F1 racing, Moss became a commentator for motorsports with ABC's "Wide World of Sports" for F1 and NASCAR. Every so often he would get behind the wheel again, one in the 1980s with two seasons competing for the British Saloon Car Championship. Moss made even more significant appearances before he ultimately retired at age 81 in 2011.
Luck wasn't on Moss's side in 2010 after a fall down an elevator shaft at his London home caused him to break both ankles along with many bones in his foot and damaged vertebrae. A chest infection put him in a Singapore hospital in 2016. In 2018, he stepped away from the public eye. Moss passed away on April 12th, 2020, at home.
While he lived a fulfilled life and had a racing career most could only dream of, hearts are heavy today in the world of motorsports as we remember one of the greatest drivers to ever live. Race in peace, Sir Stirling Moss.
Source: Racer.com
Read More Car News Here...