Would you dump and sue your significant other if they pulled something as rotten as this?
---
A Redditor with the handle Jimothyisyouruncle excitedly picked up his 1967 Chevrolet Impala after paying just $1,200 for the car after driving 7 hours just one way and back. In running and driving condition, the classic Impala was all original, featured a clean title, and only had 70,000 actual miles on the clock. And as we all know, relationships can be hard work, and they usually take quite a bit of compromise to keep both sides content.
While hunkering down at her boyfriend's house during the pandemic, she was told not to park her car inside the garage because it was dedicated to his classic Impala project that he had already spent $11,000 (including the car and accumulating parts to get it to tip-top shape). The garage was scattered with parts because of the hard work he was putting into it. But his girlfriend took matters into her own hands with the vintage Impala that would make things take a turn for the worst. Not happy that she couldn't park her car inside the garage, she came up with a plan to take the '67 Impala and have it dropped off at a junkyard.
The boyfriend (well, now ex-boyfriend) was completely livid, understandably, and he went right for the jugular to pursue legal action against her. The girlfriend's family and friends made it clear that they were not fans of his classic Impala and calling it a "stupid old piece of junk".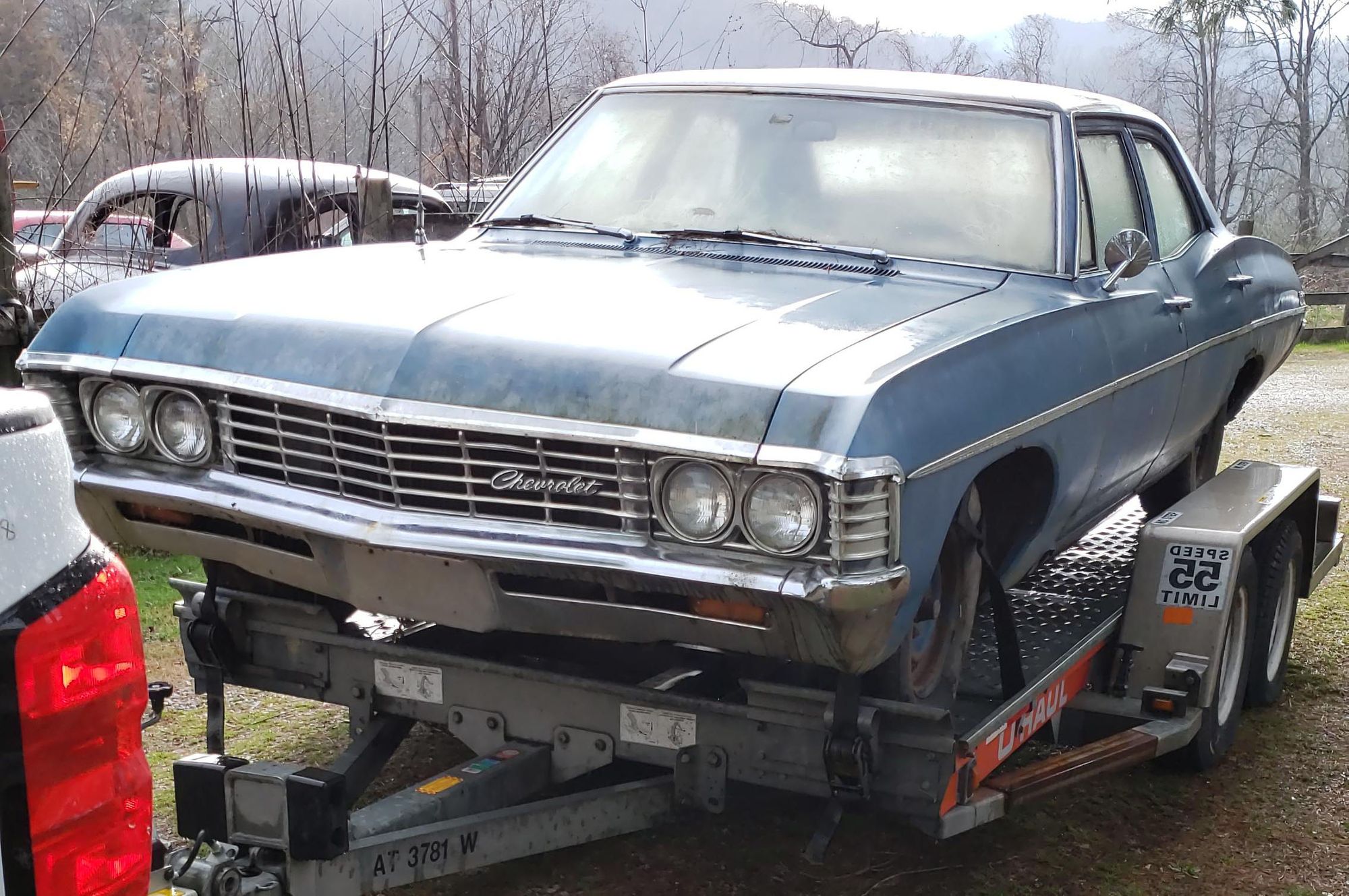 According to the Redditor, this is how the whole situation unfolded. He bought the 4-door '67 Impala back in February 2019, and just a few short months ago, he bought his first house complete with a large 2.5 car garage. Once the vintage Impala was moved inside the garage, he started stripping the car down completely with the chassis in one bay and body in another, and of course, the garage was packed full with parts.
Just two short months ago, his girlfriend was staying at his place due to the pandemic crisis, and it was no secret that she was not a fan of the Impala. In fact, according to the original story on Reddit, she had a hatred for the car. She wanted to be able to park her car in the garage as well, although there was a healthy 2 acres of land with shady trees to park under, according to the boyfriend. He had to tell his (ex) girlfriend that the car would stay in the garage since piecing it back together with a quickness wasn't exactly an option.
He then found out he had to go out of town on a business trip for a couple days. Once he returned home, he noticed that his girlfriend couldn't stop grinning. She was being overly nice by doing all the chores, and she was making him food all the time, among other things. A little dumbfounded, he realized that her car wasn't parked in the normal spot.
Still unsure of what was going on, he asked where her car was parked so he could mow the yard. That's when she stated that she parked in the garage. Wondering how she squeezed her car in with his car and plenty of parts laying around, he went to go check and see and noticed that everything was gone. While he was away on business, she had hired a few people to help move everything including the actual car along with the drivetrain, body, chassis, and all other parts found in the garage. Once she had everything removed from the house, his beloved Impala's next destination was the junkyard. He had just spent over $11k on everything for it, and that included the actual car, services, and all of the parts he was throwing on. With steam coming out of his ears, he told her to expect a court date over the car, but she just shrugged and brushed it off like he was being overly dramatic.
Once reality set in about the ordeal, that's when he told her to pack up all belongings and hit the road because this relationship was over for good. In fact, he hired a lawyer. He had saved every single receipt that showed any money spent he had spent on the car, and he had incriminating surveillance video that shows her letting in a few men into his place so they could take the car away piece by piece.
To add insult to injury, her family and friends would not stop harassing him about the dumped Impala, saying that it was "just a stupid old piece of junk." Even more, she couldn't pay him back all the money he had put into it, and they wanted him to just let it go.
Sure, that's a lot of money to have invested into something, especially a project car that is slowly coming to life, but it's money well-spent if that's where your passion lies. With every right to be fuming, he worked on the Impala for a solid year and a half while spending his hard-earned money, putting in countless time and energy, and of course, a tremendous amount of effort.
Girlfriend's Mother
We know things can escalate quickly when mom gets on the phone to say her two cents. According to her mom, he was ruining his daughter's life over the "stupid car." Retaliating back, he told the mother that she had ruined her own life and that he has all of the supporting documentation necessary to make a visit to the police station.
Once he arrived at the station, he filed an official report against his ex-girlfriend for grand theft auto and grand larceny. He made sure to show them all of the receipts he saved to show what he spent on the car, and showed the footage of her letting strange guys onto the property to discard the car while he was out of town on business. Last but not least, he showed them the title stating his ownership. The police said that they would need to contact all 3 parties involved such as the him, the ex-girlfriend, and the junkyard guys.
When showing up to the scrapyard to look for the car, the junkyard workers were actually in the midst of hiding his Impala when the police pulled up to question a few of the workers. Coincidentally, they showed up at the nick of time as his car was sitting atop a forklift that was about to hide the Impala behind a large heaping pile of cars that would make the car hard to find. So, it turns out that even the junkyard was sketchy as they tried to cover the whole situation. They went as far as to say they had the title to the car, which was untrue. Matching the VIN number from the chassis and body to the title in owner's possession, the car undoubtedly belonged to him.
According to the story, one person has been confirmed as arrested from the junkyard. On top of that, the place will be scoured for any other vehicles that may have been reported stolen at anytime. Although they haven't been able to get in contact with his ex-girlfriend just yet, they are working diligently.
The Redditor OP is more than ecstatic that they found his beloved classic car. What is helping him locate the parts is the fact that he took plenty 0f photos documenting the restoration. These photos will show just what parts belonged to him so they can work on getting them returned.
As of now, the cops have yet to give the green light for the car to come back home as it is currently being used as evidence. There's no denying that he should be getting his pride and joy back home soon, and we bet that is going to be one joyous reunion.
So, if this scenario happened to you, how would you handle it? Would you dump her ASAP? Take legal action? I think that might be the case for most.
Source: Comic Sands
Read More Classic Car News Here...