Do you have what it takes to uncover the truth?
---
Whether it's a car that's been tucked away in a barn for decades and forgotten about or a vehicle which as been submerged underwater without detection for years on end, everyone loves a mysterious car find. Such an event presents the rare opportunity to not only gawk at an amazing classic car, but also to put on your Sherlock Holmes hat and try sleuthing out what happened. Even better is to be the one who finds such a long-lost vehicle and reveals it to the public at large.
While it's really something to uncover your grandma's old Chevy Corvair or some other classic, finding one of the following 20 famous lost classic cars could make you famous as well. These are vehicles which are notable not only because they're rare but also because their disappearances have puzzled people for decades. Plus, many of them are worth a large fortune, so finding one could severely change your financial fortunes.
Out of the 20 famous lost cars on this treasure map, half were last seen in the United States. That doesn't mean they're still here because they're lost, so they might be on the other side of the globe. Out of the 10, a mere 2 are foreign-made. One is an ultra-rare Porsche 550 Spyder which was reportedly stolen in Hollywood back in 1955. The other, an Aston-Martin DB5 which was used in Goldfinger, was stolen in Florida back in 1997. The only other car from the US on the list reported as stolen is a 1967 Shelby GT500 out of Los Angeles that was owned by Doors singer Jim Morrison.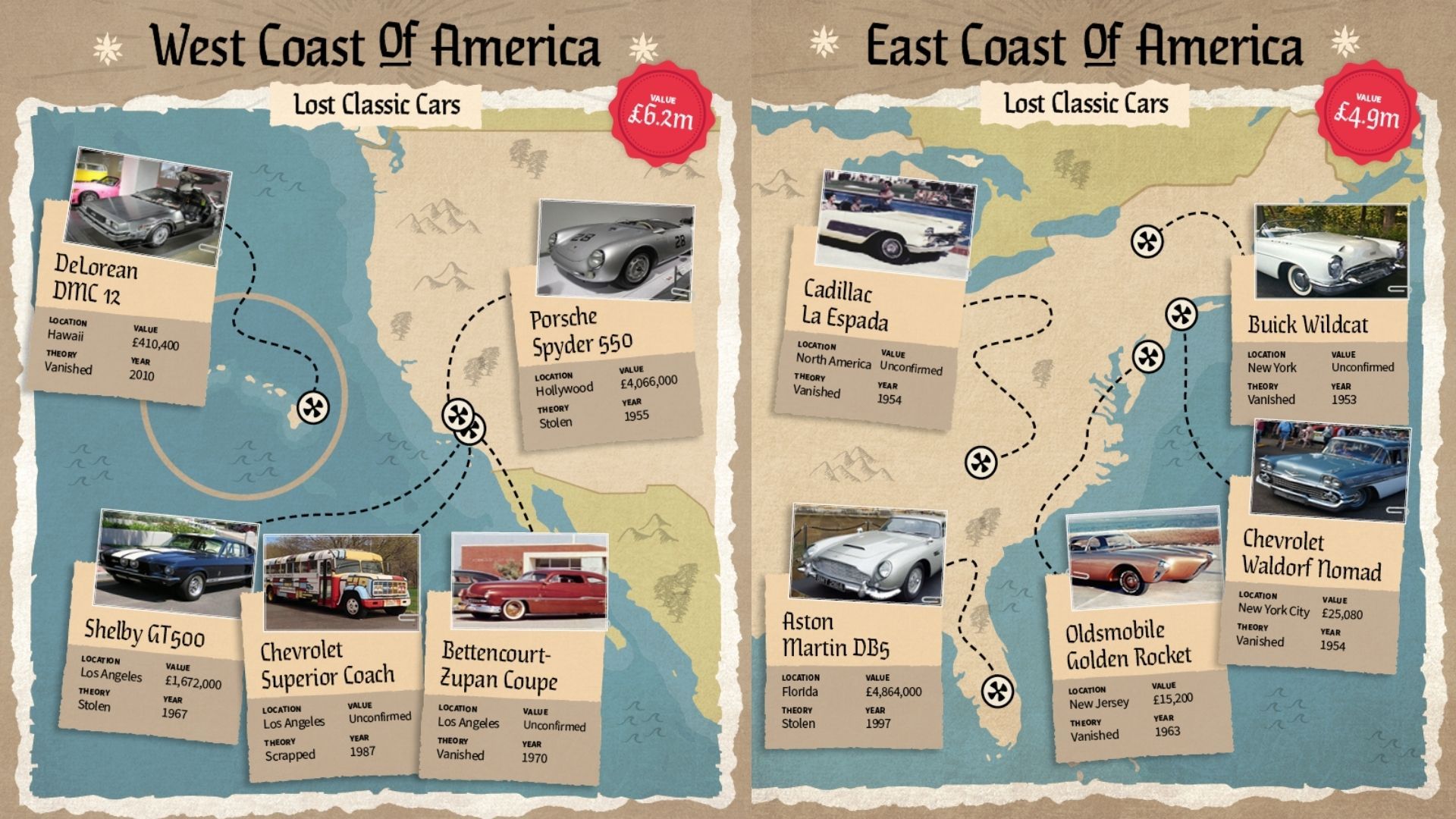 Almost all the other cars in America mysteriously vanished. One of the most famous of them was the Bettencourt-Zupan Coupe, a modified 1949 Mercury which was quite influential in the growing custom car culture after WWII as it was supposedly the first and was used as a template for thousands of others you've undoubtedly seen. Since it disappeared in 1970, two photographs which allegedly were taken in the 80s indicate the Merc hasn't been scrapped but instead is likely in a private collection.
One of the strangest missing cars is a DeLorean DMC-12 which was in Back to the Future. The panels had been hanging from the ceiling of Planet Hollywood in Hawaii, but after the restaurant shut down permanently, they apparently sprouted wings and disappeared.
If you want to go for the biggest fish on the list, try hunting down the Bugatti Type 57 SC, which disappeared in Molsheim, France back in 1937. The car, which was based off the dramatic Aerolithe concept, caused a big stir when Bugatti put it into production. Only 4 were made, but the whereabouts of only 3 are known. With the turmoil of WWII and the sudden German invasion of France, Ettore Bugatti loaded the car onto a train bound for Bordeaux but it didn't make it, or so the story goes. Today it's worth an estimated $98.6 million.
The second most-valuable car on the map is a Duesenberg SJ-506, an American luxury car with a supercharged straight-eight engine that was highly sought-after in its time. Chassis number 506 was owned by Emile Beghain, who raced his beloved vehicle and then returned to Algeria with it. Civil war in the country back in 1962 forced Beghain to flee without his Duesenberg, which hasn't been located since. It's worth an estimated $21.6 million today.
If Ferraris are your thing, there's a 1 of 26 Ferrari 375 MM which disappeared from the owner's garage in Genoa back in 1953. Unlike virtually all of the other 375 MMs, this one hadn't been raced and so it lived a posh life, right up until it vanished. If that's still the case today, it could be in fantastic original condition and would be worth at least $9.8 million today.
Finding any of the 20 cars on this map would be one of the car barn finds of the century. So, what are you waiting for?
Source: Select Car Leasing