Beware, muscle car owners!
---
For a variety of reasons, modern Dodge muscle cars are just irresistible for criminals. We see them stolen all the time, but this is the first we've witnessed one being broken into through the sunroof. It's been done before on other cars in the past, so that's not surprising, but it's still concerning that others might already be imitating this stunt to take off with some sweet American muscle for nothing.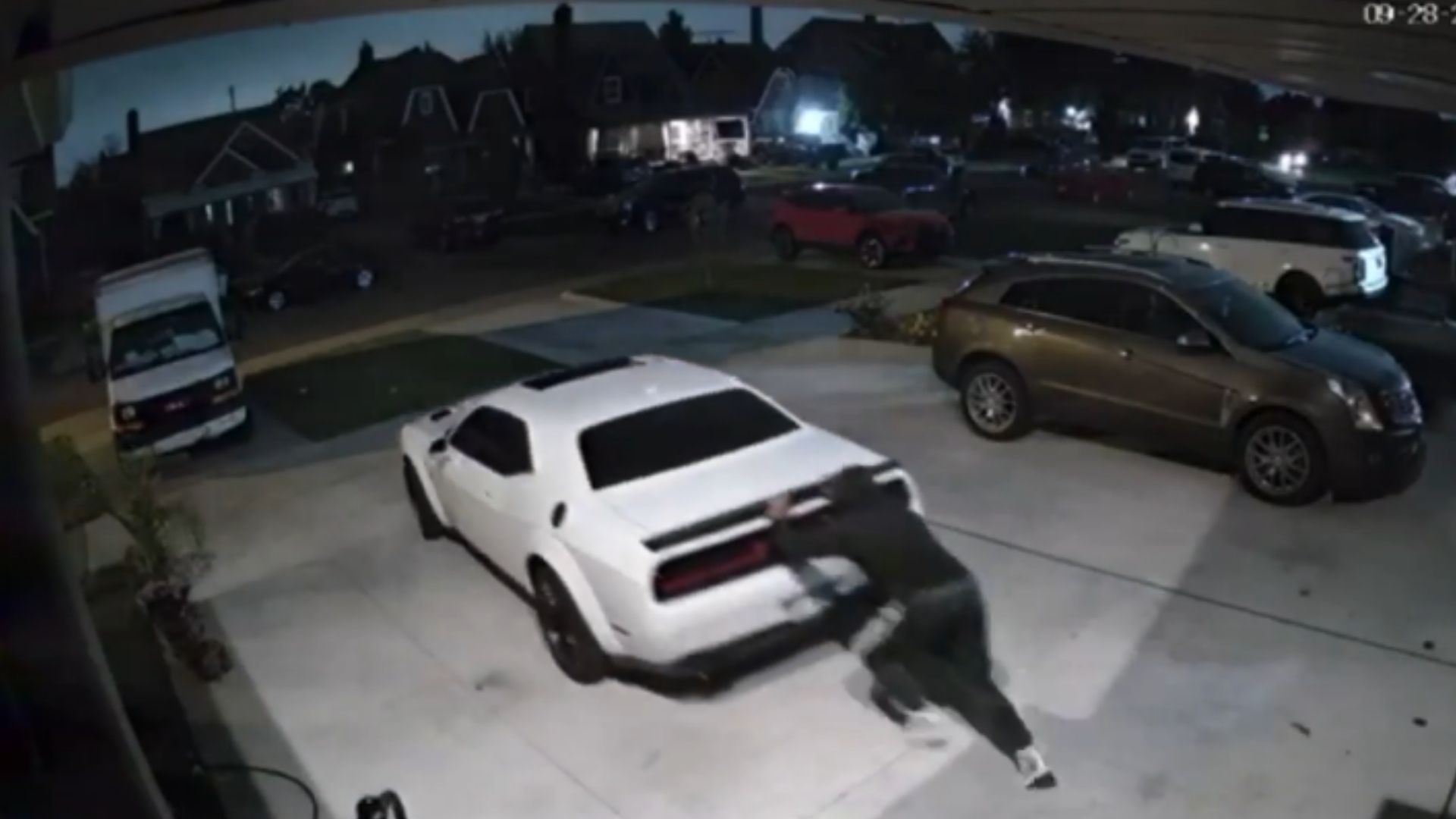 Surveillance video from a house in Dearborn, Michigan shows a 2020 Dodge Challenger Scat Pack Widebody sitting in a residential driveway at night on September 28. At 1:20 am two thieves in dark hoodies and face coverings show up to break in and steal the muscle car.
Instead of trying to pop out one of the windows or attack a door lock, these thieves seem to know exactly how they'll get inside. Using screwdrivers, they pry open the sunroof just enough to grab the edge of the glass. Then one of them climbs on top of the car and stands on the seats through the narrow opening, using his leg strength and the tools to force the glass the rest of the way open.
As the one thief pushes the Challenger while the other steers a third person appears in the video with a white 2007 Chevrolet Trailblazer. It's possible the SUV was stolen as well, but there's always the chance it's not.
Maybe these guys have stolen some cars in the past, but they're not entirely smooth. One of them isn't wearing gloves, so he could leave behind fingerprints. That same thief at one point looks straight into the camera, likely realizing what they're doing has all been recorded. While most of his face is covered, that still provides an even better glimpse at what's not.
This is a pretty brazen crime. Dearborn Police are looking for any tips that will lead to the recovery of the Dodge Challenger Scat Pack Widebody and apprehension of the thieves. Also, if you have a new Dodge muscle car, it's time to clear out space in the garage so you can lock it up at night.