Wait until you see how few miles are on the clock…
---
It wasn't that long ago Dodge Durango Hellcats started arriving at dealership, but someone has already managed to total one. Listed on Copart, this Durango Hellcat has a mere 479 miles on the clock, but that doesn't mean it hasn't been "broken in" yet. In what must've been quite the crash, this family-oriented kitty has been put out to pasture, maybe to have someone adventurous try to rehabilitate it.
Hennessey found a way to push the Durango Hellcat's performance even higher. Check it out here.
To the unsuspecting non-car person, this looks like just a glammed-up family crossover. However, the Durango Hellcat packs some serious heat with the supercharged 6.2-liter Hemi V8. According to Stellantis, it pushes out 710-horsepower and 645 lb.-ft. of torque. With a TorqueFlite 8HP95 8-speed automatic transmission managing things, the muscle crossover can do the quarter mile in 11.5 seconds, a time certified by the National Hot Rod Association. That's not bad for a grocery getter.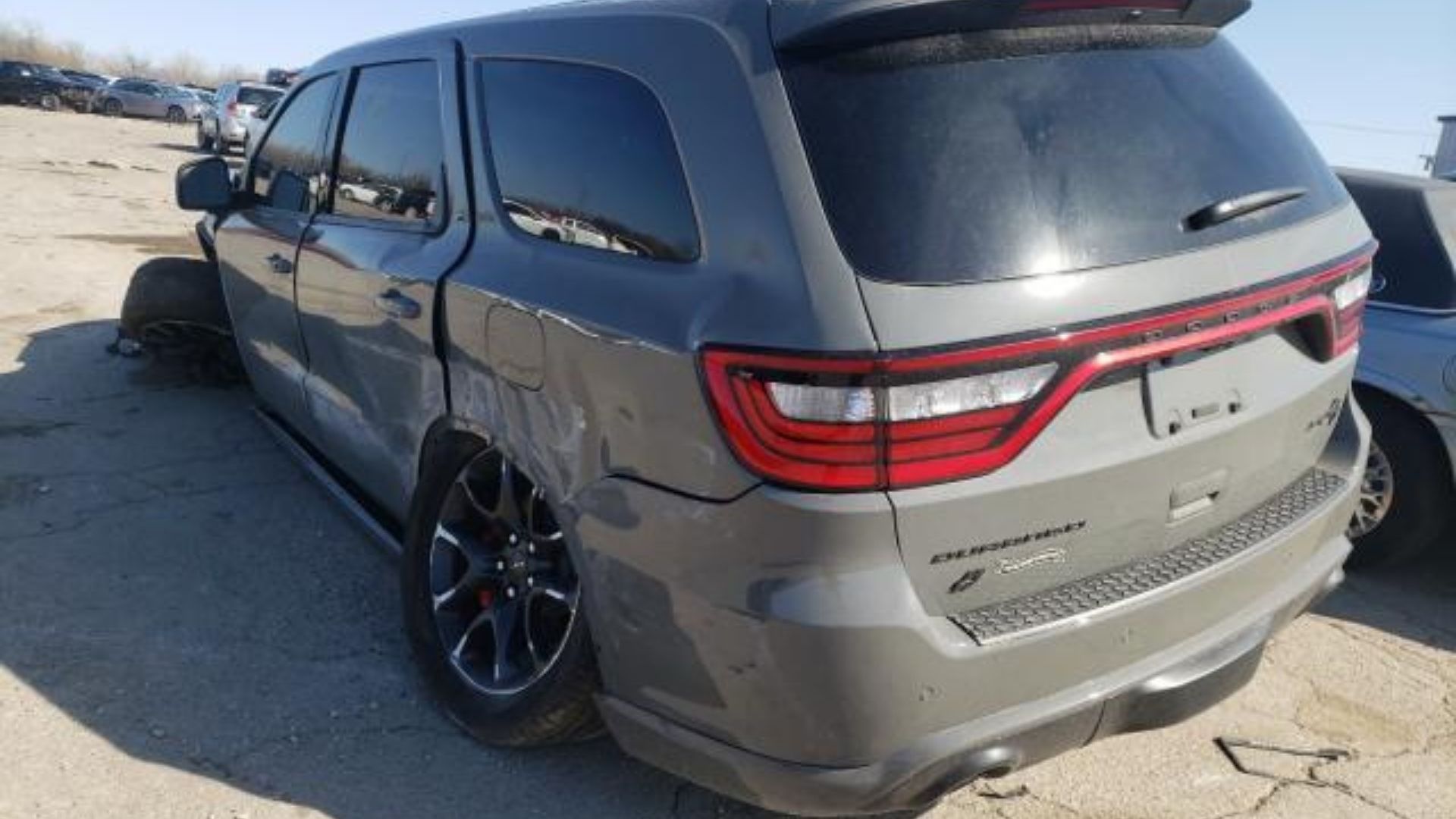 Since Copart doesn't provide colorful stories of how vehicles were wrecked, we have to fill in the blanks. The easy guess is this was too much vehicle for the driver, who likely really got on it, lost control, swerved to miss another vehicle/retaining wall/something else but clipped it at the front corner on the driver's side, then drug the side of the crossover down that obstacle all the way to the rear bumper. The rear axle is likely broken since the wheel is going in a direction you wouldn't want (unless you're into stance) while the front wheel looks to be pretty much obliterated along with most if not all the associated chassis components.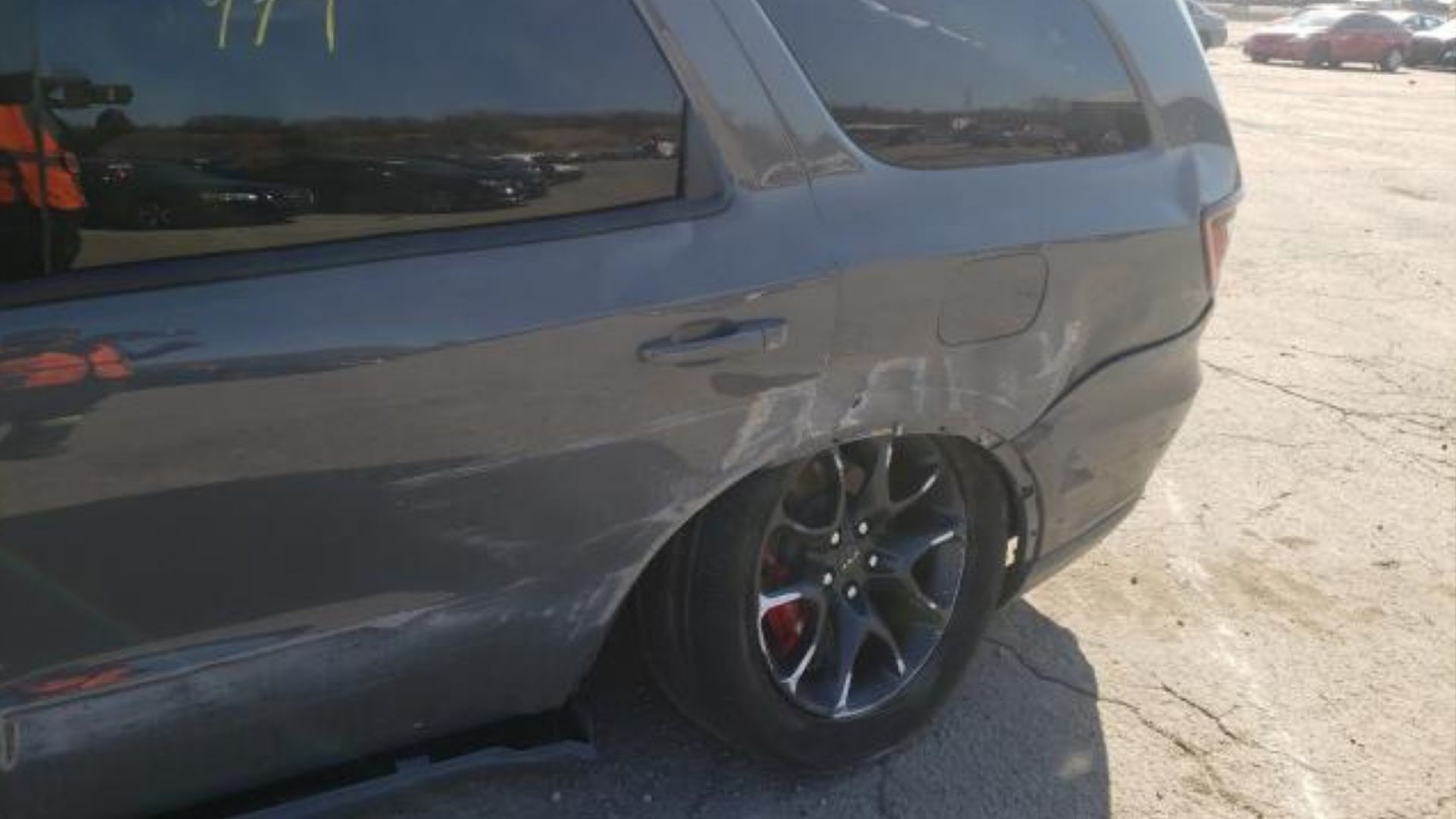 Also a goner is the front bumper, driver's-side front fender, and probably the hood. The doors and rear quarter panel are questionable, but the other body panels look just fine.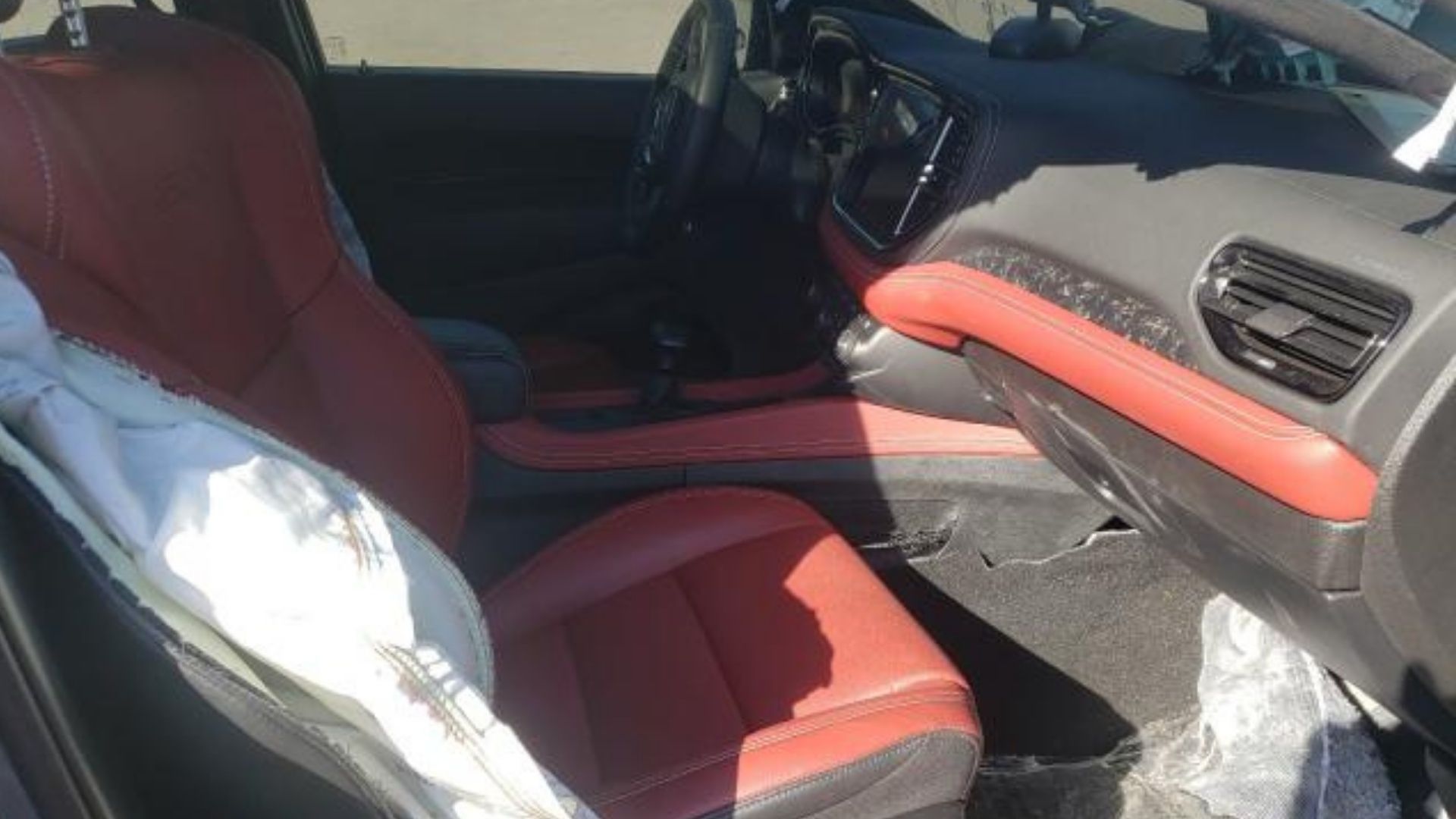 Airbags deployed in the cabin, which is an expensive fix and on some cars is what leads to them being totaled out by the insurance company. More concerning is what looks like a crack in the center console on the passenger side of the interior. It's not a great picture, so it's hard to tell exactly what's going on there, but that's troubling to say the least.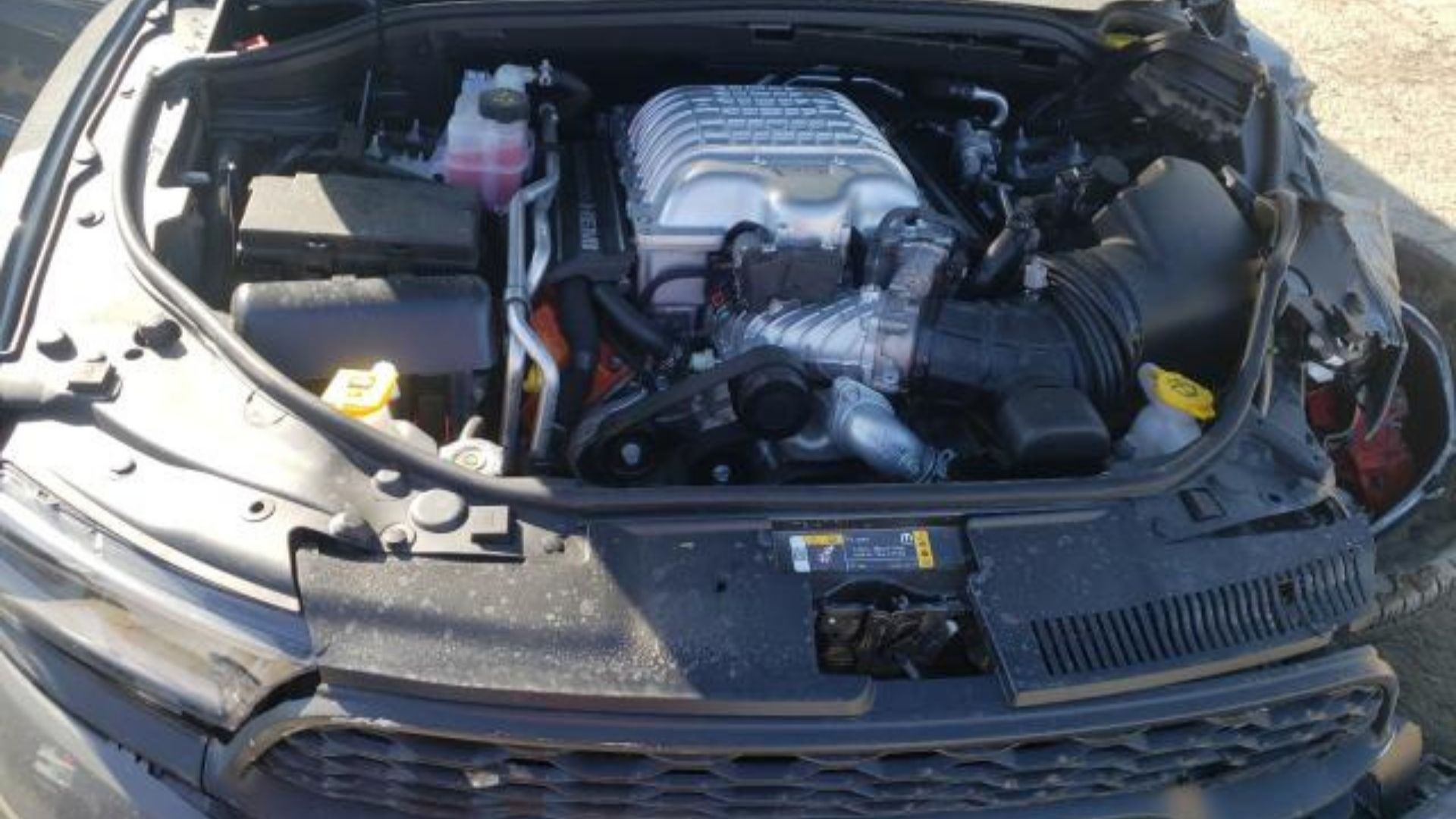 However, the most important part, the Hellcat engine, looks to be largely if not completely intact. Yeah, the air intake box looks like it might need to be replaced, but that's not a huge deal considering.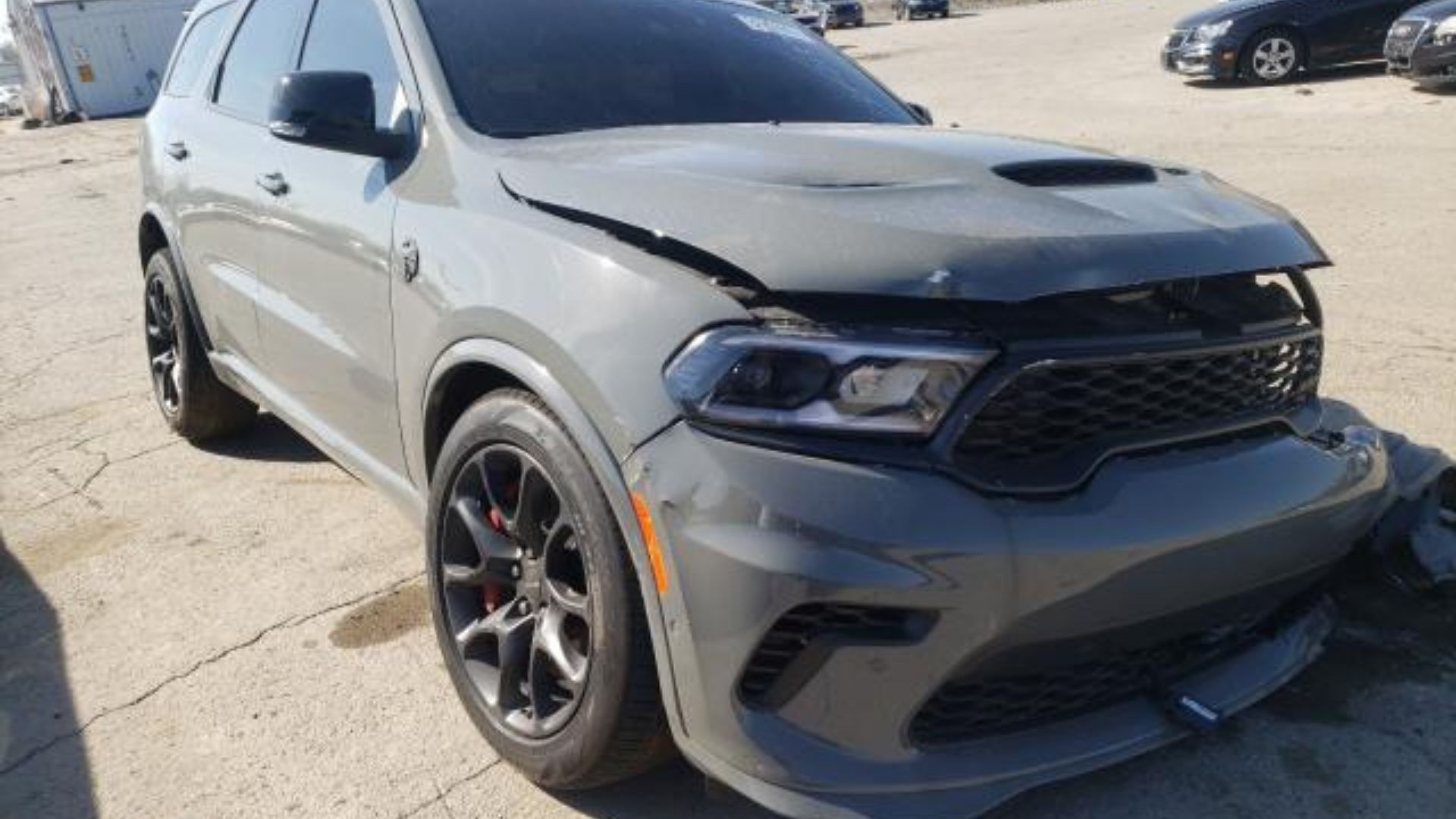 If you're interested in this Durango Hellcat, you better hurry. Bidding ends later today. At the moment, this vehicle is located at Copart's lot in Chicago Heights, Illinois.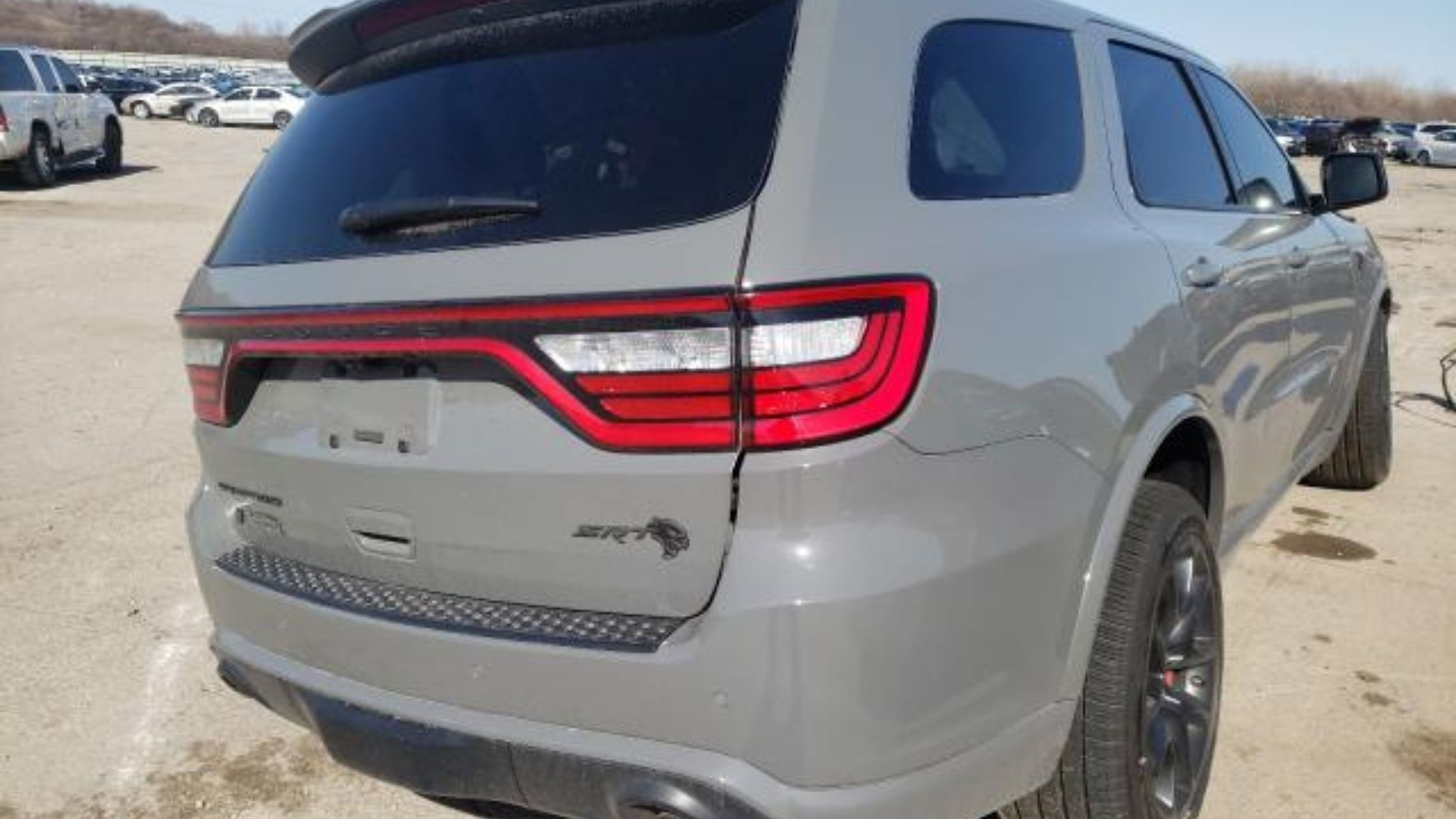 With production capped and around 2,000 Durango Hellcats destined for the US market, there's quite the incentive to repair and keep or sell this muscle crossover. With an estimated retail value of $89,806 and the current bid of $56,000 on Copart, we think this Hellcat will sell for a good amount. Whoever gets it should feel lucky since these things don't exactly grow on trees. Hopefully it ends up in the hands of someone who actually knows how to drive it.
How much would you pay for this Dodge Durango Hellcat in its current condition? Check out the Copart listing for yourself here.