Plus, the truck is owned by a celebrity.
---
Oh, Southern California, land of wild police chases. Just when we thought we'd seen it all with a high-powered muscle car outrunning the cops and other crazy things, some guy went on a rampage from Malibu through the San Fernando Valley  before finally being thwarted by a light pole in a Taco Bell parking lot. Even better, the modified Ford 6x6 truck he was driving should've been able to take that hit like a mosquito hitting a charging bull.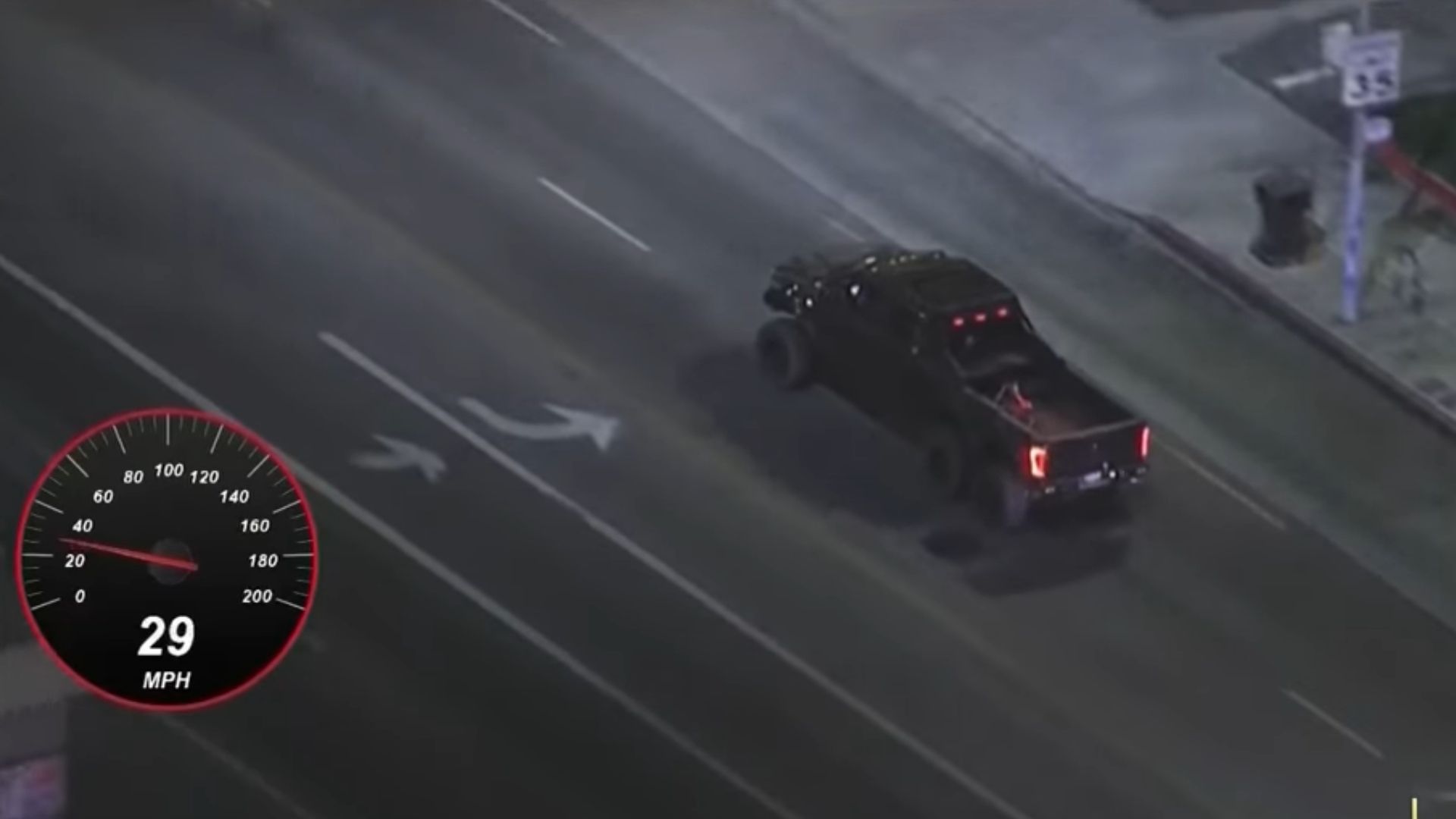 According to police, all the action started at about 6:30 pm  when a $350,000 Ford F-550 valued at about $350,000 was stolen from the service bay of a Ford dealership in Van Nuys. Some news outlets, including other automotive sites, are reporting it was a Hennessey VelociRaptor.
We can see why they'd jump to that conclusion since there are 6 wheels and a Raptor-like front grille (which a lot of regular F-150 owners throw on their ride these days), but these people obviously don't spend that much time around Ford trucks. The hood and rear wheel wells, among many other details are off, clearly indicating this isn't a Hennessey build. Reports out of California claim the truck was modified in Salt Lake City, which is the area where the Diesel Brothers and other shops reside.
Anyway, the guy who took the truck just rode up to the service bay on his bicycle, threw the bike in the bed, jumped in the cab, and just drove off. Police spotted it in Malibu on Knolls Road and the chase was on. A PIT maneuver was unsuccessful because you can't exactly push something that weighs 7,000 pounds unless you're using a semi.
California Highway Patrol also used a spike strip, but it seemed to have zero effect. It wasn't until after 10 pm that the driver was goofing off in a Taco Bell parking lot, probably drunk off the power of driving a vehicle the cops couldn't stop, when the light pole became his undoing.
After police arrested the driver, they concluded he might have been under the influence. Given his behavior, that seems likely.
Oh, yeah, and this truck is owned by DJ Marshmello. If you don't know who that is, it's ok because he's popular with the youth who like to go clubbing and nobody else.