Only three are planned for production!
---
The all-new 2021 Ram 1500 TRX made big news last month with its Raptor-slaying 702-horsepower Hellcat V8, but Hennessey Performance is going to squeeze even more power from this off-road performance truck. The Texas-based tuner just announced plans to build a stretched 6x6 version of the TRX with a 1,200-hp called the Hennessey Mammoth, and only three of these trucks are planned for production.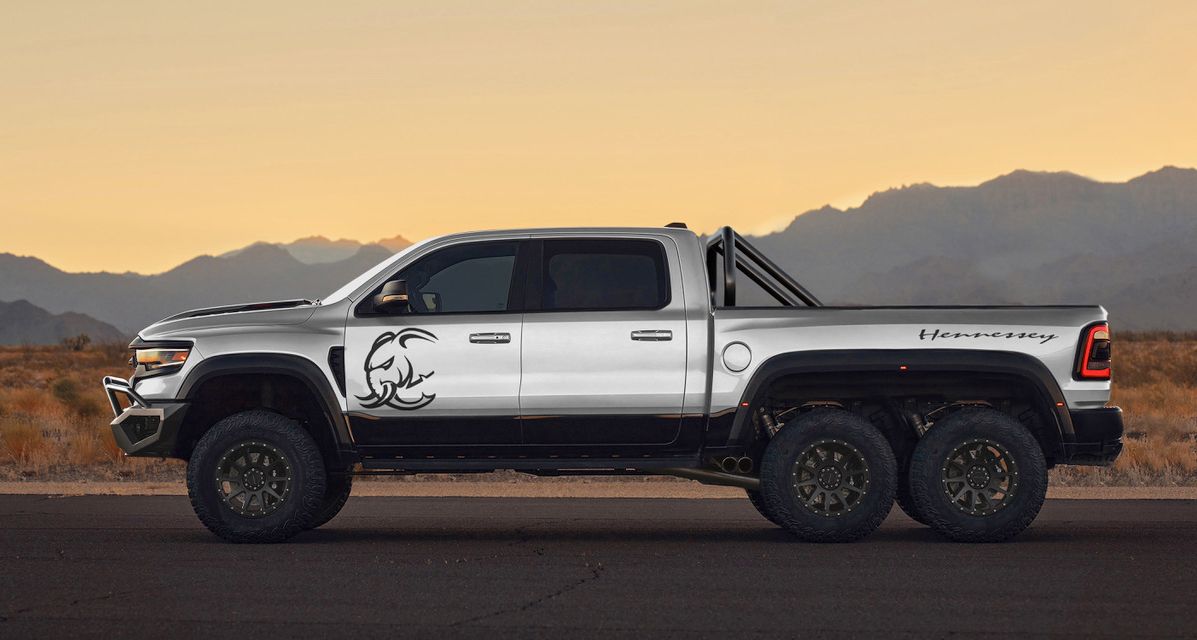 Hennessey starts by yanking out the 6.2-liter supercharged Hellcat Hemi and replacing it with Mopar's Hellephant engine. If you need a refresher on this engine, the Hellephant is a 7.0-liter (426 cubic-inch) supercharged crate engine that was introduced at the 2018 SEMA Show offering up 1,000 horsepower at a jaw-dropping price of $29,995.
In the Mammoth, Hennessey is cranking the output up to 1,200 hp making it the most powerful truck ever offered by Hennessey Performance. That's a serious claim considering you can get a 1,000-horsepower Maximus Jeep Gladiator, 775-horsepower Venom775 Ford F-150 or a 700-horsepower Goliath Chevy Silverado/GMC Sierra!
Since the TRX isn't in production yet, the provided image is only a rendering, but this is going to be one seriously sinister beast. Does anyone need a 1,200-hp 6x6? Absolutely not, but we're glad this monster will exist in the very near future. Even John Hennessey says that the Mammoth represents a "ridiculous idea," and he added that these trucks will be "the most exclusive and most expensive truck we've ever built."
Since 2017, Hennessey has produced 15 versions of the VelociRaptor 6x6 and Goliath 6x6, but just three examples of the Hennessey Mammoth will be built. In addition to this exclusivity, each will come with a price tag of $500,000, and three lucky buyers will have the chance to order one on September 4th.
Source: Hennessey Performance