Is this little thing the future of entry-level motorcycles from the Germans?
---
Recently, BMW Motorrad breathlessly announced its Concept CE 02 in advance of IAA Mobility 2021. The all-electric concept bike is being described as "neither a classic motorcycle nor a scooter" but is instead an "exciting and highly emotional mobility offer." Whenever an automaker goes straight for emotional appeal on a some new "revolutionary" product, it's a sure sign you're being presented with snake oil.
Check out Italdesign's latest all-electric motorcycle concept based on a vintage Ducati here.
In the official press release, BMW Motorrad Head of Design Edgar Heinrich admits there's "little about" this concept electric bike which relates to the brand at all. He gets credit for stating the obvious, but then he goes in for the kill. Apparently, the BMW Concept CE 02 is "novel" and will be a pioneering concept.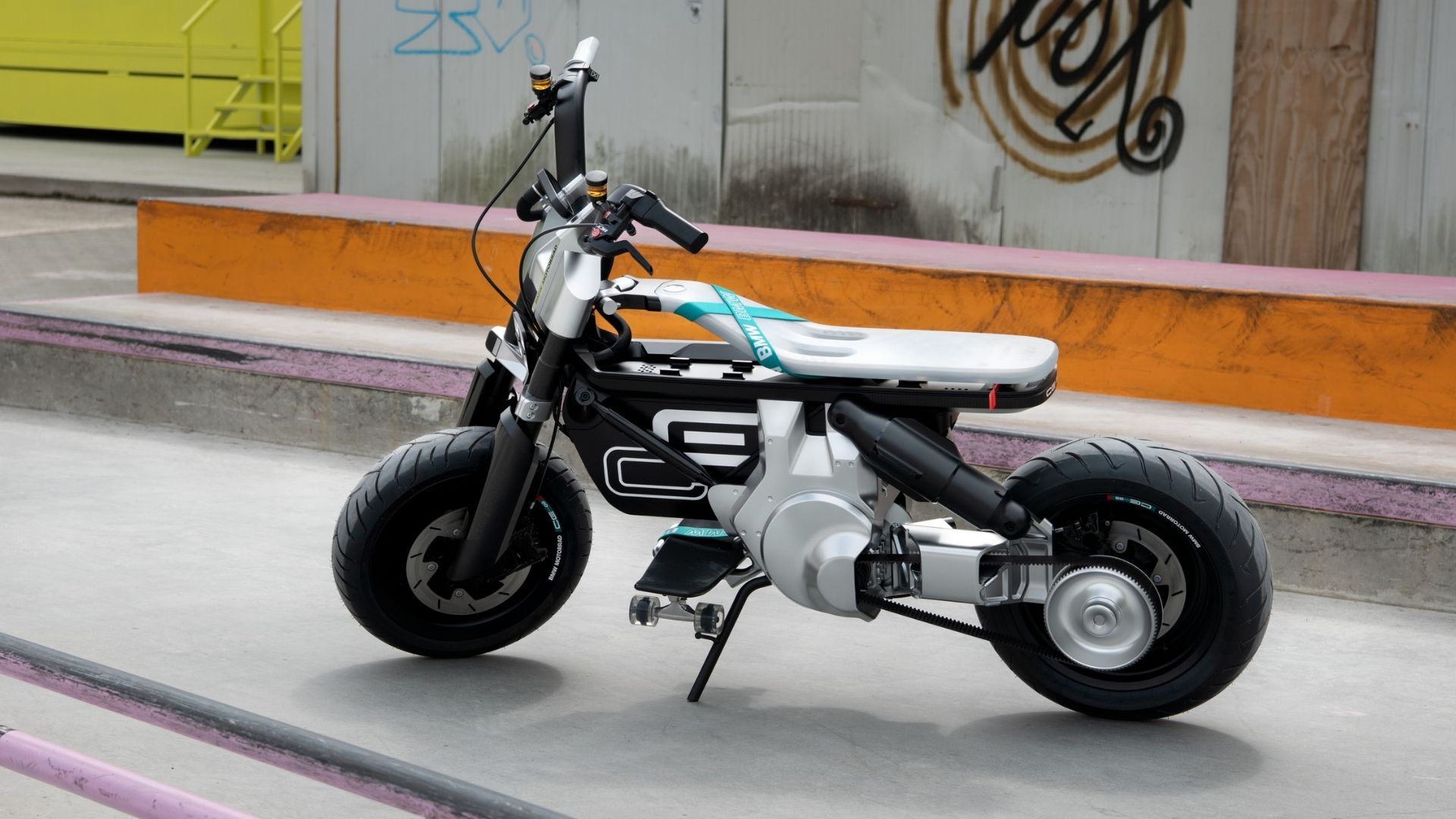 Maybe by now your interest is piqued or your just laughing -either way I appreciate you continuing to learn about this… interesting bike. What Heinrich says is so revolutionary about this thing is the different proportions, which means incredibly tiny, a feature he believes makes it ideally suited for urban dwellers. Like many executives, he's apparently forgotten not everyone lives in huge metropolises and many people don't want to.
Small and lightweight, this concept is supposed to be geared at riders over 16 years old. At first glance I thought it was possibly for young riders to help them get down the feel of balance. Instead, it's supposed to appeal to adults who have never ridden a motorcycle in their life. BMW Motorrad feels these people will be "open to new experiences" as well as "smart technology."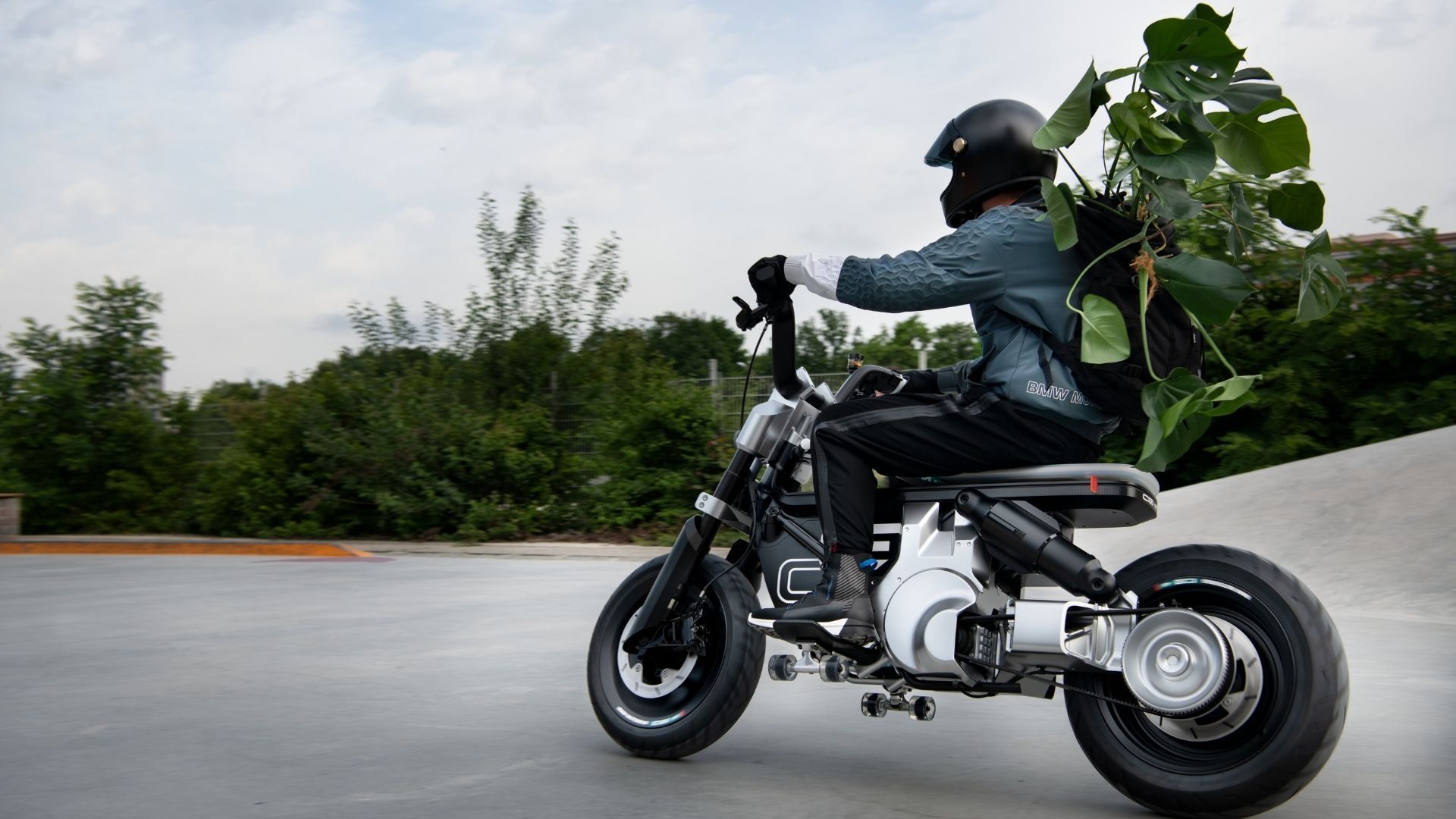 There are all kinds of little "clever" designs like the ability to store a skateboard in the lower chassis and use it as footrests. Elastic straps on the front of the seat, where the gas tank normally would be, allows riders to quickly stash their Trader Joe's bag or a copy of State and Revolution. What's missing is significant rearward lighting, which could be a potential safety concern.
Enough with the marketing spin, let's get on to the technical details of the Concept CE 02. It weighs a mere 264 lbs. so it's less intimidating for newbie riders, but that's pretty portly for something so small. What's more, the seat height is just 28.7 inches, making this impractical for larger riders.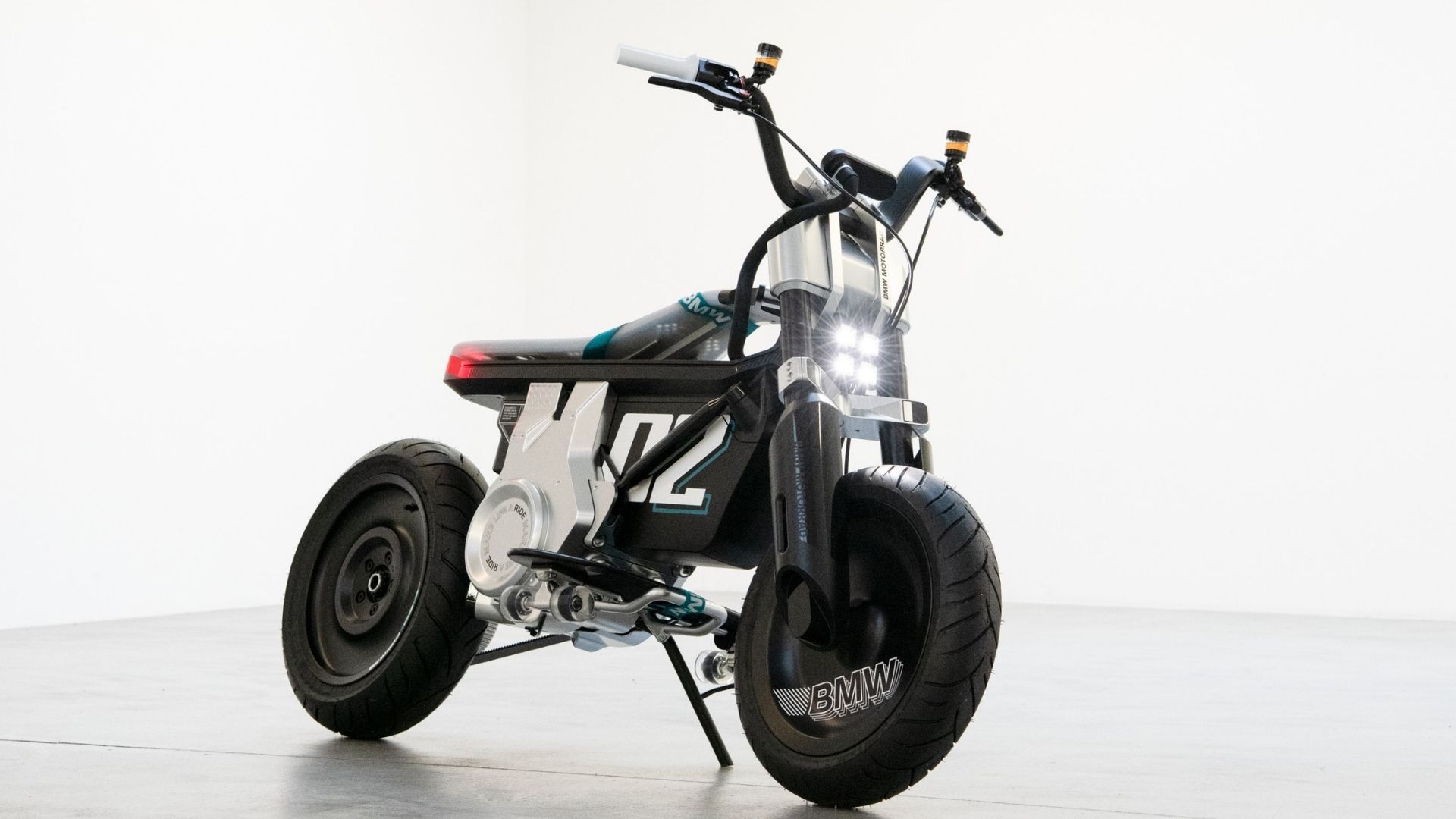 Output is pegged at 11 kW, which sounds good for someone who knows absolutely nothing about motorcycles. The bike can get up to 55 mph, which honestly is more than I was expecting initially. The thought of riding this thing on a slower highway seems terrifying to me, but if this goes to market in its current form someone no doubt will do it.
Range is a pathetic 55 miles. Yes, in a compact city that one rarely if ever leaves that's plenty. However, for those us who don't live on an island with buildings stacked up on top of each other, that's not very far. For example, if I drive from one end of the Phoenix Metro to the other, which I do fairly often, I can easily rack up about 70 miles one way. That would be 140 miles for the round trip, so if I were to use something like this I'd have to recharge the bike 3 times, adding considerable time to my journey. Or, I could use a Harley or a gas-powered BMW, be far more comfortable, and If I need fuel get it in a few quick minutes' time.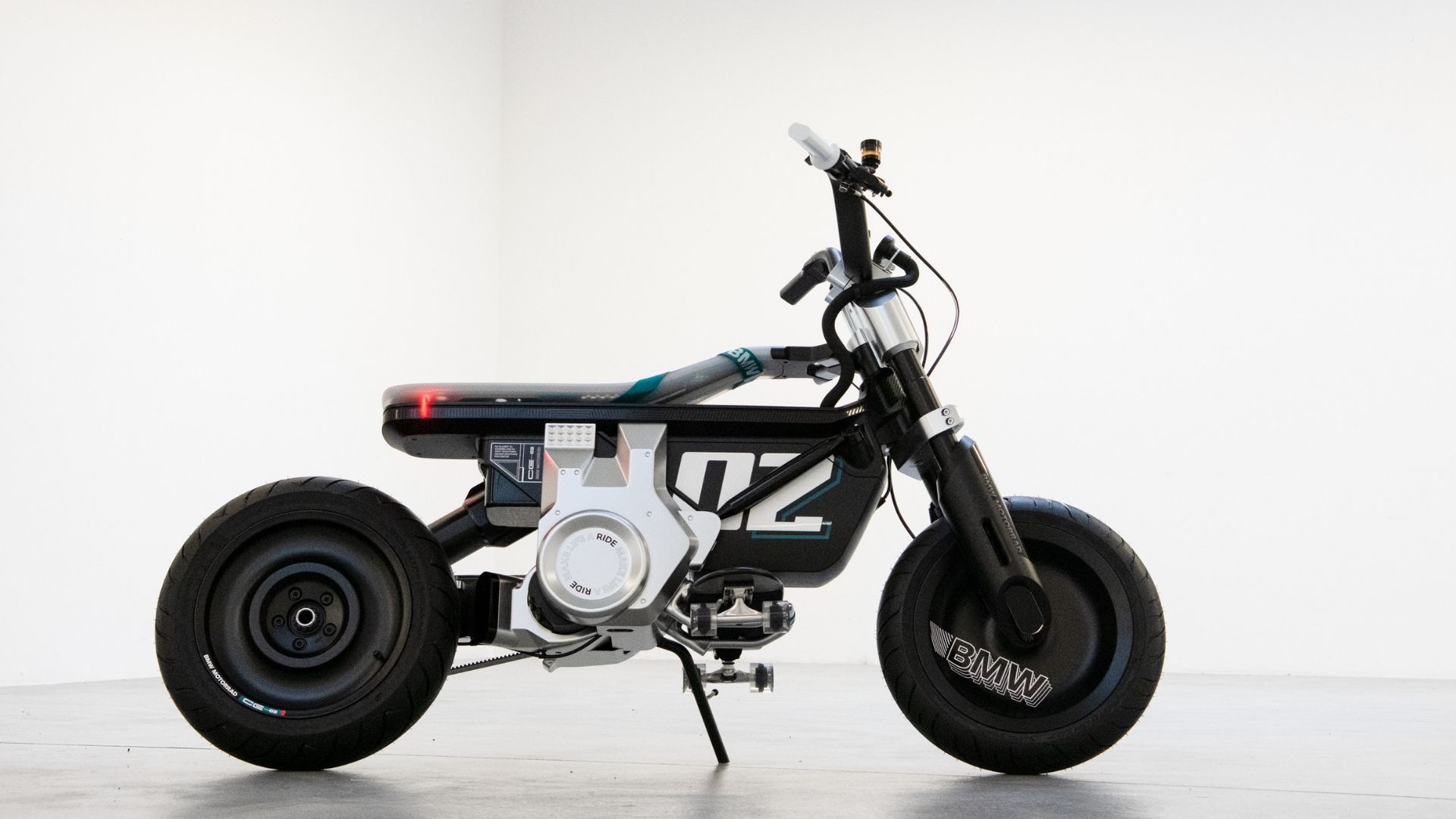 You know, I was impressed with BMW's expanded R 18 lineup revealed about a month ago. The two cruisers show the Germans are serious about giving Americans what they want, not what they think they want. Maybe this Concept CE 02 will be a Europe and Asia-only product, if it makes it to production. But it does make me stop and think just how committed BMW Motorrad is to reshaping mobility versus giving the consumer what they actually want.
Maybe something like this would help get more people on motorcycles as they get their feet wet, then realize the thing they learned on sucks, I don't know. With ridership numbers falling in North America for years, this could be the shot in the arm the industry needs. Of course, some people thought that about the scooter craze a few years or so back and that didn't materialize.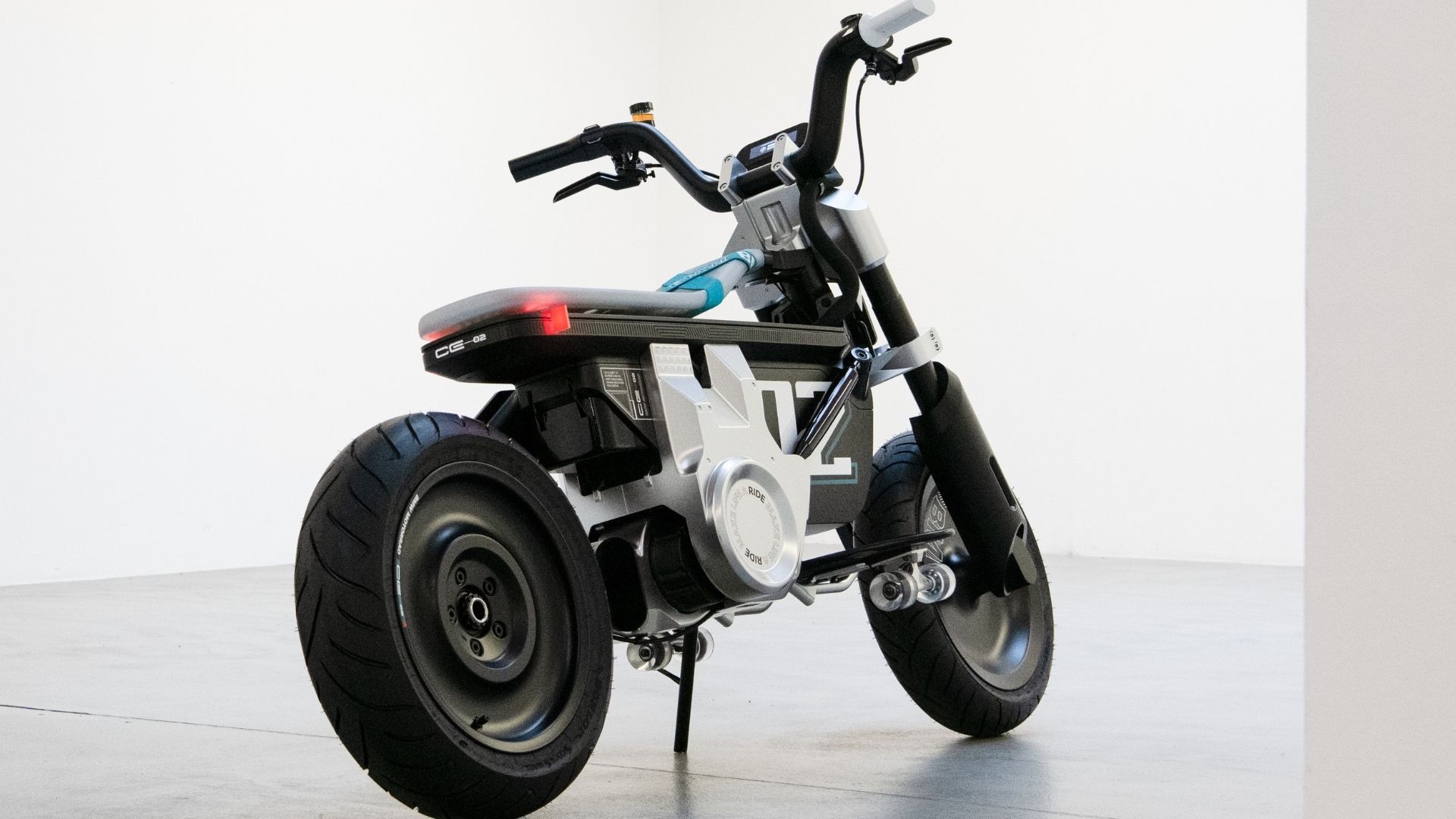 If you're not familiar with IAA Mobility, it's a conference in Munich, German where mobility and technology professionals meet to discuss highbrow concepts. The main focus is changing how you get around, because the motorcycle or car you own right now should be obsolete. One of the chief objectives is to push for electrification and sustainability. The gathering is being held in Munich since it's a so-called "smart city" and an example of what these people would like to transform where you live into.