And the year of vehicle theft spills well into 2021…
---
Four unidentified men broke into a Harley-Davidson dealership in Kokomo, Indiana in the early morning hours of March 18, each of them riding out the doors on stolen Harley-Davidson Street Glide Specials. It looks like a pretty well-coordinated heist, like they knew the building and the bikes well, so it likely had been planned thoroughly. We've been seeing quite a few dealership thefts during the past year, many of them involving quite a few vehicles swiped at once. Those losses are eventually passed on to consumers in one way or another, so these are hardly victimless crimes.
Thieves have decided to steal straight from the Dodge factory. Check it out here.
All 4 thieves were wearing dark clothing, gloves, and helmets when they broke into the dealership. That means even though the whole crime was caught on camera, police have little evidence to follow up on.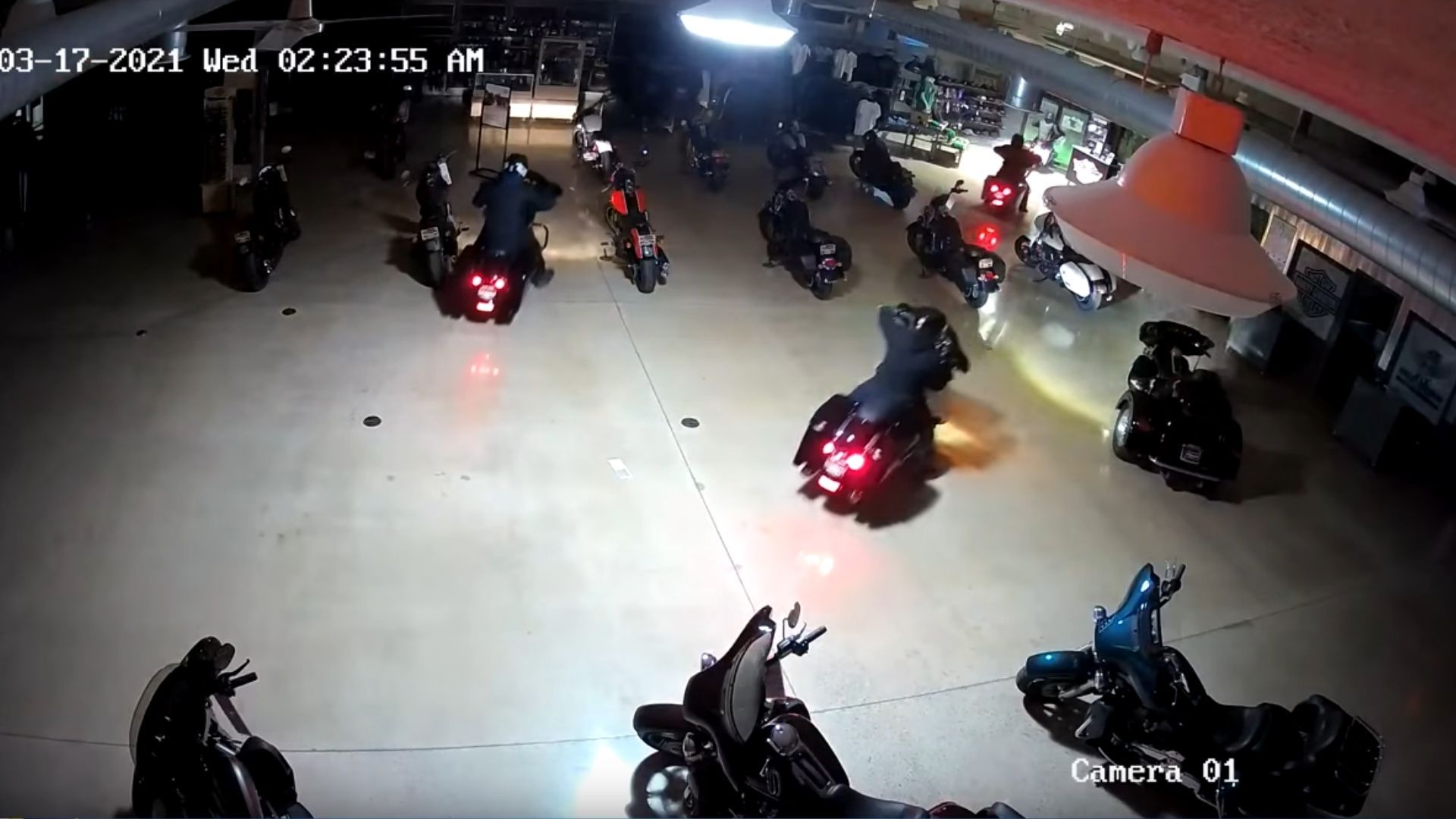 According to police, the value of the 4 Harleys stolen amounts to about $95,000. Exactly how they were able to start the bikes without the keys isn't clear in the video, but they seem to start them right up. It's possible they were able to break the keys out of whatever safe or lockbox they were stored inside.
Some people think the theft was an inside job since in the video they say it looks like one of the thieves uses a fob to unlock the front doors. However, if the door lock is actuated wirelessly, there are ways to hack such a system. Plus, every time there's a theft at a dealership one of the first things out of people's mouths is it's probably an inside job, an angle we're sure the police always consider anyway.
Theft of motorcycles and cars has been on the rise since about this time last year, with signs indicating it's not slowing down anytime soon. If nothing else, this video should convince you that your bike's ignition system isn't enough to stop a thief from swiping your ride.
Source: New York Post