Considered one of the best restoration experts in North America, Dave Dudek's hobby has him performing full restorations to installing engine modifications secretly in an unmarked garage.
---
There's a mechanic in Clinton Township that is considered to be one of the top muscle car restoration experts in North America, but he doesn't operate under a huge business sign and he turns away more projects than he accepts. The 48-year-old uses an unmarked garage where he secretly transforms these cars back to former glory. His name is David Dudek, and his private business is by word-of-mouth only.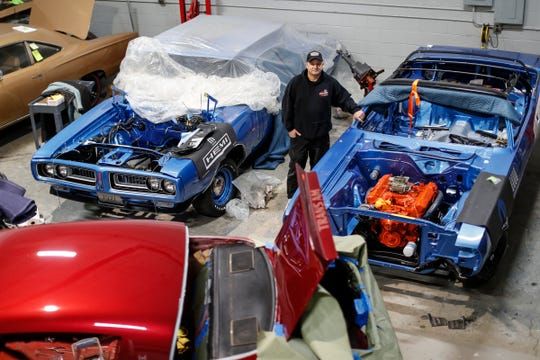 By day, he works at Fiat Chrysler Stamping Plant in Warren from 7:30 a.m. to 3:30 p.m. where he has been employed for 23 years. After his father brought home a blue 1969 Barracuda convertible, Dudek has since been hooked on muscle cars. If his dad was just going to the store to grab bread or milk, he was more than ready to ride along.
Restoring these muscle cars is Dudek's hobby, and he currently has a list of 11 cars out of Miami, New York, and somewhere near Alberta, Canada. Just one of these cars can take up to a year to complete.
One of Dudek's clients is Peter Swainson, 61, from Red Deer, Alberta, and they've worked together for over 10 years. Over three dozen muscle cars sit in Swainson's collection that he keeps on his farm. He mentions that Dudek goes above and beyond when breathing new life into these cars while bringing them back to their original condition and bringing out ultimate performance potential. Swainson goes on to talk about how Dudek completely disassembles each car along with every nut and bolt, and then puts what remains of the body on a large rotisserie.
Dudek's restoration business started somewhat by accident after he repainted a 1968 GTS Dodge Dart and brought it to a car show in Columbus, Ohio, about 15 years ago. A note was left on his windshield asking about a magazine photoshoot. After that, Dudek has performed work on hundreds of cars which range from full authentic restoration to installing engine modifications.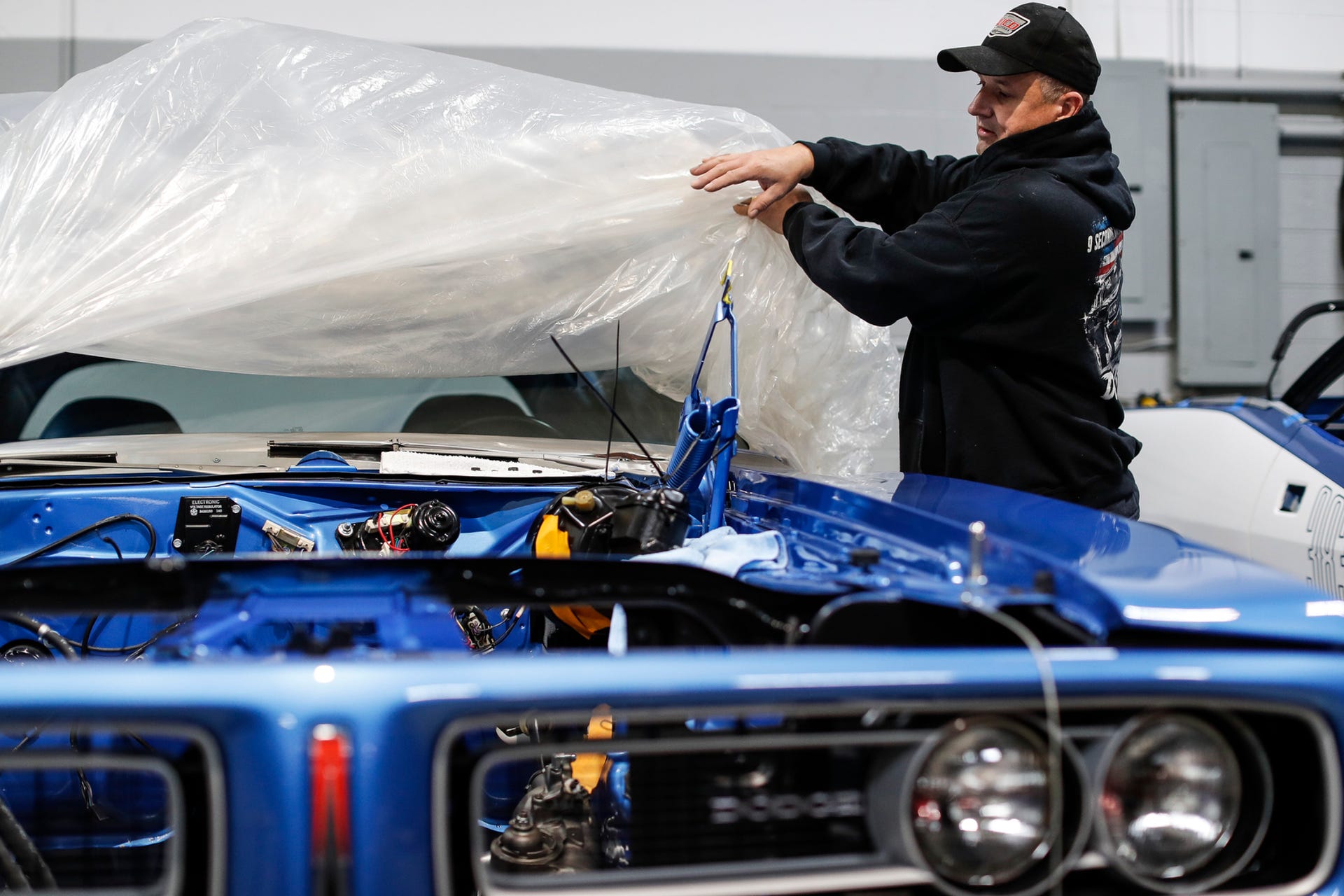 The projects he is currently working on are on the Mopar-heavy side such as 1970 'Cuda convertibles, a '71 Cuda convertible, a '71 Hemi Charger R/T, a '71 Charger R/T, a '71 Charger R/T featuring a rare sunroof, a '68 Charger R/T, a '69 Hemi Road Runner, a '71 Hemi GTS, a '68 Dodge Daytona, and a '60 Plymouth Belvedere. The last one, the Belvedere and the '71 Charger are both receiving modern Hellcat powerplants.
A rare 1970 Plymouth 'Cuda convertible slathered in Sassy Grass Green was purchased by a man from Rochester, New York, for $450,000. The car was then brought to Dudek to tear down and build back up, and the car may be worth about $700,000 when it's all said and done. That same gentleman splurged on two other 'Cuda convertibles with one bought for $2.1 million and the other one at $3.3 million.
About 20 years ago, Dudek was the cofounder of a racing organization named F.A.S.T., or Factory Appearing Stock Tire. Muscle car owners from all over the United States and Canada would race together about six times a year. Dudek, who races his '69 Plymouth Road Runner Hemi, says that many of the race cars still sport the original window stickers they were given brand new. He piloted his Road Runner down Maryland's International Raceway drag strip at 9.902 seconds at 140.31 mph.
Dudek is also a cancer survivor of six years having battled non-Hodgkins lymphoma. Now cancer-free, he realizes not everyday is promised, so he takes incredible pride when working on these cars. He even met his wife as he was out cruising in his friend's '88 Mustang GT convertible while seeking out a race, and she describes his passion as abnormal and obsessive and still going strong after 3o years. Dudek's love for cars has since rubbed off on her as well as she purchased a 2016 Dodge Challenger Hellcat and has taken it down the track where she nabbed a 10.71 second time at 128 miles per hour.
Source: Detroit Free Press
Read More Muscle Car News Here...