Meet the quickest, fastest and most powerful mass-produced truck ever made!
---
Back in 2016, Ram introduced an off-road performance truck concept vehicle called the Ram Rebel TRX, and now this truck has finally become a reality. According to FCA, the 2021 Ram 1500 TRX is the "quickest, fastest and most powerful mass-produced truck" thanks to its 6.2-liter supercharged Hellcat Hemi V8 laying down 702 horsepower 650 lb-ft of torque.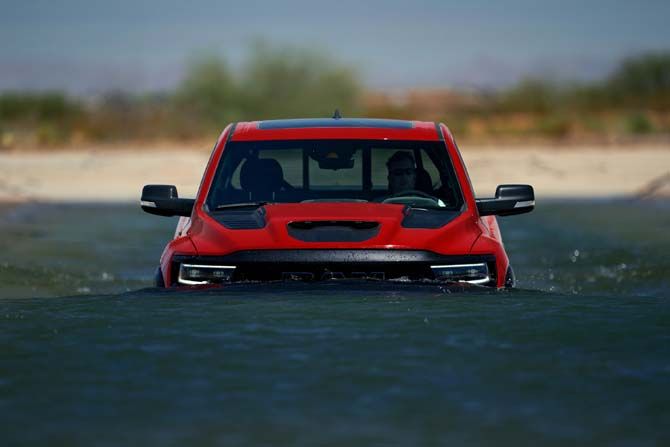 Just from a performance perspective, the 2021 Ram 1500 TRX will smoke some of the best sports cars and muscle cars out there with a stated quarter-mile time of just 12.9 seconds and a 0-60 mph time of 4.5 seconds, but as you can tell, this truck isn't a modern version of the Dodge Ram SRT/10. No, this truck has the Ford F-150 Raptor dead in its sights, and Ram didn't pull any punches. Think of it like a super Power Wagon.
In addition to the powerful V8, the TRX was raised by two inches opening up space for the standard 35-inch tires, and the track width was increased by six inches requiring wider body panels – the front fenders are eight inches wider, and the rear cargo bed panels have been widened as well. The ram air hood features cool-looking heat extractors, but sadly, the concept's side-mounted exhaust system didn't make it to the production design.
These raised stance and modified body add up to an approach angle of 30.2 degrees, a breakover angle of 21.9 degrees, a departure angle of 23.5 degrees and a ground clearance of 11.8 inches. On top of that, the TRX has the ability to ford through more than 32 inches of water, while retaining its ability to tow up to 8,100 pounds... although not at the same time, obviously. The performance-tuned off-road suspension give the 2021 Ram 1500 TRX more than 13 inches of wheel travel at all four corners, and the Bilstein shocks allows the TRX to blast over terrain at speeds of more than 100 mph.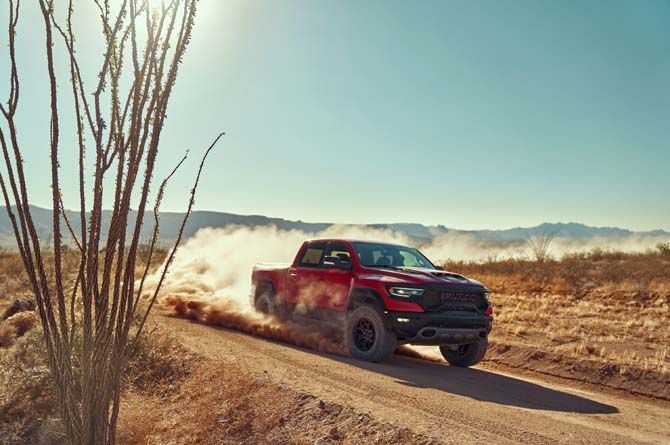 Ram gave the TRX a cabin fit for an off-road performance truck with a flat-bottomed steering wheel, massive paddle shifters and added technology such as Off-Road pages, a forward facing camera and a Baja drive mode. The TRX also got rid of the rotary shifter and gave the truck a proper center console mounted shifter, but it isn't clear if this will make its way to other Ram 1500 models.
Production of the 2021 Ram 1500 TRX starts in "early fourth-quarter 2020" with a starting price of $70,095, and it's only available with the crew cab body and 5'7" cargo box. A Launch Edition will also be offered, but with just 702 units of this truck planned, they will likely sell out fast.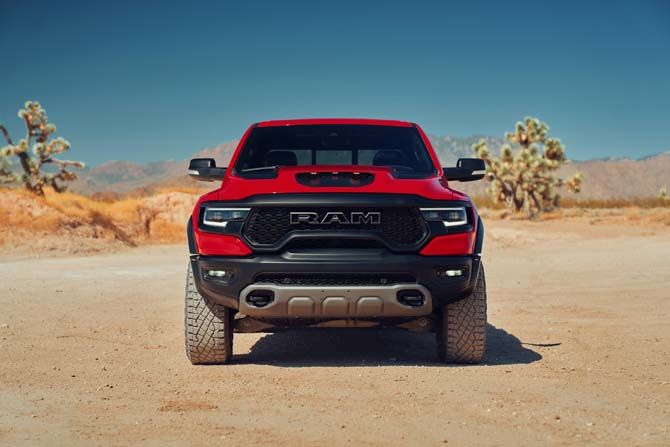 Source: Fiat Chrysler Automobiles