Become a Speed Society Club Member and possibly take home this menacing 2019 Dodge Challenger Redeye Hellcat.
---
Dodge has proven itself in a major player in the game of modern performance thanks to its high-powered Hellcat lineup. Boasting an insane 1,100-horsepower, this Dodge Challenger Hellcat Wide-body is ready to leave any high-performance Mustang, Corvette, and Camaro in the dust. Become a Speed Society Car Club Member for $8.95, you will receive automatic monthly entries into every sweepstakes. This time, one incredible modern Mopar is being offered with plenty of horsepower on tap.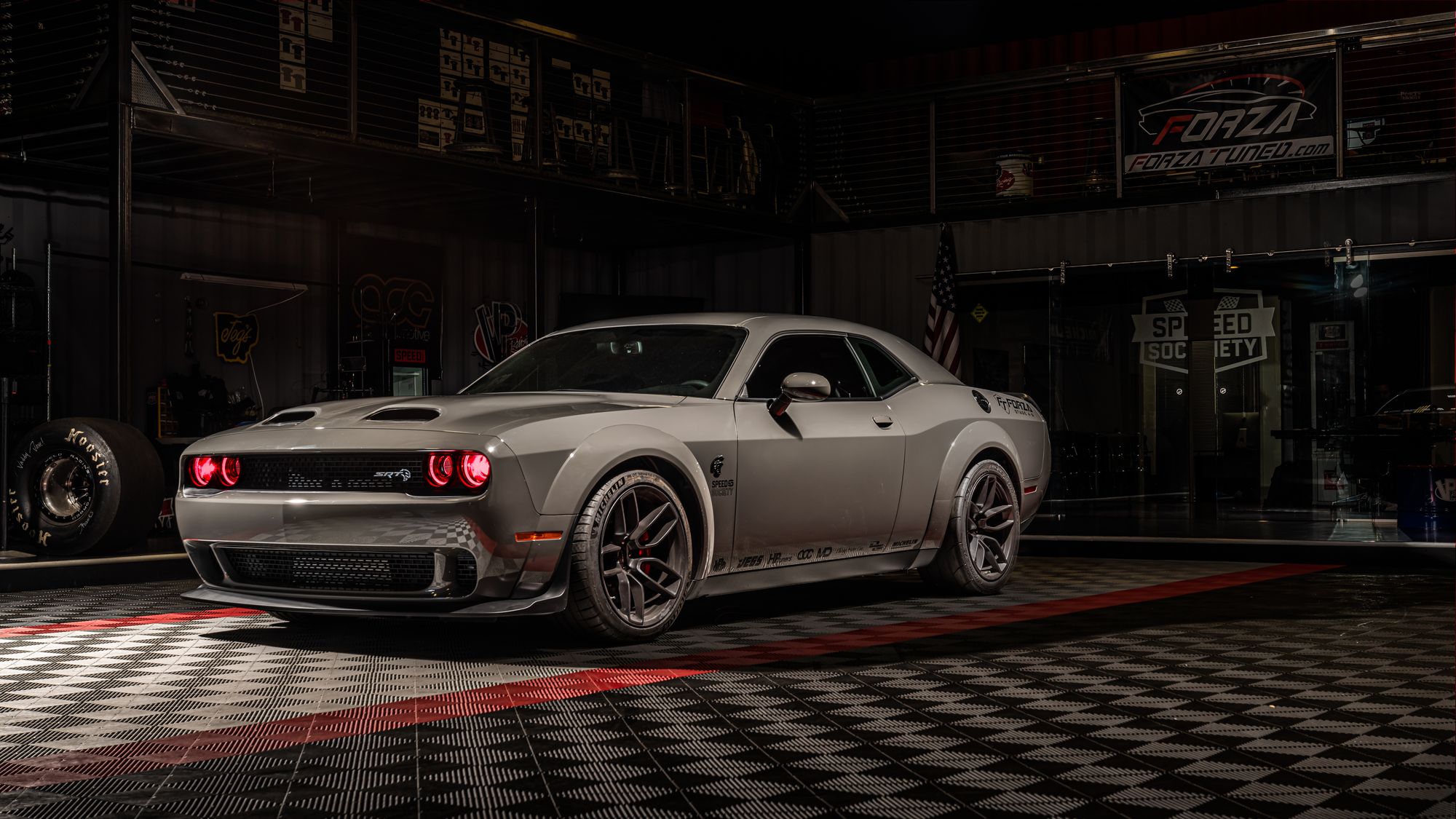 The lucky winner gets to choose whether they want to take home the Redeye Hellcat or $50,000 cash instead. The sweepstakes ends on September 8th at midnight, so go ahead and become a member today so you don't miss out on any entries that could nab you this incredible Redeye Hellcat Dodge Challenger Wide-body.
Speed Society asked fans through a poll asking about which car they should give away next? The answer was easy - the Redeye. After some searching, they landed a brand new 2019 Redeye Hellcat Wide-body in Destroyer Gray. What name could be more appropriate than that?
Of course, the team at Speed Society isn't going to hand you a factory Redeye. They flew Forza Tuning's Brenton Brown to their San Diego headquarters where he made sure to unlock this Mopar's full performance potential. From the factory, a '19 Hellcat Redeye Challenger is powered by a supercharged 6.2-liter V8 engine and rated at 797-horsepower and 707 lb/ft of torque to the wheels. Why not add about 300 more horses?
To unlock that full potential meant handling a few shortcomings of the stock platform, engine, supercharger, suspension and rear end. To do that, Brenton added Forza's 1100-hp 4R package to this Hellcat-powered Redeye Challenger.
The Forza Tuning package includes an abundance of upgrades such as the Jokerz Performance ported and polished supercharger, a Griptec pulley, HP Tuners unlocked ECU, AT balancer, ATI crank pin kit, a Gates Supercharger "Green" belt, Milodan thermostat, Kenne Bell Dual Boost-A-Pump, Brisk spark plugs, Injectors Connection 1300cc fuel injectors, American Racing Headers 2-inch primary long tubes with high-flow cats, AAD Challenger wheel hop eliminator kit, Sophn rear sway bar link kit, Driveshaft Shop aluminum driveshaft, Per4mance Development DIRS Extreme rear diff brace, Forza dual-valve crankcase breather system, and a Forza supercharger spacer kit.
After the mechanical modifications were said and done, this Redeye received a brand new set of Pilot Sport 4S rubber (295/35/ZR20 front, 305/35/ZR20 rear) thanks to corporate partners at Michelin. They filled the tank with VP Fuel before and strapped the Redeye on Speed Society's Mustang AWD dyno to make sure the car was performing as it should.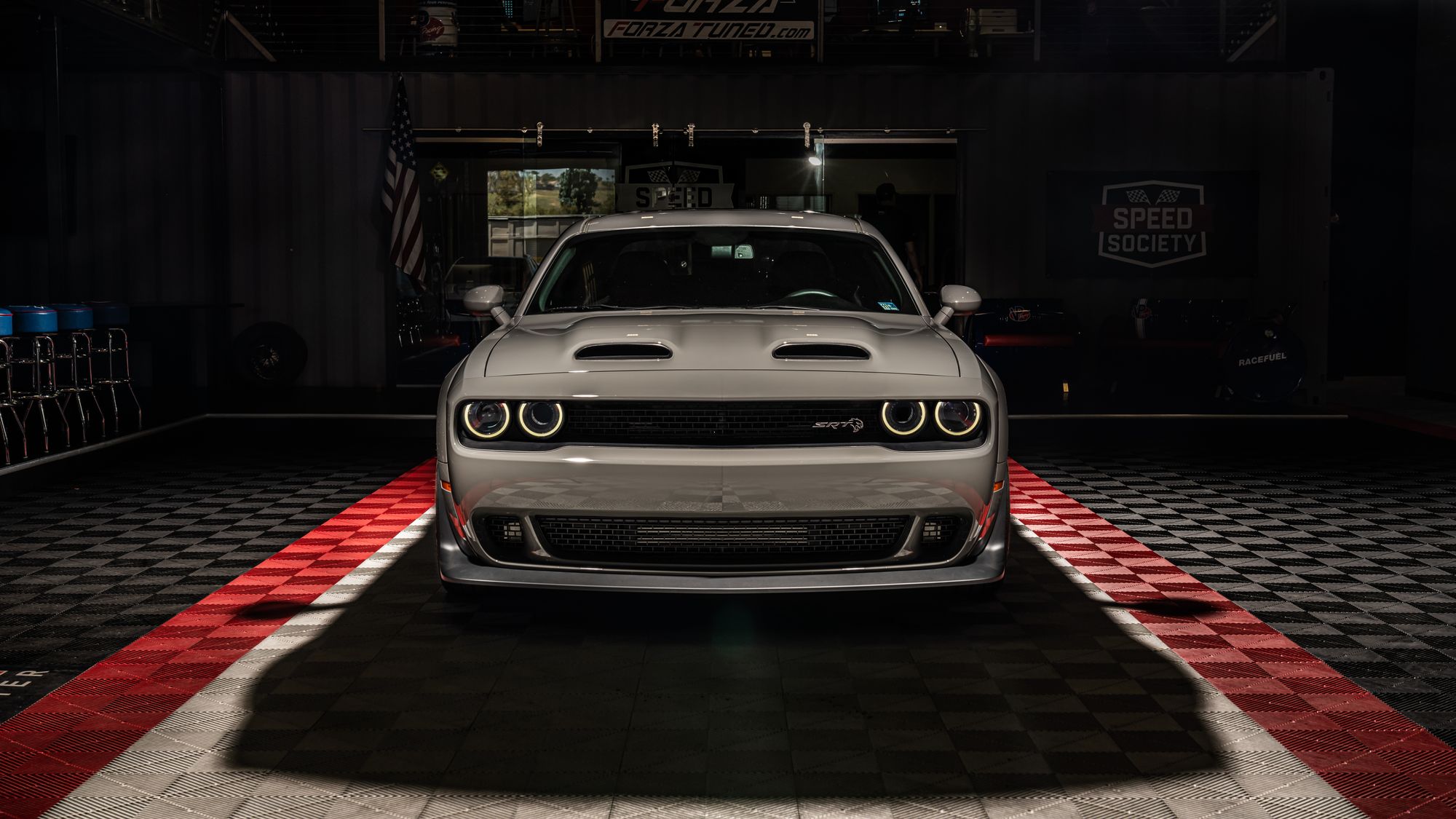 The winner of the car also gets an all-expense paid trip to San Diego, California to pay a visit to Speed Society's headquarters. Upon arrival, that lucky person will meet the Speed Society team and their partners for the ultimate VIP experience. All you have to do is become a Speed Society Club Member for just $8.95, and maybe you'll find yourself behind the wheel of a potent 2019 Redeye Hellcat Wide-body Challenger or $50,000 cash. Your choice!
Become a Speed Society Car Club Member today to receive automatic monthly entries into every sweepstakes plus member benefits, exclusive merchandise, discounts and value. Sign up here!