And also the most-searched car within their collections.
---
Many celebrities are known car enthusiasts and with pockets as deep as theirs, they undoubtedly have accumulated a massive collection. Sometimes when we hear about a certain celebrity, we often wonder what they drive around the hills of Hollywood. Luckily for us, the internet is vast, and google usually provides the answers along with photos.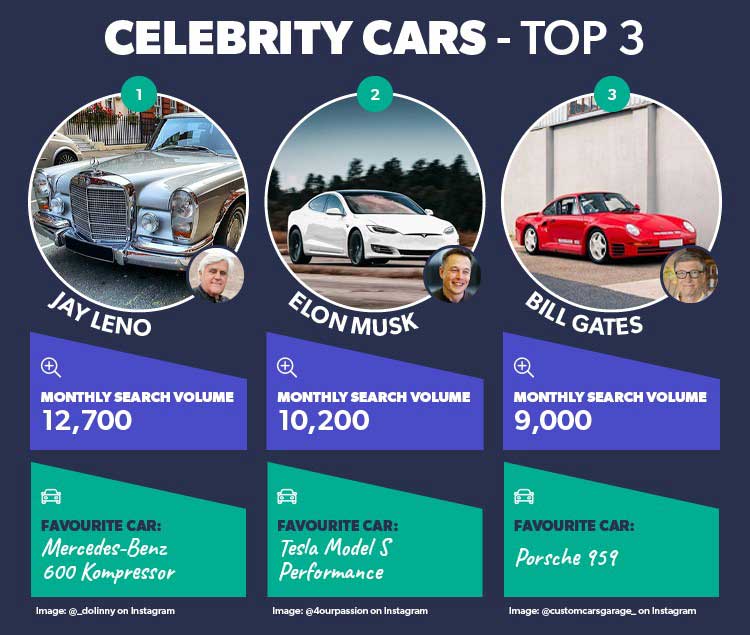 The internet also tells us what celebrities are the most searched on, well, the internet. According to info provided from allcarleasing.co.uk, they first gathered a list that included "over 2,000 of the most well-known celebrities in the U.K." They then narrowed the list down by finding out "the combined average monthly searches for the following three terms for each celebrity: [Name] car; [Name] cars; and [Name] car collection."
Not surprisingly, Jay Leno takes first place in the most searched results. The former late night host is now mostly known for his show Jay Leno's Garage, and he owns more than 180 cars along with 160 motorcycles. With that many cars and bikes, it wouldn't be an easy task just to find out what Leno actually drives around. Although, a bit of researching online will tell you other interesting facts like his Mercedes-Benz 600 Kompressor is the vehicle in his collection that has been searched most often. Leno's monthly search volume is 12,700.
Up next is Elon Musk, the Tesla CEO with a net worth over $42 billion. This isn't entirely surprising since we recently wrote a story about Musk's otherworldly car collection that included a McLaren F1 that was written off in an accident, the Tesla Roadster he launched into space, and a 1978 BMW 320i. Out of everything, his Tesla Model S Performance would be the vehicle searched most online. Musks's monthly search volume is 10,200.
Third place belongs to Bill Gates, a billionaire known for changing vehicle import laws in the United States so he could get his hands on a rare Porsche 959. Gates is a Porsche enthusiast having owned plenty of models from the German automaker. When he first started making money, the first vehicle he purchased was a Porsche 911, then a 930 Turbo, and a 356. A brand new beautiful 4-door electric Taycan would be his most recent addition. Gates monthly search volume is 9,000.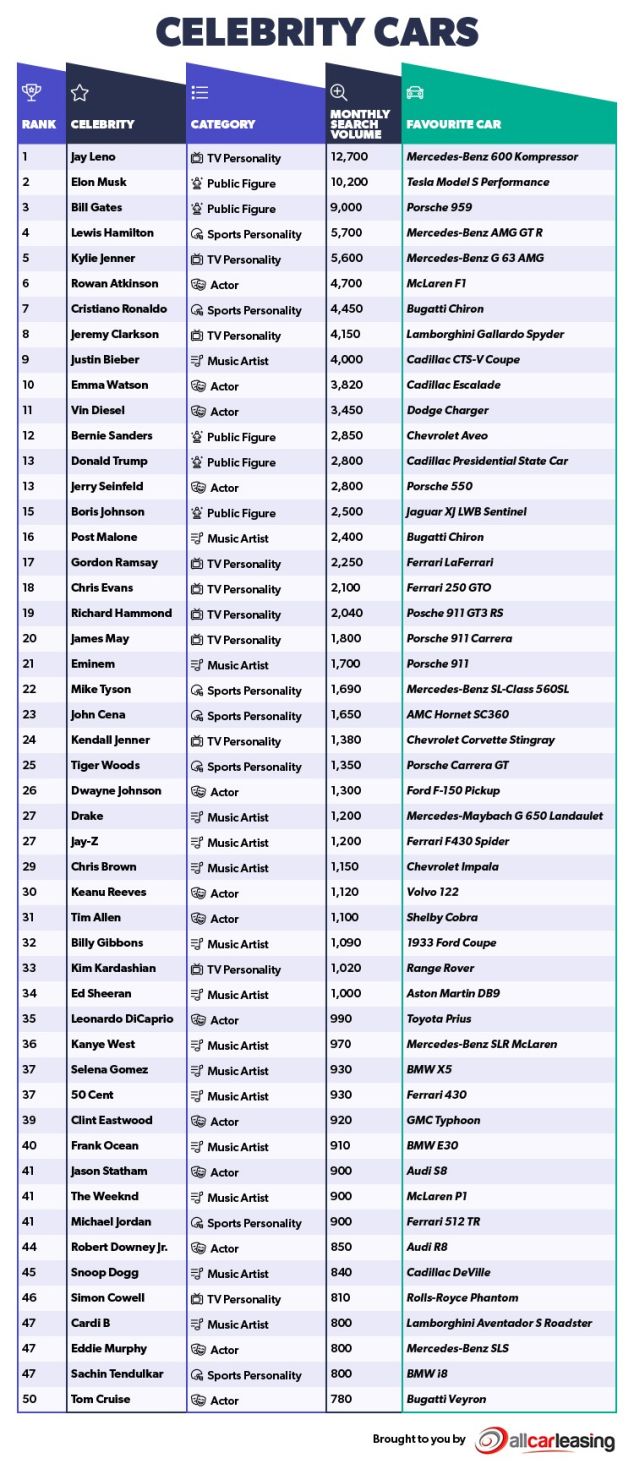 Fourth place goes to Lewis Hamilton, and fifth place would be Kylie Jenner. Jerry Seinfeld holds number down 15 with his most-searched being his Porsche 550, but falls behind Donald Trump, Emma Watson, and Justin Bieber all with Cadillac models as their most-searched. That is interesting information considering Seinfeld has his own show called Comedians In Cars Getting Coffee. Gordon Ramsey takes number 17 with a Ferrari LaFerrari. Keanu Reeves sits at number 30 with his most searched being the vehicle he drove from Toronto to Los Angeles to become an actor, his Volvo 122 given the nickname "Dumpy".
Also, did you know Leonardo DiCaprio drives a Toyota Prius?