Let's see how the all-new revived Ford Bronco compares to its first-generation predecessor from over five decades prior.
---
Much to the delight of car and off-road enthusiasts everywhere, the Ford Bronco has finally made an epic return to the Blue Oval lineup. The highly anticipated 2021 Bronco was officially revealed Monday night, and it didn't take long for reservations to fill up for the First Edition off-road SUV. The waiting game isn't over yet as this all-new Bronco is set to arrive at dealerships sometime next spring. With all the hoopla surrounding the Bronco's revival, how much has changed in 55 years from the first-ever 1966 Bronco model? A lot, of course. For fun, let's see how the two compare.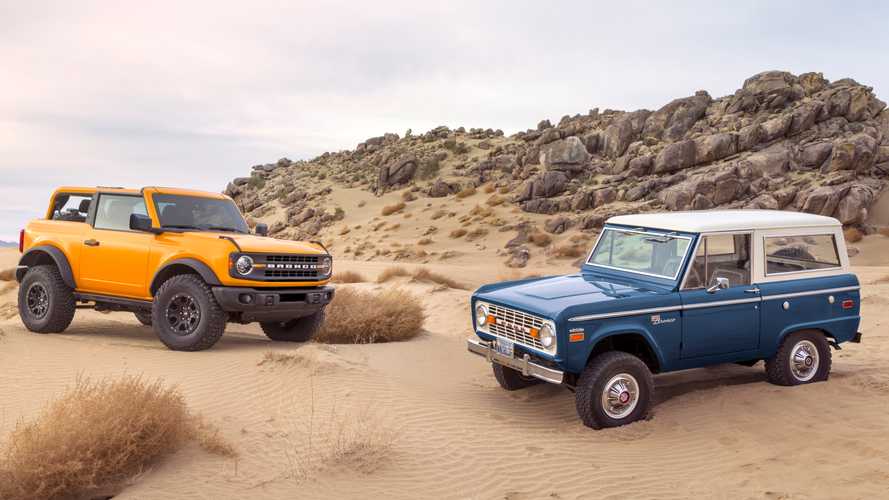 With a continuous production run from 1966 through 1996, the Bronco went through five distinct generation changes over the course of 30 years. The very first generation Bronco was produced from 1966 through 1977, and Ford designed and built the off-road compete against the Jeep CJ-5 and International Harvester Scout in the off-road market. Initially, the Bronco sat on its very own platform.
Variants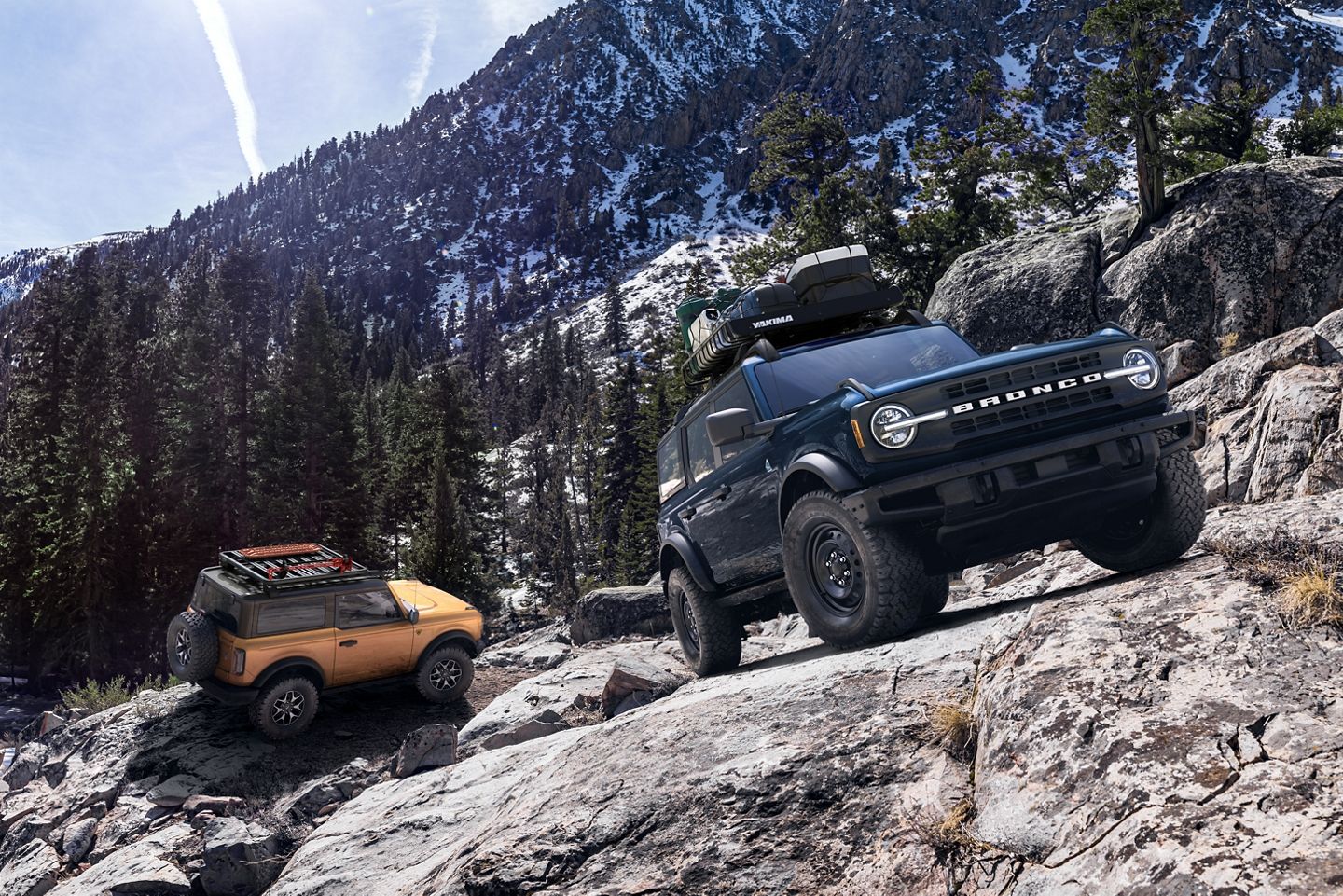 For the 2021 model year, the reborn Ford Bronco will be offered in three different variants, a two-door model that is reminiscent of its vintage kin (starting at $29,995). Also, a four-door variant was introduced along with a smaller model dubbed the Sport (pricing not yet announced). Different trim levels are available depending on what kind of off-roading you have in mind. The First-Edition reservations are completely filled up.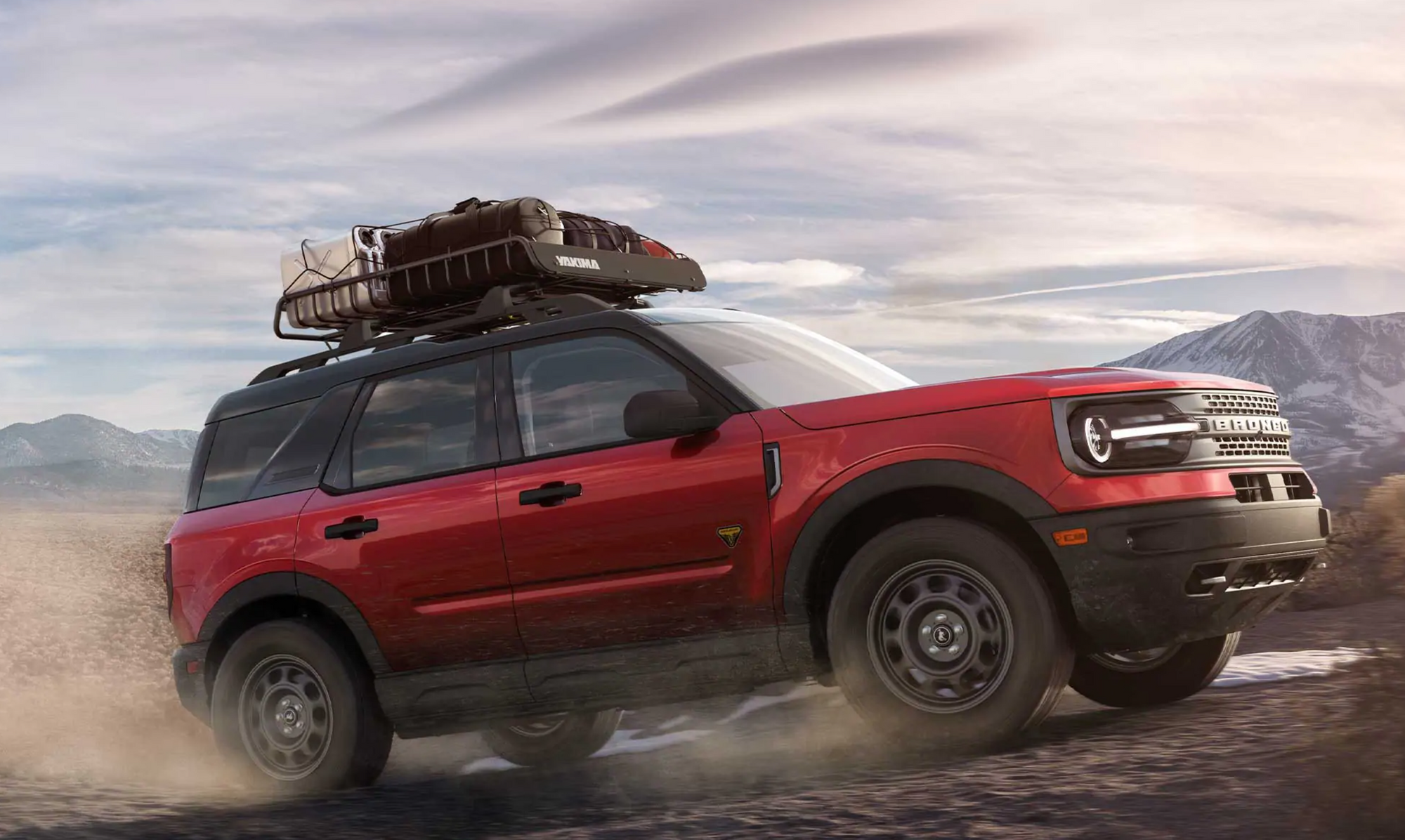 Back in 1966, the Bronco was given many mechanical components used in the Ford Falcon, although it was not a Falcon-derived vehicle. Weighing in at a half ton, the '66 Bronco was also offered in three body types: A rugged roadster that could be ordered with no top, open-sided fairings instead of doors, and a fold-down windshield ($2,404). The second version was a pickup-style "sports utility" model ($2,480), and last but not least, a wagon with a steel top ($2,625). Out of the three models offered, the wagon proved most popular selling 1,736 more examples than the other two combined.
Exterior

Unlike the Chevy Blazer, the Bronco came out swinging with a retro-inspired design. Exterior-wise, the new Bronco is a boxy vehicle much like its first-generation kin. Even more, both feature circular headlights, although the modern Bronco incorporates daytime running lights. Also, the roof and doors are removable.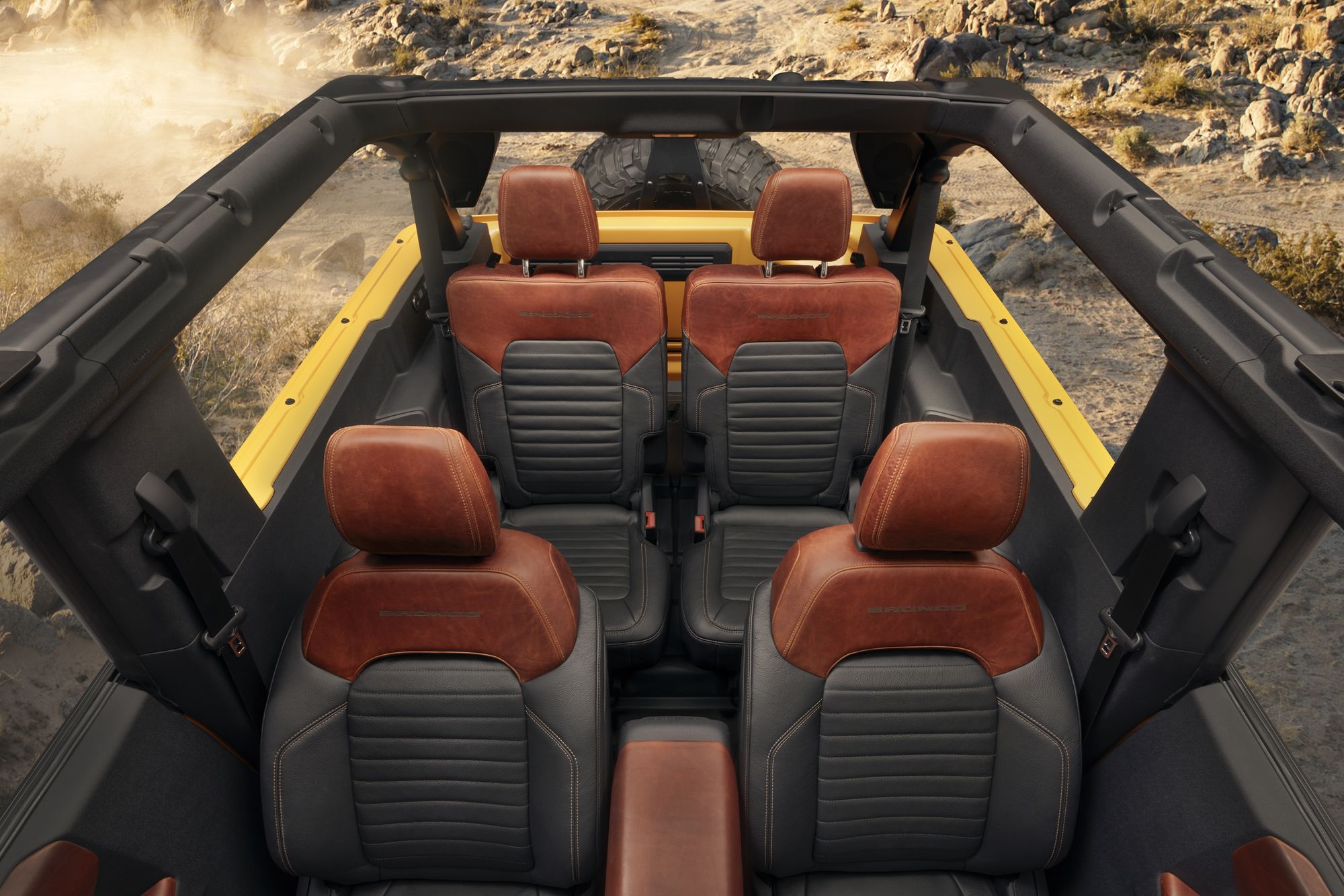 For the two larger modern Broncos, massive 35-inch tires can be added which is a first-ever for any production off-road vehicle. For the Sport model, the largest tires available would be 29-inch all-terrains.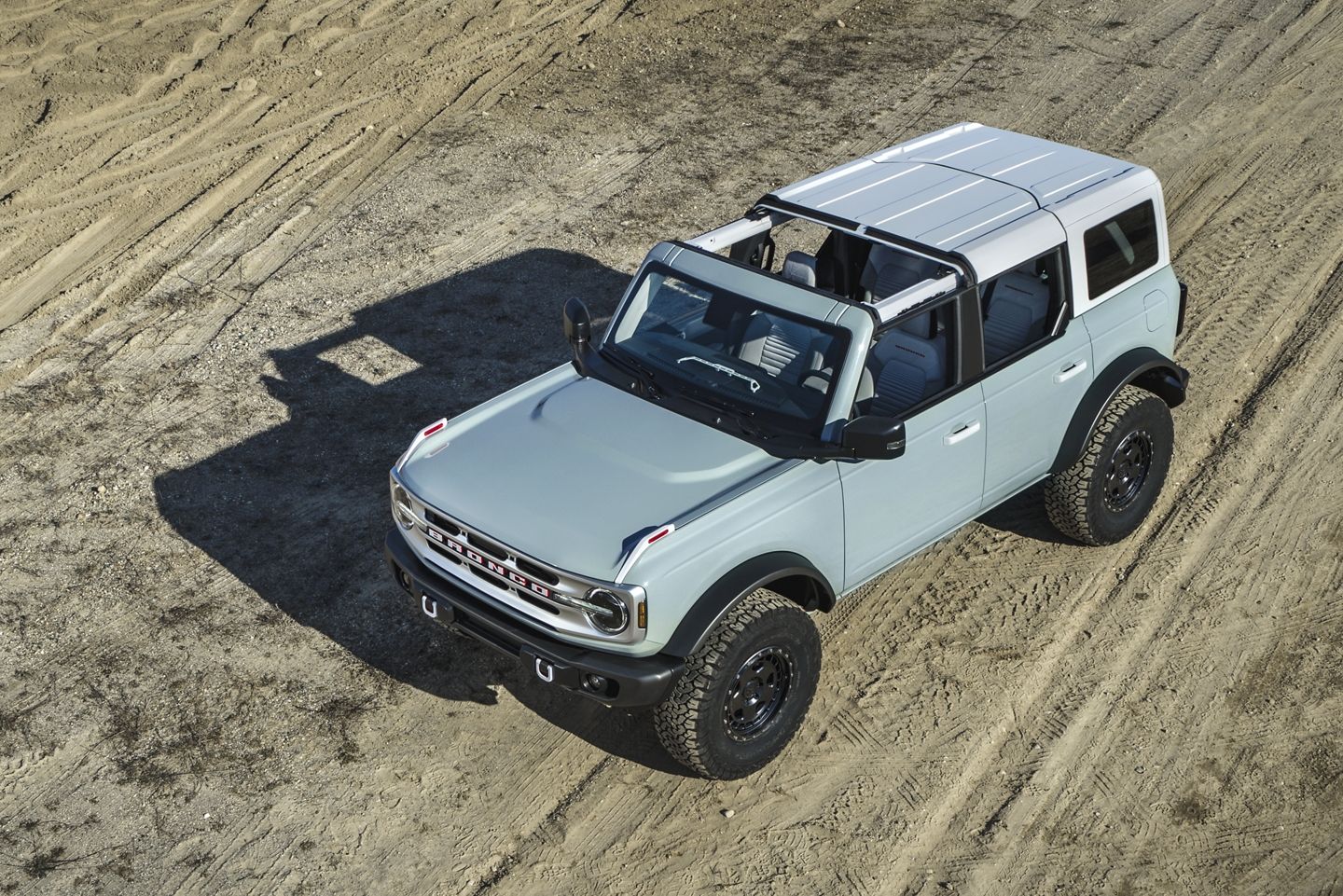 The 2021 Bronco comes in exterior colors such as Cyber Orange, Antimatter Blue, Shadow Black, Iconic Silver, Area 51, Rapid Red, Carbonized Gray, Cactus Gray, Oxford White, and Race Red.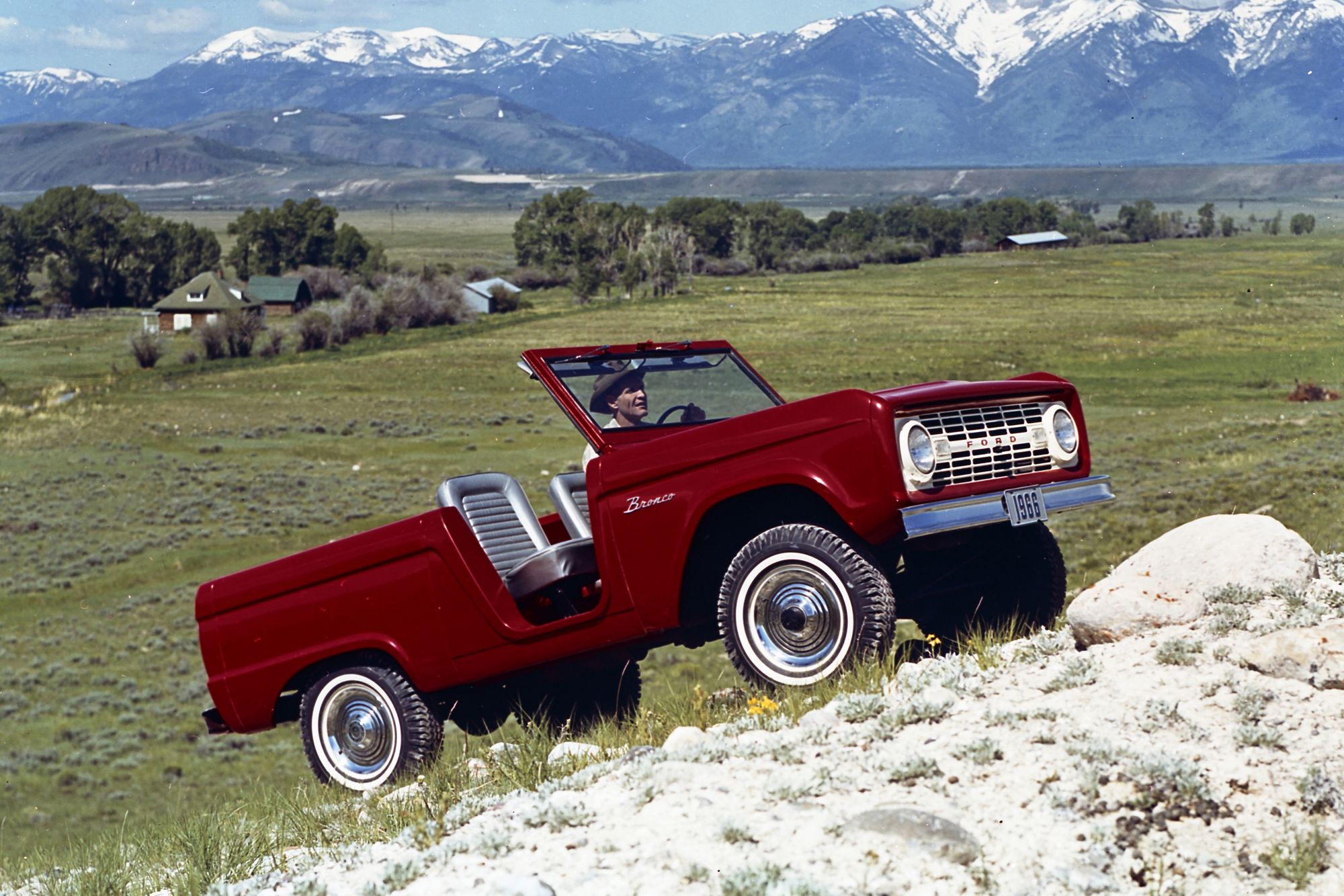 The first-generation Bronco was available in Raven Black, Caribbean Turquoise, Arcadian Blue, Sahara Beige, Rangoon Red, Holly Green. Wimbledon White, Marlin Blue, Skylight Blue (a San Jose Plant specific color), and Springtime Yellow.
Interior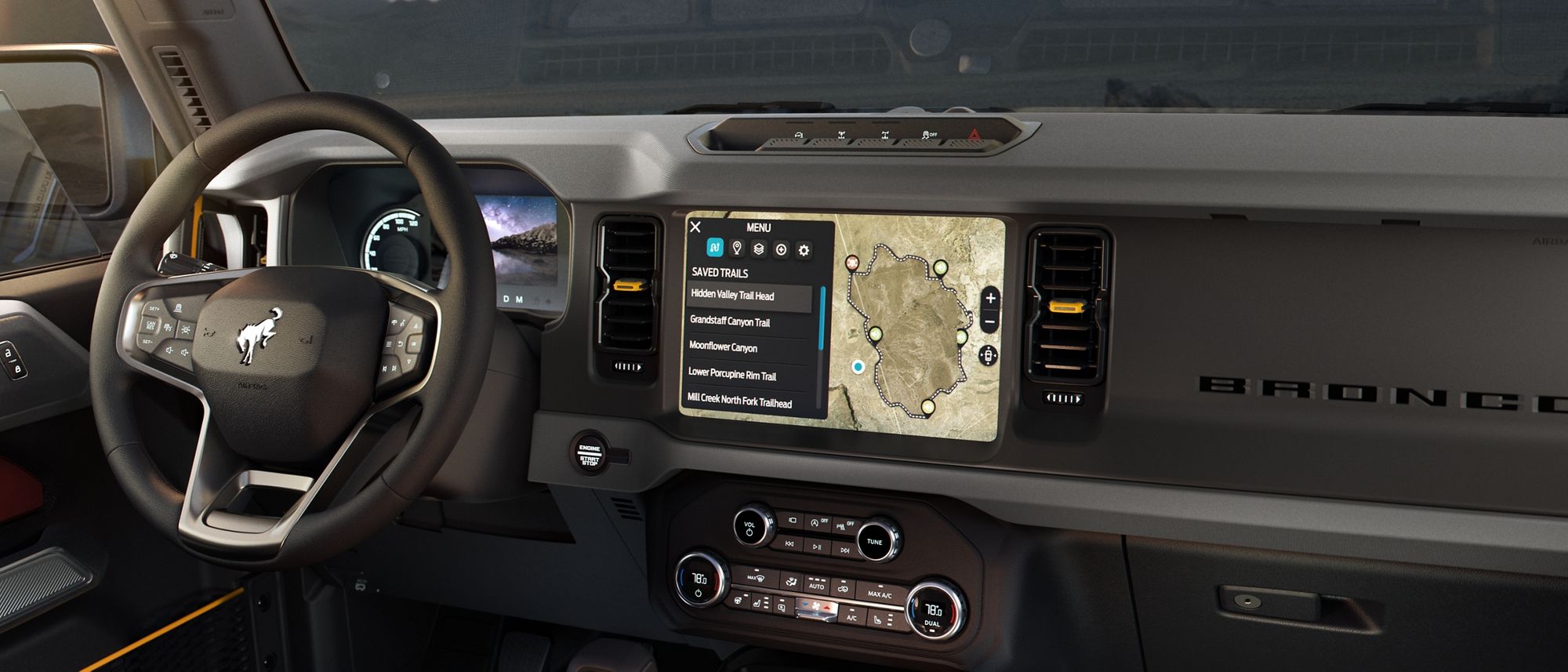 For the 2021 model, the cockpit was designed with the first-gen Bronco in mind "with gauges and controls that are clearly visible and intuitive" as stated on the Ford Bronco's official breakdown on Ford's website. The new Bronco interior features leather-trimmed seats made of cloth and marine-grade vinyl. In the four-door model, the second row seats come with a 60/40 fold, and also easily collapse to make more room for more things to bring on adventures. Because off-road adventures can bring in quite a bit of unwanted dirt, the floor is rubberized rubberized and is incorporated with drains for easy cleaning.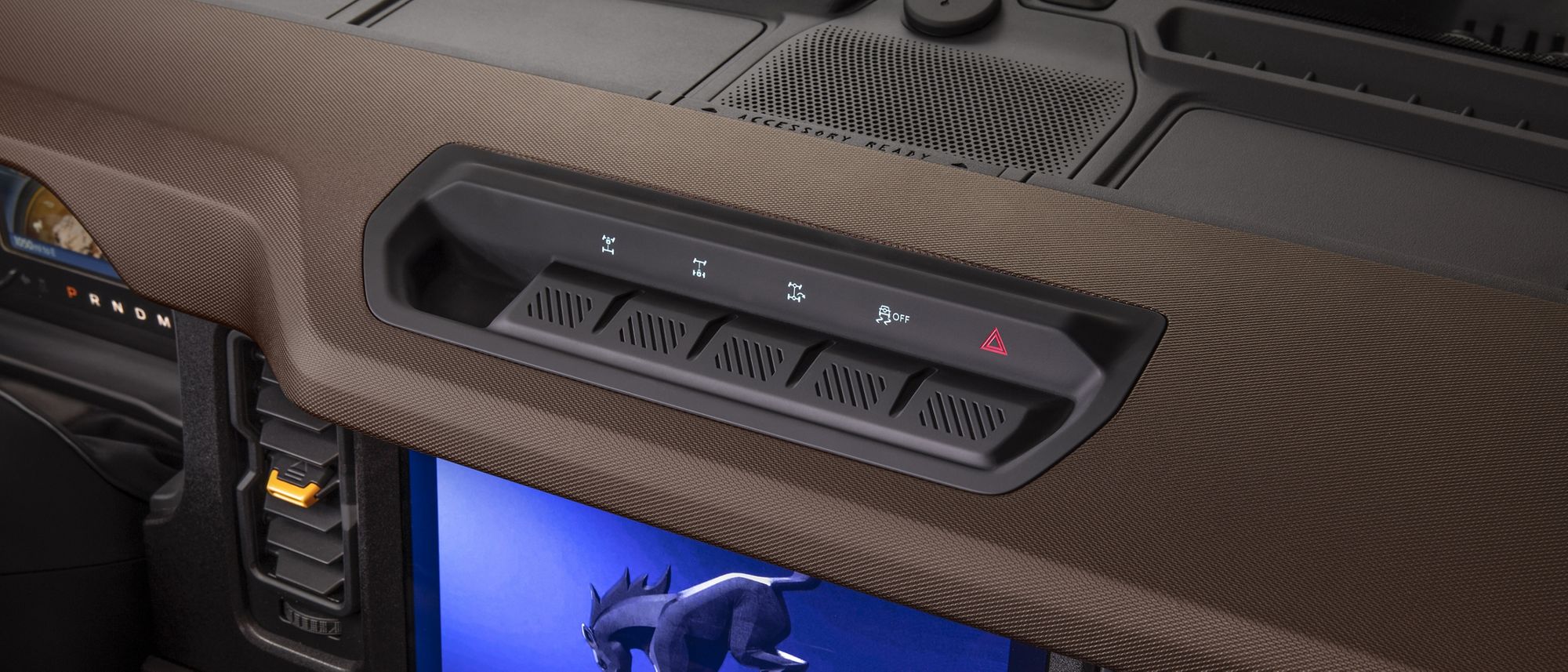 The '66 Bronco model had six interior colors to choose from to go with five exterior finishes. A steel bulkhead separated the driver's compartment from the cargo area (55.2 x 61-inch). Both wagons and roadsters had a rear seat option without the bulkhead, and the spare tire was mounted on the outside of the tailgate. Pickups and wagons were equipped with bolt-on steel roofs.
The top, doors, and extra seats were designed for easy and fast removal. For the first-generation, the side and tailgate windows in the wagon were stationary. Aftermarket sliding windows were available to purchase and install.
Mechanicals
Each new Bronco version comes with a Terrain Management System with G.O.A.T. modes (standing for Go Over Any Terrain) for various types of off-road adventures including rock-crawling, higher-speed Baja, sand, and slippery terrain. The base model utilizes a two-speed electronic transfer case while the advanced model has an electromechanical system that automatically shifts between 2H and 4H. Also, it is equipped with a Dana 44 solid rear axle, Dana independent front differential with electronic locking capabilities for tougher terrain.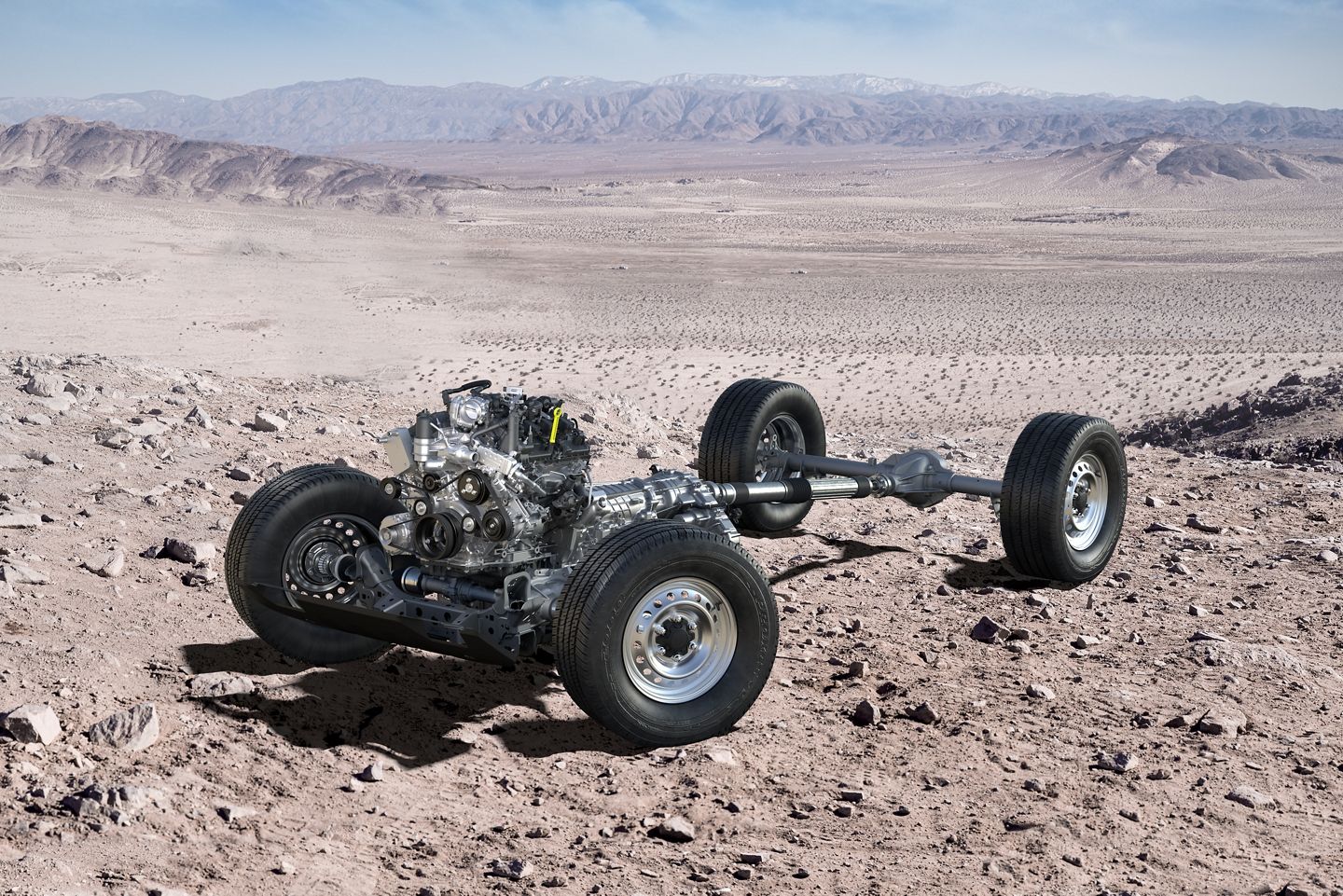 Other options include low-speed cruise control, turn-assist that tightens the turning radius, and single-pedal drive capability that folds the braking in when crawling over rocks at slow speeds.
The two bigger Bronco models have a solid rear axle while the smaller Sport is equipped with independent suspension in both the front and back. All new Broncos will be four-wheel-drive.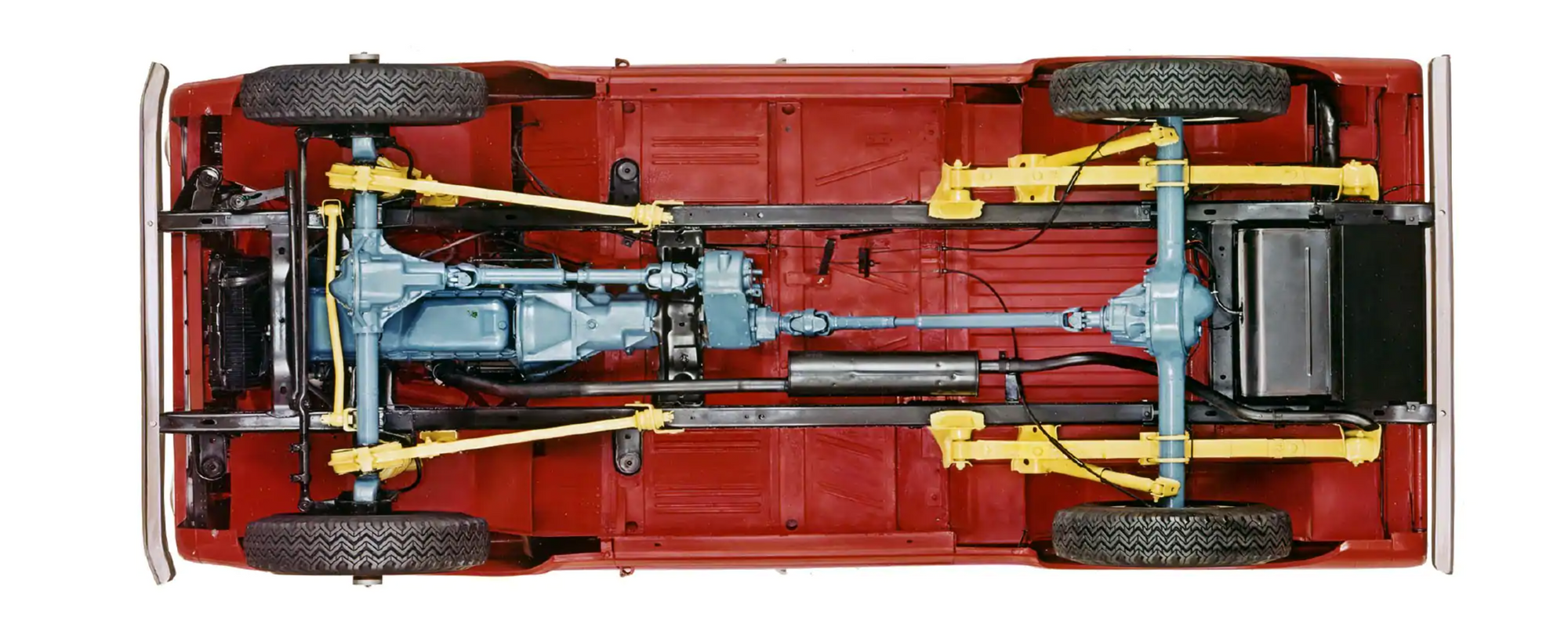 The '66 Ford Bronco sat on a simple ladder frame. The vintage off-roader came with a Dana Model 20 out back and a Dana Model 30 up front with manual locking hubs. Suspension components consisted of conventional leaf spring and live axle out back paired with coil springs up front with a radius arm for durability and strength. The old-school SUV featured a short 92-inch wheelbase which allowed for 33.6-foot turning diameter.
Drivetrain
When it comes to powering the 2021 Bronco, the EcoBoost was the answer to all variants. To the dismay of many, none of the new Bronco variants will feature the almighty 5.0-liter Coyote V8.
The engine options for the larger new Bronco models will be either a 2.7-liter EcoBoost V6 with 310-horsepower and 400 lb/ft of torque or a 2.7-liter four-cylinder engine with 270-horsepower and 310 lb/ft of torque. The smaller Sport model is powered by either a 2.o-liter four-cylinder EcoBoost engine that generates 245-horsepower and 275 lb/ft of torque, or they can opt for the lesser 1.5-liter four-cylinder EcoBoost good for 181-horsepower and 190 lb/ft of torque. Both Sport models will be shifted via an 8-speed automatic transmission. Transmissions also available for the bigger models include a 10-speed automatic transmission and 7-speed manual.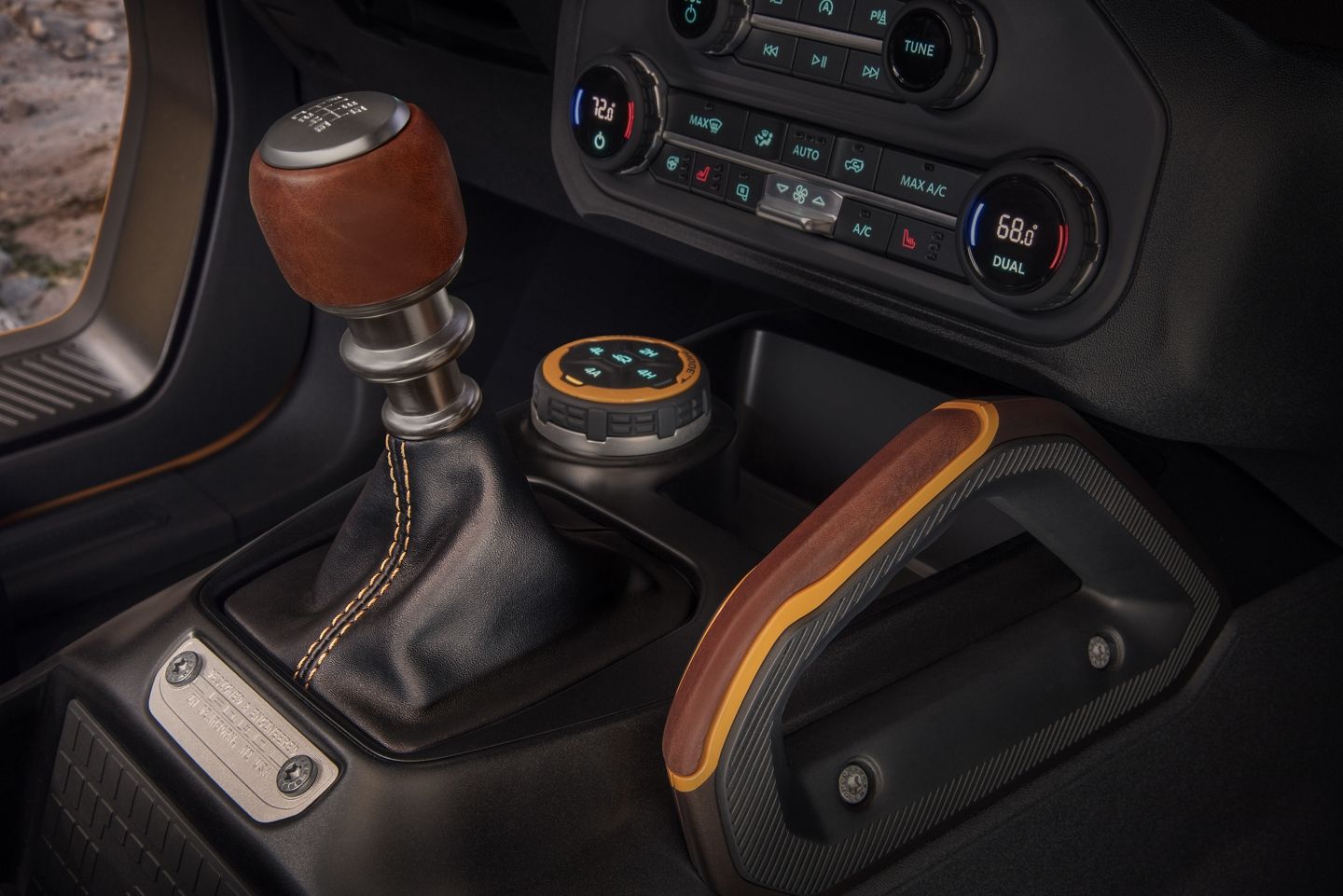 The old-school '66 Ford Bronco with four-wheel-drive was powered by a solid-lifter 170-cubic-inch overhead-valve inline-six capable of 105-horsepower at 4,400-rpm. The vintage Bronco power-plant featured the same basic engine that powered the Falcon and Econoline models, but was topped with a different single-barrel carburetor and a stronger fuel pump. Ford decided to use the six-cylinder for economical reasons but also to keep the base model price down. However, the SUV still only averaged 14 miles per gallon, so it wasn't really economical at all. Back in March 1966, Ford made a 289-cubic-inch V8 optional.
The only transmission option for the '66 Bronco was a fully synchronized three-speed manual mounted on the steering column. In fact, it was quick-shifting and smooth which was a first in regards to off-road and four-wheel-drive vehicles. The automatic transmission would not become available until the 1973 model year, but only paired with the 302-cubic-inch V8 engine. A T-handle found on the tunnel operated the transfer case that powered both front and rear axles with constant-velocity and double-cardan universal joints.
That concludes the comparison between the all-new 2021 Bronco and first-ever 1966 Bronco, two off-road SUVS that share the same moniker but are separated by a span of 55 years. So, brand new or old-school Bronco?