Check out some of the other names Ford had considered.
---
The introduction of the all-new, fifth-generation Ford Bronco is just days away, but an interesting video recently released by Ford shows that this off-road SUV – and the entire off-road segment – could've been much different if for a single move back in the early 1960s. In the video celebrating the heritage of the Bronco, Ford archivist Ted Ryan shows some of Ford's original internal memos regarding this SUV including one signed by Lee Iaccoca and other discussing alternative names.
As the 2021 Ford Bronco looks to give the Jeep Wrangler its stiffest competition in decades, there is an extreme sense of irony that one of the Bronco's original proposed names was Wrangler. Despite being an off-road icon today, the Jeep Wrangler name wasn't used until the CJ-7 replacement debuted for the 1987 model year – 21 years after the Bronco first went on sale.
In addition to the Wrangler name, the almost-60-year-old memo shows that Ford had also considered the names Caballero, Sprint and Trail Blazer, which were all eventually used by General Motors. The Chevy Blazer was introduced in 1969, while the Sprint and Caballero names were used by GMC on rebadged versions of the Chevy El Camino in the 1970s and 1980s. The Custom and Explorer names were later used on Ford pickup trucks and SUVs.
In the end, Ford decided to stick with the Bronco name to maintain the equine ties with the Mustang.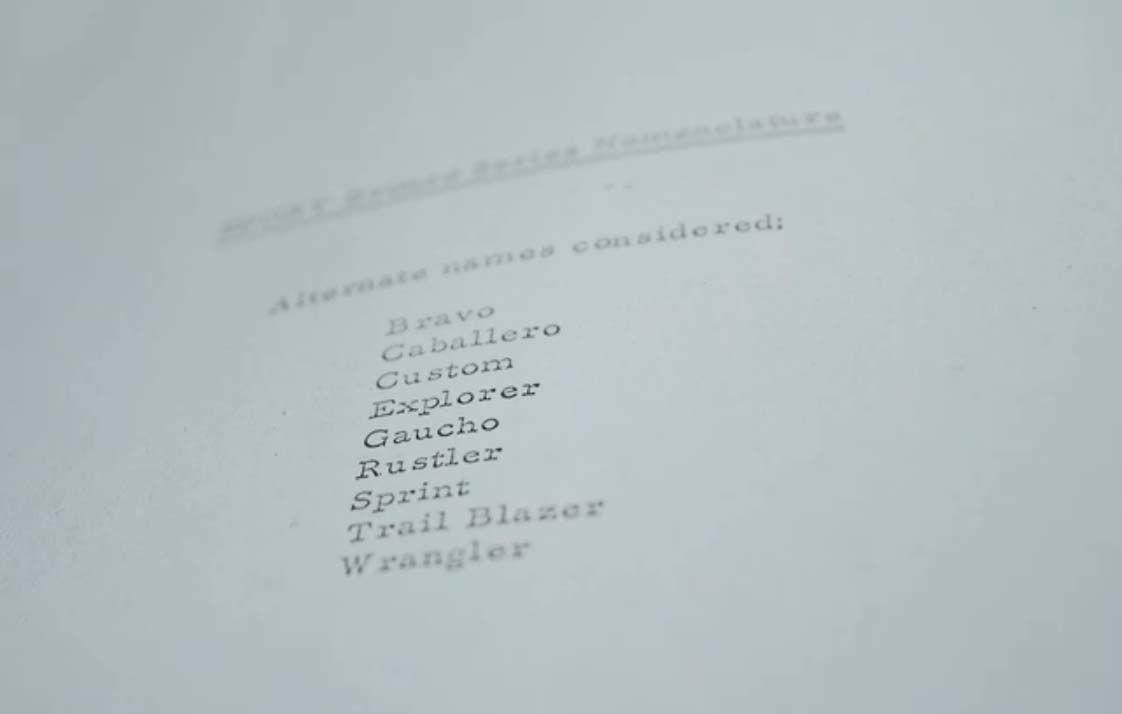 The introduction of the fifth-gen Ford Bronco has been delayed due to manufacturing shutdowns associated with COVID-19 and O.J. Simpson's birthday, but it will now debut on July 13th. Like the current Jeep Wrangler, the 2021 Bronco will be offered in two- and four-door configurations with soft top and hard top options as well as a removable top and doors (the latter of which will be able to easily store in the cargo area when removed).