Very few of these U13 Roadsters are believed to be left in existence.
---
Now that the 2021 Ford Bronco has been officially introduced, expect to see the floodgates open for classic Broncos hitting the market. The Bronco was originally produced from 1966 through 1996 in five distinct generations, but it's the first-gen Bronco (1966-1977) that continue to be the most valuable to collectors. For those looking to add a truly unique Bronco to their collection, this 1966 Ford Bronco U13 Roadster is currently up for sale through Garage Kept Motors.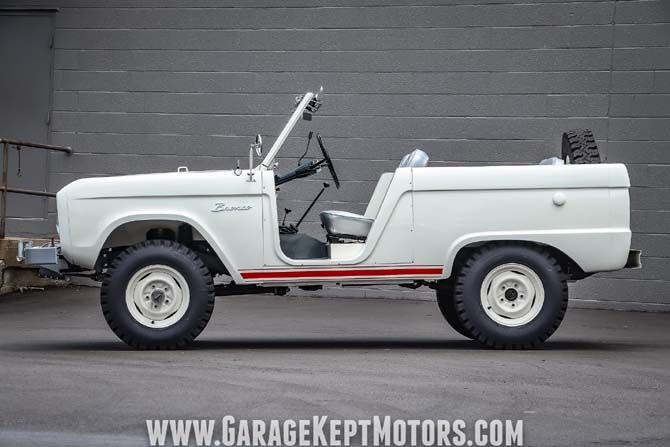 While many of the first-gen Broncos on the market are modified to some extent (including having the rear fenders cut), this gorgeous '66 Bronco looks like it just rolled off the showroom floor. That's thanks twofold to a life spent in California as well as a detailed, frame-off restoration performed by a Bronco specialist. Not only is the uncut body special, but this Bronco also features a really cool PTO winch!
What really makes this particular Bronco so unique is that it's a factory U13 Roadster, and it's a very early example at that. Built in 1965, this Bronco has telltale cues such as the "eyebrow" grille and taillights without any backup lights, and it was originally delivered to a customer in San Jose, California. The most recent owner had possession for more than 45 years, and this first-year Bronco is one of just 5,000 U13 roadsters built over a three-year span.
Between its detailed restoration and the overall rarity of this model, the $74,900 asking price of this Bronco doesn't seem all that bad. Many first-gen Broncos are being offered up at similar prices, but you're just not going to find many, if any, that are as rare and original as this one. Be sure to contact Garage Kept Motors for more information on this incredible 1966 Ford Bronco U13 Roadster.