Put it back to stock or make a custom sports car?
---
The 2020 Chevrolet Corvette is such a popular sports car in its first year that even wrecked examples are receiving big attention. We already know that one of these totaled sports cars will live its next life as an all-wheel-drive car with a four-rotor engine, but we want to know what you'd do with a heavily damaged C8 Corvette. Would you rebuild it back to stock or would you transform it into a custom creation (like the off-road buggy that recently sold on Bring A Trailer)?

We've already seen a couple examples of C8s being destroyed, but the story behind this totaled Torch Red C8 could be the most infuriating for car lovers yet. According to Corvetteblogger, this Corvette was being serviced at a Jacksonville, Florida Chevrolet dealership when it fell off the lift due, allegedly, to being raised from the incorrect lift points. The fall itself doesn't appear to have caused much damage to the Corvette, but the lift arms did heavy damage to the body ripping right through the doors and shattering the side windows.
Not surprisingly, this 2020 Corvette has very low miles with the Copart listing showing just 3,419 miles, and despite all of the body damage, this car apparently still runs and drives. That might be the case, but we know for certain this car doesn't have air conditioning since the condenser is currently situated in the Corvette's trunk, which along with the driver's headlight being separated from the car indicates there is probably extensive damage behind the front bumper.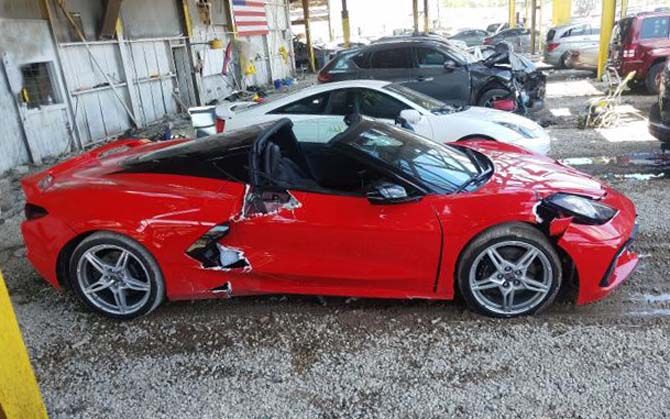 It's definitely sad to see the state of this Corvette, but it would be interesting to see this Phoenix rise from the ashes as a creative and unique custom vehicle. As far as what it's worth, Copart says this Corvette is valued at $58,000, which is just under the C8's $59,995 base price but far less than the $107,699 estimate that Copart had on a 2LT Z51 C8.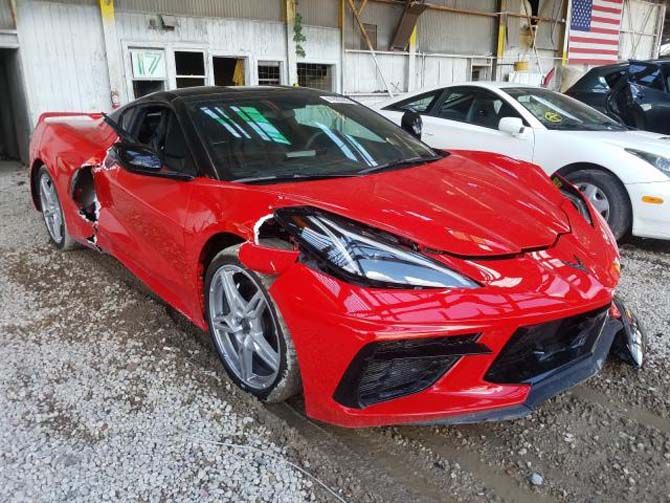 Source: Copart
h/t: Corvetteblogger.com