Soon to be built to order, the all-new carbon fiber-bodied Shelby GT500CR project was a joint effort with SpeedKore Performance Group.
---
The iconic 1967 Shelby GT500 Ford Mustang is a car that tops the dream list of enthusiasts every, especially after the remake of Gone in 60 Seconds starring the elusive Eleanor. Mustang enthusiasts have been recreating the famous icon in their own builds ever since the film debuted in 2000. Classic Recreations, known for their handcrafted officially licensed Shelby Mustangs, just announced their latest and greatest project - the world's first carbon fiber-bodied 1967 Shelby GT500CR. In a joint collaboration with SpeedKore, a well-known carbon fiber manufacturer, these iconic '67 Shelby Mustangs will come with an all carbon fiber body and will soon be built to order.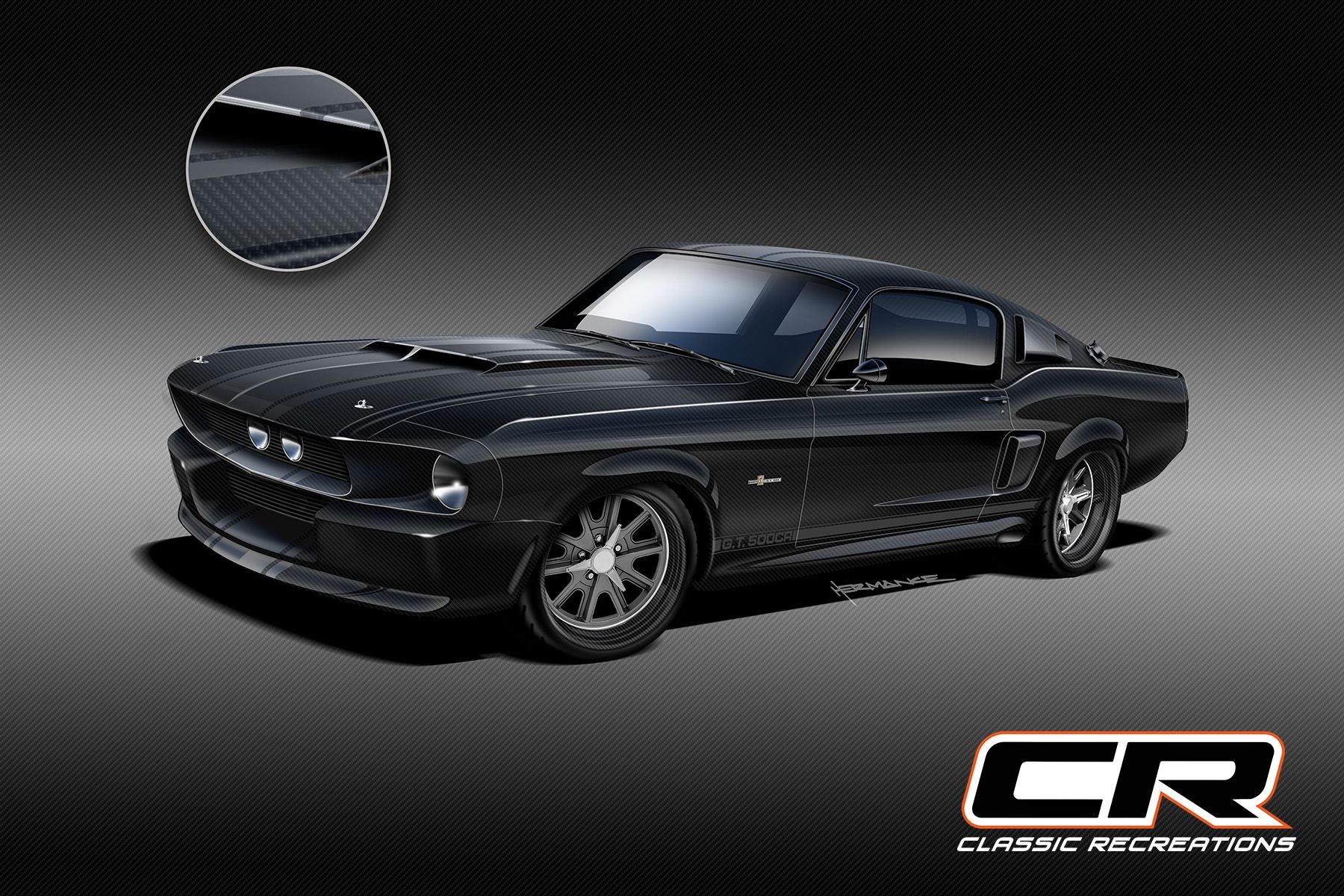 "When we decided to build the carbon-fiber-bodied GT500CR Mustangs, we wanted to work with someone who shared our vision for the future of custom car building," said Jason Engel, Founder and President of Classic Recreations. "Having a supplier that is equally committed to high-quality craftsmanship and producing innovative vehicles is incredibly important to us and we found that matched commitment in SpeedKore."
Classic Recreations is based out of Oklahoma and is widely known for producing some of the best continuation cars of utmost quality. SpeedKore Performance Group out of Wisconsin is a well-known carbon fiber manufacturer and will create the bodies for these all-new 1967 Shelby GT500CR models. Soon, the plan is to create additional carbon fiber models in the near future such as the Shelby Cobra.
When it comes to building the standard '67 Shelby GT5ooCR, an original 1967 or 1968 Mustang body is acquired and then restored to appear as new. This process is laboriously intensive as it takes hundreds of man hours to bring these Mustang bodies back to their former glory. A restored donor steel tub is still needed for this all-new model as it will be fitted with the carbon fiber body panels. SpeedKore performs a blue light scan of the entire GT500CR body which creates a 3D model, and then molds are cut using a five-axis CNC machine. Plugs and panels are then pulled using carbon fiber that is good enough for aerospace. Afterwards, these carbon fiber body panels need to be cured, so they sit inside a large autoclave located in-house. Produced to exact specifications, these incredibly high-quality carbon fiber bodies are stronger than those made of steel, and it features a flawless carbon fiber weave alignment. Say hello to the world's first carbon fiber Shelby Mustang complete with official licensing.
"Since 1998, Mr. Shelby believed that carbon fiber would be the future of American sports car manufacturing. We believe the introduction of a carbon-fiber GT500 Mustang and Cobra is a natural next step in the evolution of these iconic vehicles and builds on the legacy of the same innovation that Carroll Shelby was known for," said Neil Cummings, Co-CEO of Carroll Shelby International.
"Classic Recreations has consistently been a loyal and innovative partner and licensee for Shelby and we're excited to see what the future holds for this program," Joe Conway, Co-CEO of Carroll Shelby International explained.
Now that we know about this all-new carbon fiber body for the Shelby GT500CR, what will power these new lightweight models? Well, there are a few different engine options to choose from. A couple of those options include the Ford Performance Gen 3 Coyote 5.0-liter crate engine that generates 490-horsepower or a hand-built 427-cubic-inch V8 engine equipped with an intercooled ProCharger that is capable of 900-horsepower. If you don't know how to drive a stick, now may be the time to learn as all of the GT500CR models are shifted via a Tremec 5-speed manual transmission. Added performance and rumble is provided by a stainless-steel performance exhaust by MagnaFlow.
What other standard features will this all-new carbon fiber Shelby have? You can expect it to have a power rack-and-pinion conversion, coil-over suspension, large sway bars in the front and back, and Wilwood brakes all around. Also, the car will be outfitted with American Racing forged wheels wrapped with Michelin high-performance Z-rated rubber.
Even more, an optional Pro Touring Track Package that includes a suspension by Detroit Speed Engineering, mini tubs to fit wider rear wheels and tires, and six-piston brake calipers with huge rotors. Even more options will be available such as the choice of a manual or automatic transmission, a plethora of upgrades to the interior, and plenty of exterior paint colors to choose from.
Now that we know what Classic Recreations and SpeedKore has up their sleeves, would the carbon fiber-bodied 1967 Shelby GT500CR Mustang top your dream car list?
Source: Classic Recreations
Read More Car News Here...