Expect other Monterey Car Week events to postpone or cancel as well.
---
As car events around the world continue to be canceled and postponed due to the COVID-19 pandemic, America's most prominent classic car event, the Pebble Beach Concours d'Elegance, has announced that it is pushing back its 70th-year event to 2021. Originally set to take place on August 16, 2020, the 70th Pebble Beach Concours will now be scheduled for Sunday, August 15, 2021.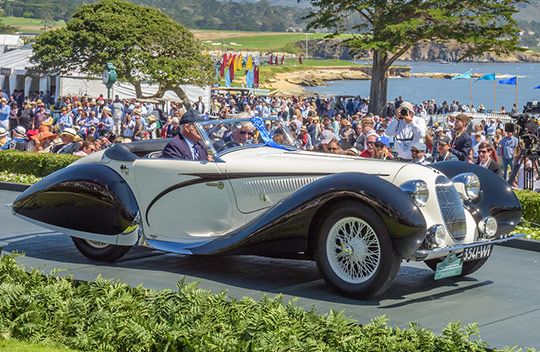 Monterey Car Week draws tens of thousands of people to picturesque locations around Monterey, California, and the Pebble Beach Concours is the main event for this weeklong celebration of cars. Sadly, with Pebble Beach skipping this year, that means other events such as the Rolex Motorsports Reuninon, The Quail: A Motorsports Gathering and McCall's Motorworks Revival will likely follow suit. Pebble Beach's official auction house, Gooding & Co., has already announced that it will postpone its 2020 Monterey event adding to the list of auctions that have been affected so far this year.
In a press release, Gooding & Co. said:
"Due to the postponement of the Pebble Beach Concours d'Elegance until 2021, Gooding & Company, the official auction house of the Concours, has rescheduled its Pebble Beach Auction event, originally planned for August 14 and 15, 2020, to August 13 and 14, 2021."
It may seem a little early to postpone these events so far out, but with the future of COVID-19 still unknown, Pebble Beach wanted to ensure not only the safety of its staff, visitors and entrants, but also the safety and security of the priceless cars the event attracts. Concours Chairman Sandra Button said:
"My heart goes out to all of the people who are involved in the Pebble Beach Concours and who are impacted by this decision. Many of our entrants have been working on a special car for years, and this was to be their moment. Some of our overseas entrants were nearing the point of putting their cars on boats and planes, and their own travel arrangements have long been made. The same is true for many of our international cadre of judges."
All of the features scheduled for this year's event will carry over to next year including special classes for cars like the Porsche 917 and Tablot-Lago Grand Sport, and all tickets already purchased will be valid for next year.
Source: Pebble Beach Concours, Gooding & Co.
Related Articles...