A plethora of different parts including a Ford diff, Tesla brakes, a slew of Chevy parts, BMW wheels, and plenty of aftermarket upgrades.
---
For the 2015 model year, Dodge debuted its game-changing Hellcat Hemi V8 engine and stuffed it inside the Challenger and Charger. The result was over 700-horsepower straight out of the factory gates. Since then, the powerful mill has found its way in the Jeep Grand Cherokee Trailhawk, and soon the Dodge Durango SRT Hellcat and Ram 1500 Rebel TRX.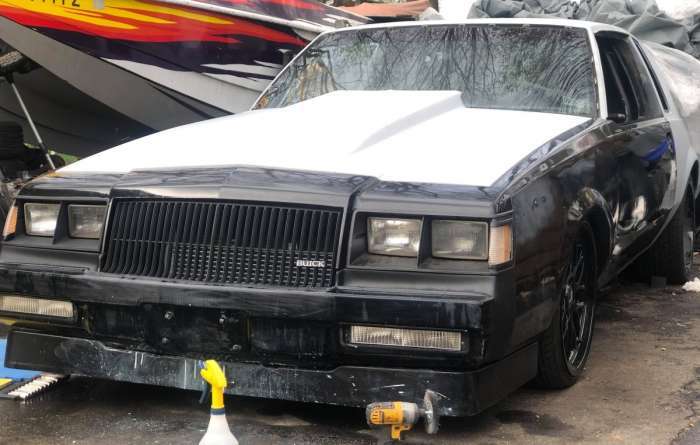 A powerful mill to say the least, the Hellcat Hemi has become popular for vehicle swaps. In fact, a few years ago, one was found stuffed inside a Toyota Prius displayed at SEMA with a crowd swarmed around it. Other vehicles that we have seen boasting Hellcat power include a Mazda Miata, Plymouth Prowler, classic C10 pickup and a few Jeeps, and of course classic Mopar restomods that decided on modern horsepower.
We stumbled cross another vehicle one would not suspect to be boasting a Hellcat swap since its a car already made to perform, a genuine Buick Grand National. The "Hell National", owned and built by Enrique Ojeda, may have purists up in arms, but there's no denying that this Hellcat-swapped G-body is sweet. Ojeda gave TorqueNews the rundown on the project, and we couldn't help but share this unique build as well. Ojeda and his friend Lenny Nguyen used a two-car garage to build the car over the course of six months.
Some may be wondering why he decided to take a highly desired Buick Grand National and stuff a modern Dodge Hellcat Hemi inside. But, Ojeda told TorqueNews that this wasn't a planned build by any means. The Buick was actually found in Pennsylvania on a farm where it was left to wither away in the elements. While the Buick had seen better days, it wasn't too far gone and could be turned into the perfect project car. Ojeda was ready for another project since he had just sold his 1969 Dodge Charger stuffed with a supercharged 440-cubic-inch V8.
The original idea was to bring the Buick Grand National back to former glory with the turbo V6 that the car is known and loved for. But as fate would have it, he stumbled across a wrecked 2016 Dodge Charger SRT Hellcat which had his gears turning in a different direction. While his buddies told him he was insane for going this route, Ojeda bit the bullet and bought the Dodge Hellcat engine along with the transmission.
First things first, the Buick needed a physical restoration. Once the front end was off, he yanked out the original Buick Turbo V6 and began the process of the Hellcat Hemi V8 good for 707-horsepower. Not just a plug-and-play project, the Buick needed many custom elements for the project to work. Not only did he need a standalone engine management system, but the chassis needed reinforcements to handle the power such as a custom suspension, a tubbed rear end for the fitment of wider tires, and a sturdy Ford 9-inch rear.
This isn't just a Grand National with a Dodge Hellcat motor as many components were needed to bring the car to life and work properly as well as be able to plant more than 700-horsepower to the ground. Stopping power is also a necessity, and the Buick was given braking components from two different cars with front brake rotors off a Camaro SS, entire rear braking assembly from a Tesla Model S. Other important parts to make the project work include motor mounts from a Chevy LS, and the exterior features a set of BMW wheels.
As of now, the Hellcat-swapped Grand National project is still in process as a custom center console is in the works, and digital gauges are on the way. Once installed, the engine will be tuned and ready to go.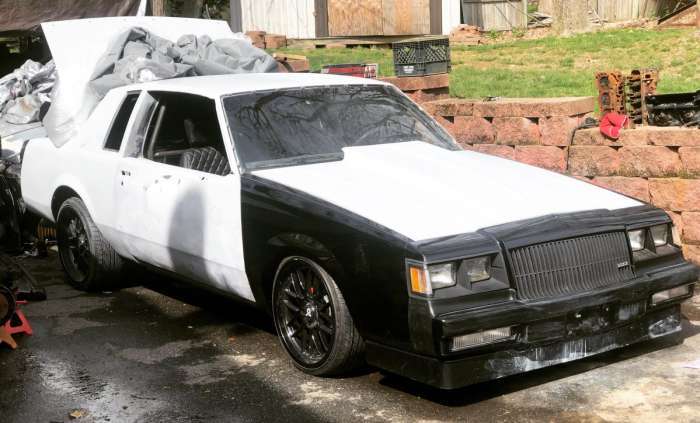 This is the "Hell National", an interesting and unique build that packs plenty of power. This is one of the least suspecting cars to house a Hellcat, but we would love to see the shock of enthusiasts when the hood is propped on this bad boy. We can definitely get onboard.
Source: TorqueNews
Read More Car News Here...