A bold bowtie ride with over $50,000 in modifications.
---
When browsing car listings on eBay, you are bound to stumble across a few gems, good and, well, interesting. This 2019 Chevrolet Camaro SS that we stumbled across is one of our better eBay findings, although the boldly colorful exterior is not for everyone. But for a car that has been featured at the 2019 SEMA show in Las Vegas, the loud exterior wrap on this Camaro is rather tame.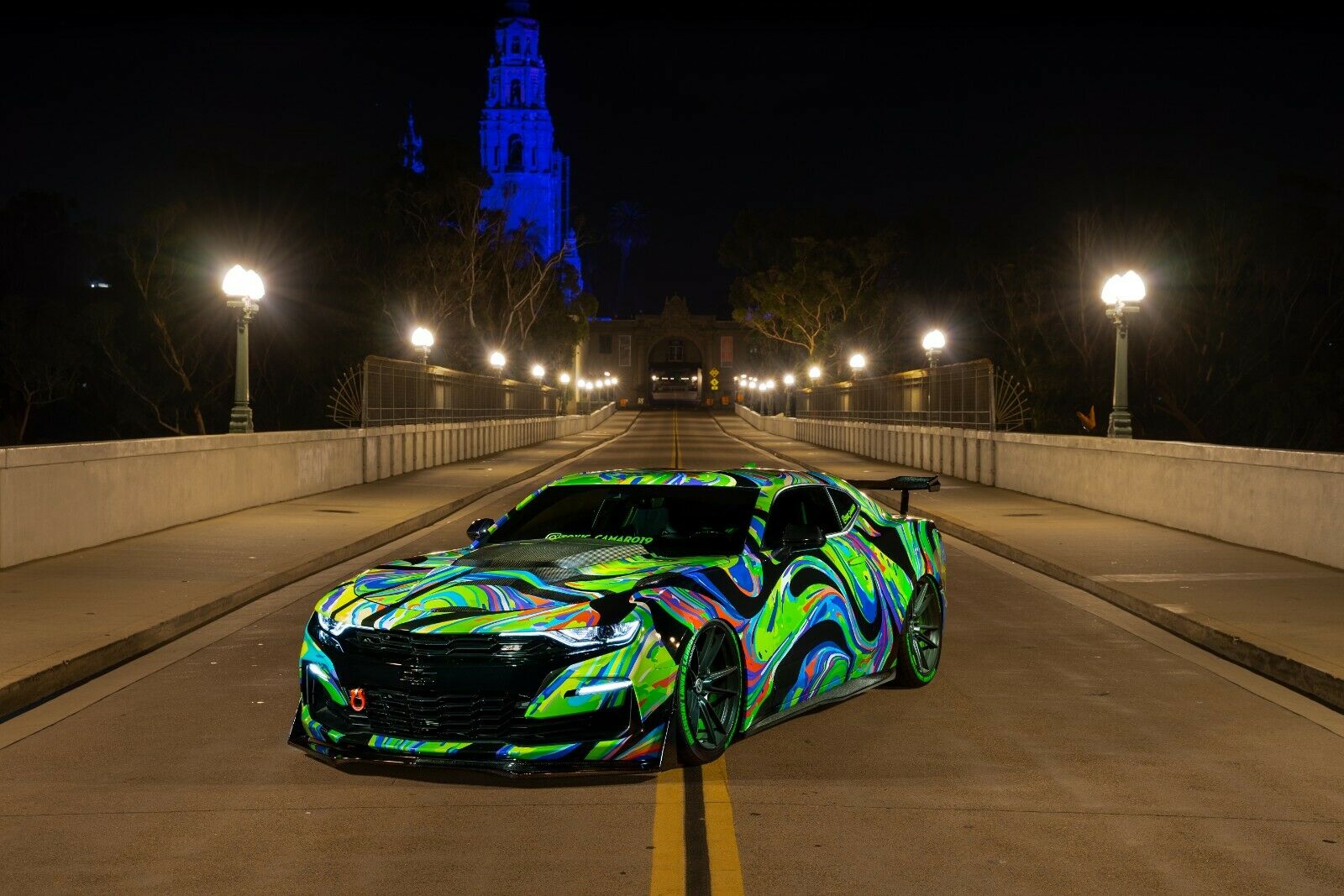 In the eBay description, it states that this '19 Camaro hails from Southern California, a desirable location to buy any car from. Even better, this car has been garage-kept over its short life span, and it only has 8,600 miles on the clock without ever setting a wheel on the track. Displayed at the 2019 SEMA show in Las Vegas as a feature vehicle, everything on this car is in great condition including the exterior, interior, and engine compartment. Under the bold wrap, this Camaro is painted black with the paint in great condition. Also, it has received a professional detail twice a month. At the 2019 GoodGuys Meguiar's Del Mar Nationals, the car took home the "1st Place for Best Chevy" award.
Just glancing at the photos, it's easy to see that some money has been invested into the car, and the description states that it has over $50,000 in modifications all professionally installed by licensed shops.
This car is chockfull of custom goodies. Exterior-wise, of course, the most noticeable feature is the custom-printed wrap by Protective Film Solutions that has been ceramic coated. Carbon fiber parts from C7 Carbon include a front splitter, ZL1 side skirts, and a ZL1/1LE tall wing. Covering the engine bay is a carbon fiber AZ hood by Anderson Composites, and it has ZL1 add-ons such as a premium tow hook and carbon fiber mirror covers. Sitting on all four corners are HRE Flow Form FF04s (20x10 front, 20x11 rear) wrapped with Nitto NT555 G2 tires (255/30 front, 305/30 rear).
The interior also has plenty of modifications. A few of the mods by Wildhammer Motorsports include a Center Point line steering wheel made of carbon fiber and Alcantara with green stitching and accents, carbon fiber shifter and dash pad, and it has High Flying paddle shifter extenders now powder-coated green. For safety a Studio RSR 4-point roll cage was installed, also powder-coated in green. Cipher Auto CPA2009 Race Seats made of leatherette, suede, and carbon fiber were also installed along with 5-point green race harnesses. The stock front-heated, cooled, power seats still available in perfect condition along with the stock seat belts. Other mods include a rear seat delete with LED lighting with custom suede and plexiglass (stock rear seats still available in perfect condition), The Tint Lab full ceramic window tint at 50 percent darkness,
Suspension consists of components from Air Lift Performance all around with a 3P Management System, a 5-gallon Aluminum Air Tank, and Viair 444c compressors (2x) all professionally installed by Wow Auto Care.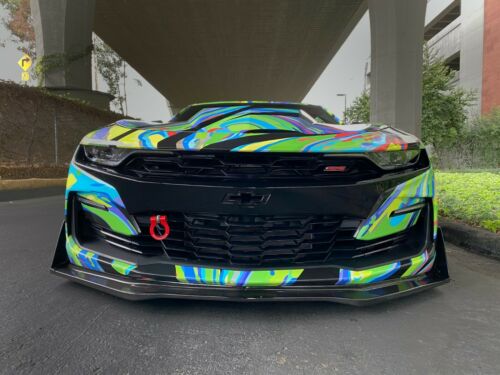 Now we are getting down to the nitty gritty in regards to the performance of this beast. Powered by a the factory 6.2L LT1 V8, plenty of modifications have been added including a Lethal Garage e85 Flex Fuel system, a Brian Tooley Racing Gen V LT1 N/A Stage 2 camshaft, JBA long-tube ceramic-coated headers, Borla Atak axle-back exhaust with carbon fiber quad tips, and a custom-programmed tune. All parts were professionally installed. With everything combined, the car makes between 500 and 550-rear-wheel-horsepower.
So, if this completely custom 2019 Chevrolet Camaro SS is right up your alley, go to the eBay listing here and place your bid, or you can 'Buy It Now' for $65,000.
Read More Car News Here...