An inconspicuous former Buick dealership is hiding an astonishing collection of exotic Italian supercars, British sports cars and American muscle.
---
Built in 1941, this former Buick dealership in the US Mid-West has for decades been home to hidden classic car treasures, nested away from prying eyes. Tom Cotter, host of Barn Find Hunter, jumped in to explore the stash after a tip-off. The curved-front building could not have been a more appropriate storage ground for the types of cars that would be discovered inside.
Constructed during a time when America was preparing to enter WWII, the building was an active Buick dealership from 1941 through to some time around 1990, when they moved to a location in another Iowa town. Upon entrance, the front end of the building looks like a sea of papers and random office materials, thrown everywhere and piled high.
It doesn't take long to find a 1968 DeTomaso Mangusta camouflaged in the mess, under a set of car covers in what appears to be the former showroom of the dealership. The low-production Pantera predecessor is sadly missing its powertrain and drivetrain, but does appear to be in excellent shape.
Moving deeper into the building, a variety of other cars including a Jaguar E-type, MGC GT, and Facel Vega that all look like they've been preserved in a time capsule for all these years.
A 1965 Imperial convertible gets special attention by the host, which is understandable considering how hard it would be to ignore this massive 413 cubic inch engine equipped car. There's also a Toyota R16-powered Austin-Healey Bugeye Sprite, and an MG TD, a car that owner Robert has loved since he was a teenager.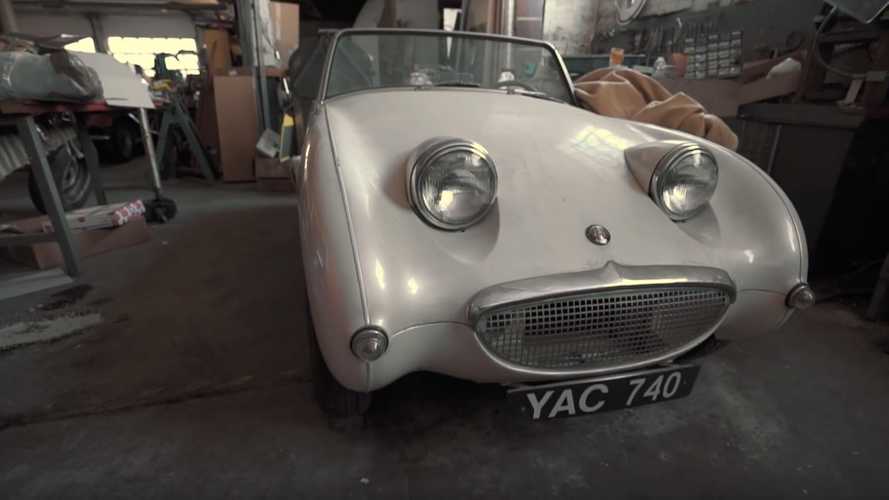 A beautiful representation from the French market is the 1957 Facel Vegas FVS with Mopar V8, and then it's onto the Italian MGC and Lamborghini Espada, which sports a V12 engine and looks like it might still be road-worthy.
A 1963 Jaguar Type-E is the last of the cars in the main area given a look, before the bodyshop area reveals a Willys Jeepster and Crosleys, before making the final stop at the Imperial fire-up to show off that Mopar V8 growl.
What the future holds for this collection isn't discussed by the owner of the hoard, but it's one heck of a barn find, so hopefully there's something special in-store for this eclectic bunch.