Yeah, that'll buff out no problem…
---
Photos of a Rapid Blue C8 Corvette which slid off a vehicle lift in a dealership service department have been spreading like wildfire on social media. One photo shows the mid-engine sports car resting on its rear, the nose pointed up in the air like some wild stallion rearing up in defiance. However, the other picture gives us a close-up of the damage done by the accident and it ain't pretty.
Florida man drove his C8 Corvette into a ditch. See it here.
Thankfully, nobody was hurt in this incident. However, the C8 Corvette didn't fare so well and we're sure the owner isn't exactly happy since the car is likely totaled. It's not like you can easily grab another one of these things what with a long waiting list.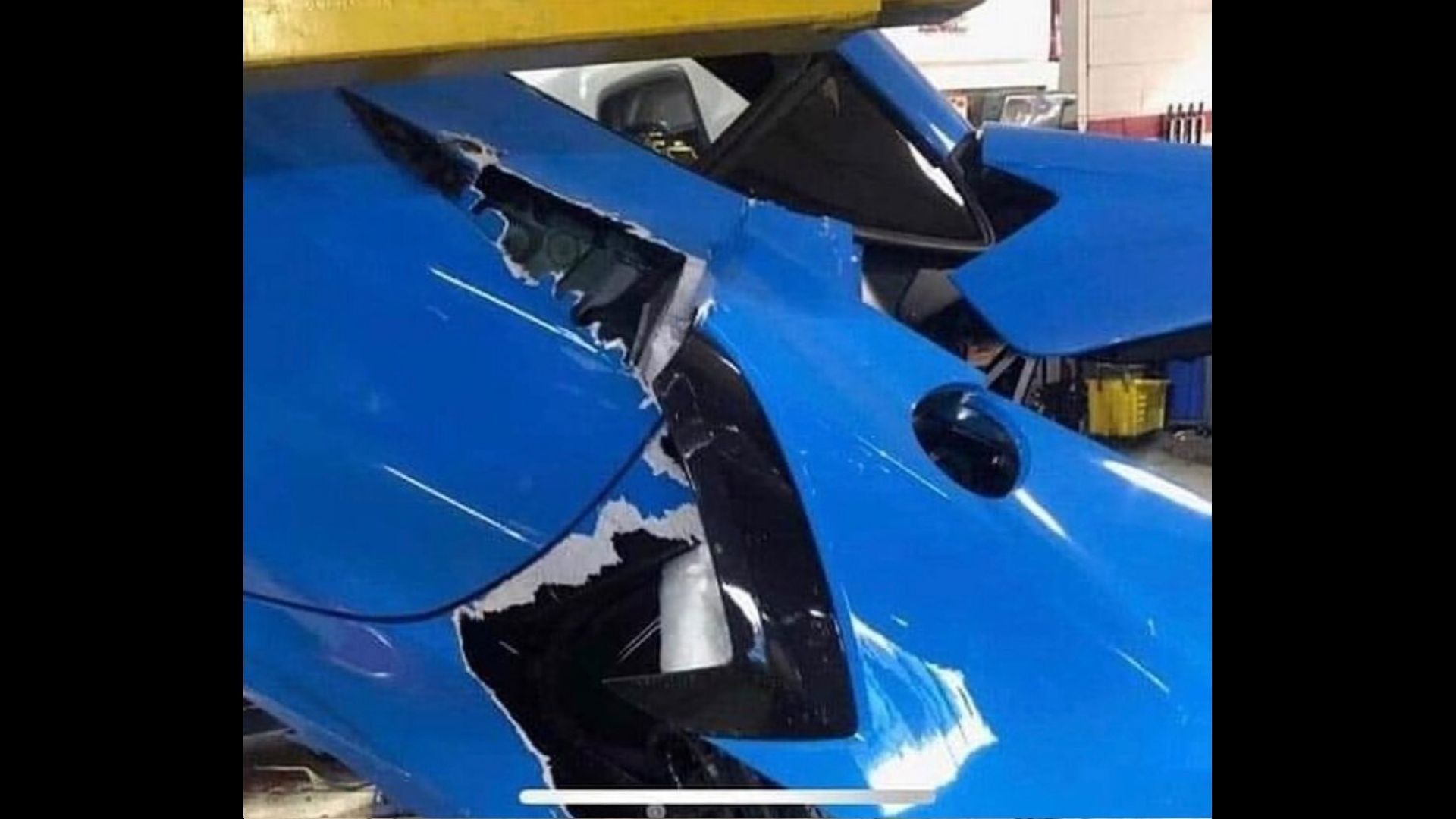 This isn't the first time we've seen a C8 Corvette fall off a lift at a dealership, and it probably won't be the last. Most workers are used to the front-engine design of the C7s, C6s, etc. and so probably without thinking position the lift as if they're working on one of those generations. With the powertrain pushed further back, the weight distribution is different, and that leads to an imbalance, thus this incident and others.
Instead of positioning the lift where they might think, all Chevrolet dealer service departments need to train their employees on the unique lifting points on the C8 Corvette. It might seem like a small thing, but the results can be catastrophic.
Back in May of last year a C8 Corvette owner came forward with a brief story of how his car fell off a lift at the dealership because they allegedly didn't use the correct lifting points. The owner stayed silent about the matter "until after the dealer had the opportunity to correct" the problem. That's when he took to Instagram to warn others that they must educate dealership employees about the proper procedure. Really, that should be the responsibility of the service department management, but obviously not everyone is getting trained on how to properly lift a C8 Corvette.

View the Web Story
C8 Corvette Falls Off Lift
Chip Foose Takes On The New Bronco
Facebook Find 1965 Chevy Impala SS
Split-Window C8 Corvette
Beautiful 1969 Pontiac GTO Brought Back From the Dead