Interesting matchup…
---
Usually, when a muscle car like a 1974 Chevy Camaro Z28 races something else on the track, it's a Mustang, Challenger, or some other pony car from the same era. And while those matchups are interesting to watch, if you're like us you've seen quite a few of them. That's what makes this Camaro Z28 going up against a 1964 Studebaker Commander R1 so interesting.
Check out the time Farrah Fawcett starred in a Ford Mustang commercial here.
Likely, you're pretty familiar with the '74 Camaro Z28 since GM made almost 14,000 of them. But the '64 Studebaker Commander was limited in production to fewer than 2,000 units, making them rare and not as much of a known quantity for many. Definitely the dark horse in this race, the Studebaker is either going to unsurprisingly be slaughtered by the Chevy or pull off an amazing upset.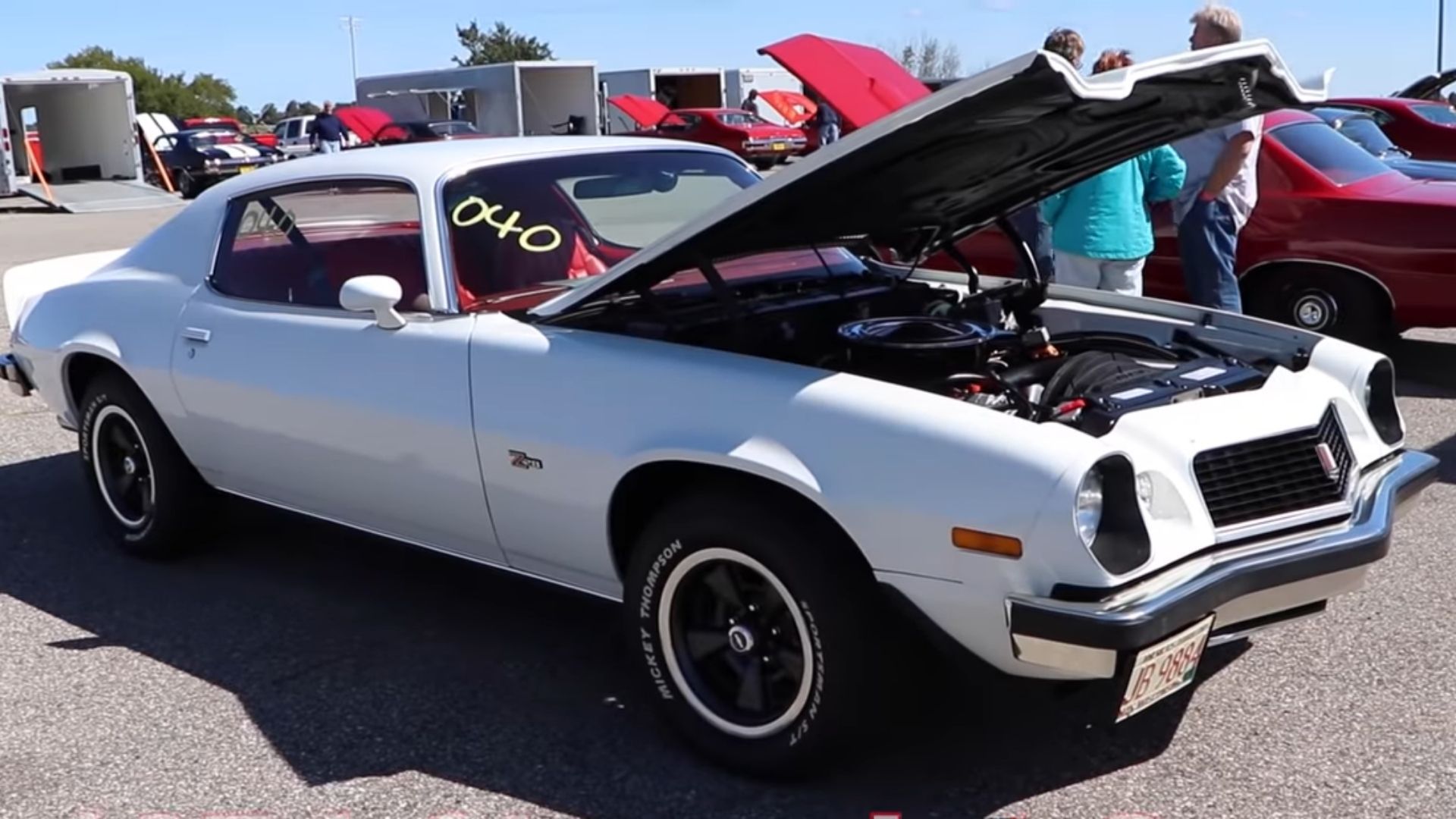 First off, the 1974 Chevrolet Camaro Z28 is packing the 350ci V8, which is rated at 245-horsepower (that's net hp) and 280 lb.-ft. of torque. Mated to that is a 4-speed manual transmission. A set of 3.73 rear gears help put power to the ground. Before Chevy fans start getting smug, the Camaro Z28 weighs 3,906 lbs., making it pretty heavy.
Then there's the 1964 Studebaker Commander R1. It has a 289ci V8 under the hood which is rated at 240-hp (that's gross hp) and 280 lb.-ft. (although many think that's underrated). That difference in how power output is measured for the two cars makes the on-paper comparison a little bit trickier. Moving on, the Studebaker uses a 4-speed manual transmission, just like the Chevy, so both drivers need to be skilled at rowing through the gears and managing the clutch properly. Around back are 4.56 gears. However, this car tips the scale at just 3,584 lbs.
While you can sit there and compare cars on paper all day, ultimately what happens on the track is what matters. So, pick which car you think is going to be victorious, then watch the video to see the outcome. And let us know in the comments if you chose correctly or not.