Police are asking for your help.
---
It's an unfortunate reality that this industry has become extremely victimized by car thieves, this has been true for some time. Prices have been skyrocketing with demand on some models for decades already, and now add in a production shortage of parts and surplus of criminals with more free time than ever, and the last 12 months have been disastrous for classic cars. The story, that seems to keep repeating itself, has happened again to the owner of a 1969 Pontiac Trans Am in California.
Watch a Trans Am yard find being driven out of its grave here.
The stolen Pontiac muscle car, was referred to as a "1969 Pontiac Firebird Trans Am drag race car" in local reports, so we will assume it was a car modified for the track. Police say the 1969 Trans Am 'drag race car' was stolen from a tow yard, while it was inside its trailer.
"The Los Angeles County's Task Force for Regional Auto Theft Prevention, or TRAP, put out a bulletin for information that would help find a 1969 Pontiac Firebird Trans Am that was being stored in a trailer at an independent tow yard on North Alexandria Avenue when it was taken early the morning of Feb. 9."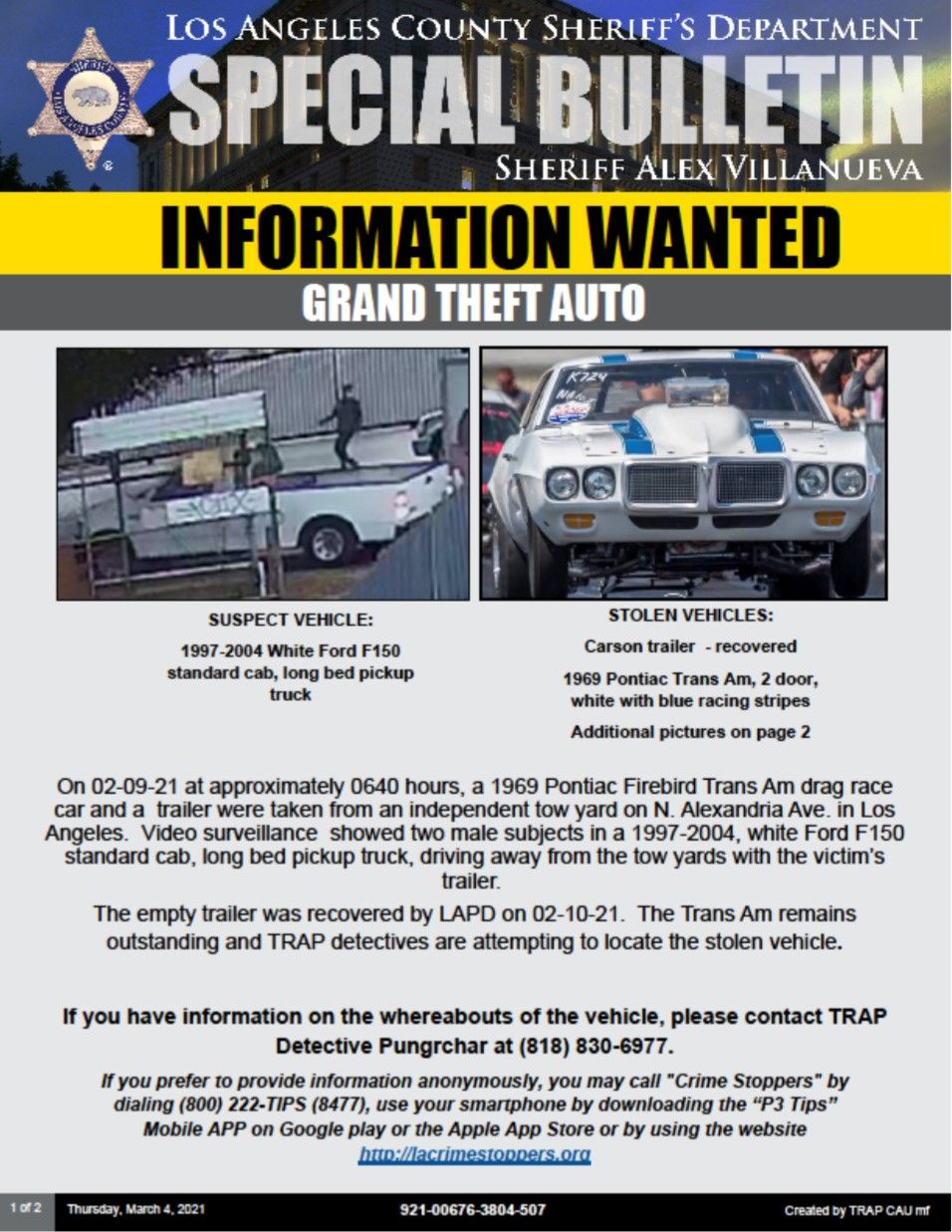 Surveillance shows the white hardtop with blue stripes Trans Am's trailer being towed off with a 1997-2004 Ford F-150 standard cab, with long bed, pickup truck.
In a good news/bad news twist, the car trailer was found the next day. We're sure the owner is glad to at least have that back, but if they dumped the trailer, the car is likely already stripped the bone for parts, or in a shipping container heading overseas.
Anyone with information about the Trans Am can call Detective Pungrchar at (818) 830-6977.