This one-of-a-kind restomod covers has it all in regards to appearance, performance, and comfort.
---
Looking to drive to the car show, nab a few awards, and then drive home? This 1971 Pontiac Trans Am Restomod retains its classic body but it chockfull with modern amenities. Unreliability is not an issue with this F-body build, and only a hair over 2,000 miles have been accumulated since its completion. Streetside Classics is excited to offer the opportunity to own this incredible '71 Trans Am. An amazing pro-touring build, this car was already long, lean, and low to begin with.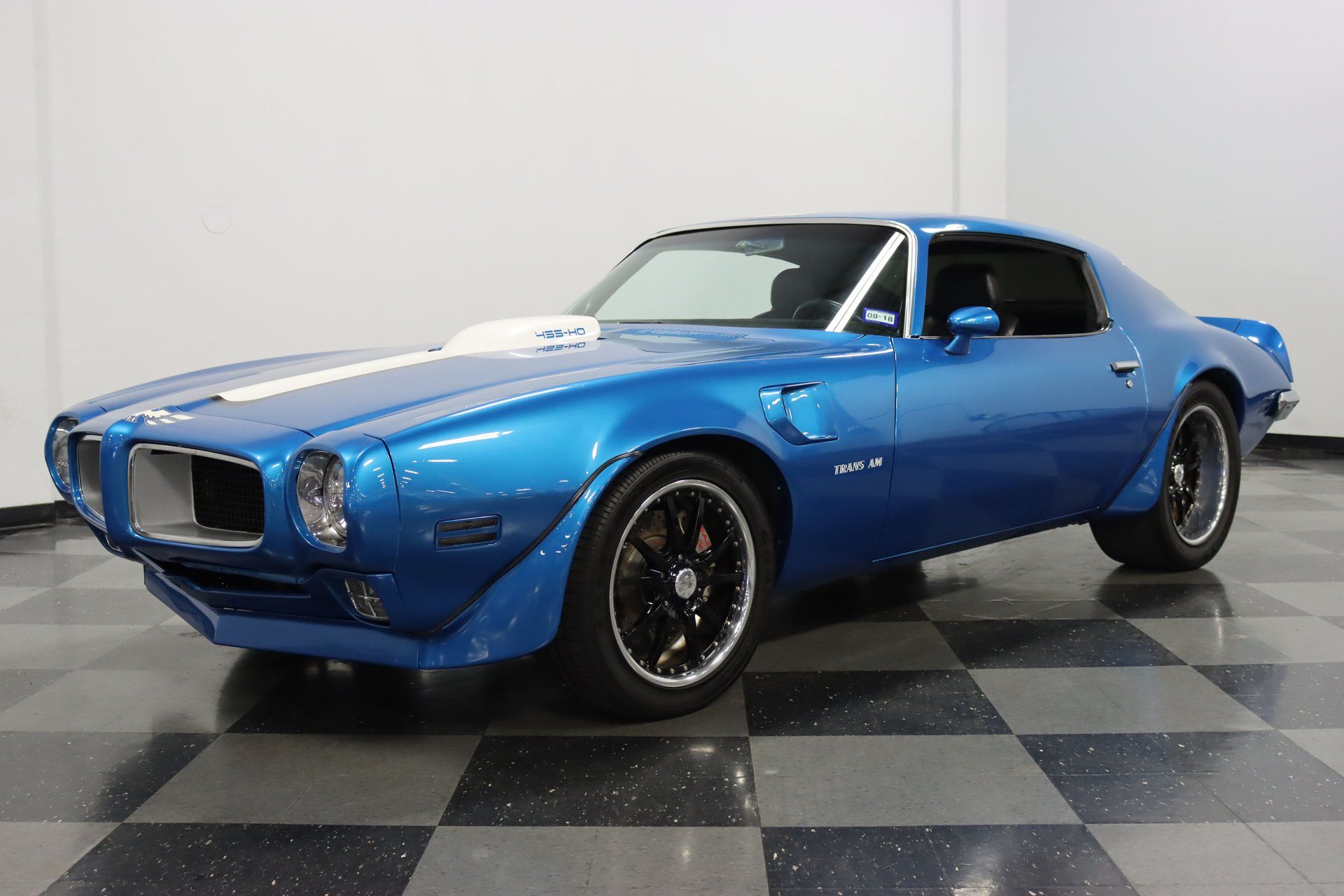 Built by Jaw Droppin' Customs located in Corpus Christi, Texas, one would be hard-pressed to find a restomod build that can top it. Sprayed in brilliant Lucerne Blue paint complete with metal flake in the finish and topped with iconic white-painted stripes down the center, this beautiful '71 Trans Am shows immaculate with a deep shine and panel gaps that look as if it just rolled off the assembly line. It is safe to say that everything on this car is exemplary. A contrasting hood scoop can be found on the outside along with factory spoilers, vents, and a nose adorned with the proper custom Firebird emblem. All chrome factory parts were either restored or replaced to keep everything correct. The exterior features a set of staggered Billet Specialties wheels that come wrapped with Goodyear performance radials (255/45/18 front, 315/40/19 rear). Altogether, this amazing restomod looks like it's ready to hunt down its prey.
Tucked in the engine bay is a massive pro-built 455-cubic-inch mill V8 engine that has been bored .060 oversize and is fitted with H-beam connecting rods and a full roller cam with roller lifters and roller rockers. Responsive under throttle, the motor is topped with an Edelbrock 4-barrel carburetor setup and intake. The block is painted in a matching Lucerne Blue with custom chrome valve covers, a Billet pulley set, an aluminum radiator, and a black firewall that has matching inner fenders that allow for everything to pop out as it should. The car is a blast to drive as one bangs gears through a Tremec 5-speed manual transmission that spins the rear wheels. Handling is provided by a full Detroit Speed suspension that consists of subframe connectors, a four-link in the back, coil-over shocks, and Detroit Speed 'deep tub' wheel wells. Stopping all that power are Baer disc brakes on all four corners that run off a Wilwood booster. Power steering allows for easy maneuvering those corners and turns. A set of ceramic-coated headers flow into an X-pipe dual exhaust system which gives this Trans Am an incredible rumble. No need to announce your presence as this car will do it for you and in the best way possible.
Open the doors to reveal a custom interior completed by the professionals at Sturgis Designs. A pair of bucket seats were installed up front with a matching bench seat spanning the rear. More interior upgrades include the custom door panels that house integrated speakers, along with a custom dash covers that incorporates plenty of suede material. A bespoke center console plays home to the Sony multimedia head unit, power window switches, and a big Hurst shifter. A 3-spoke steering wheel can be found in front of the driver's seat and the engine-monitoring part of the dash remains untouched from the factory. Overhead sits a brand new headliner, and new carpeting can be found below your feet. Aftermarket Speedhut gauges were installed and work fantastically with the upgraded motor. The Sony head unit mentioned above bumps through a powerful speakers system that has been installed throughout the inside. Keeping the interior nice and comfortable is the Vintage A/C that blows cold thanks to new hardware, and a tilt steering column can be adjusted to be comfortable for just about anyone sitting in the driver's seat. The trunk has also been redone to match the finish of the cabin.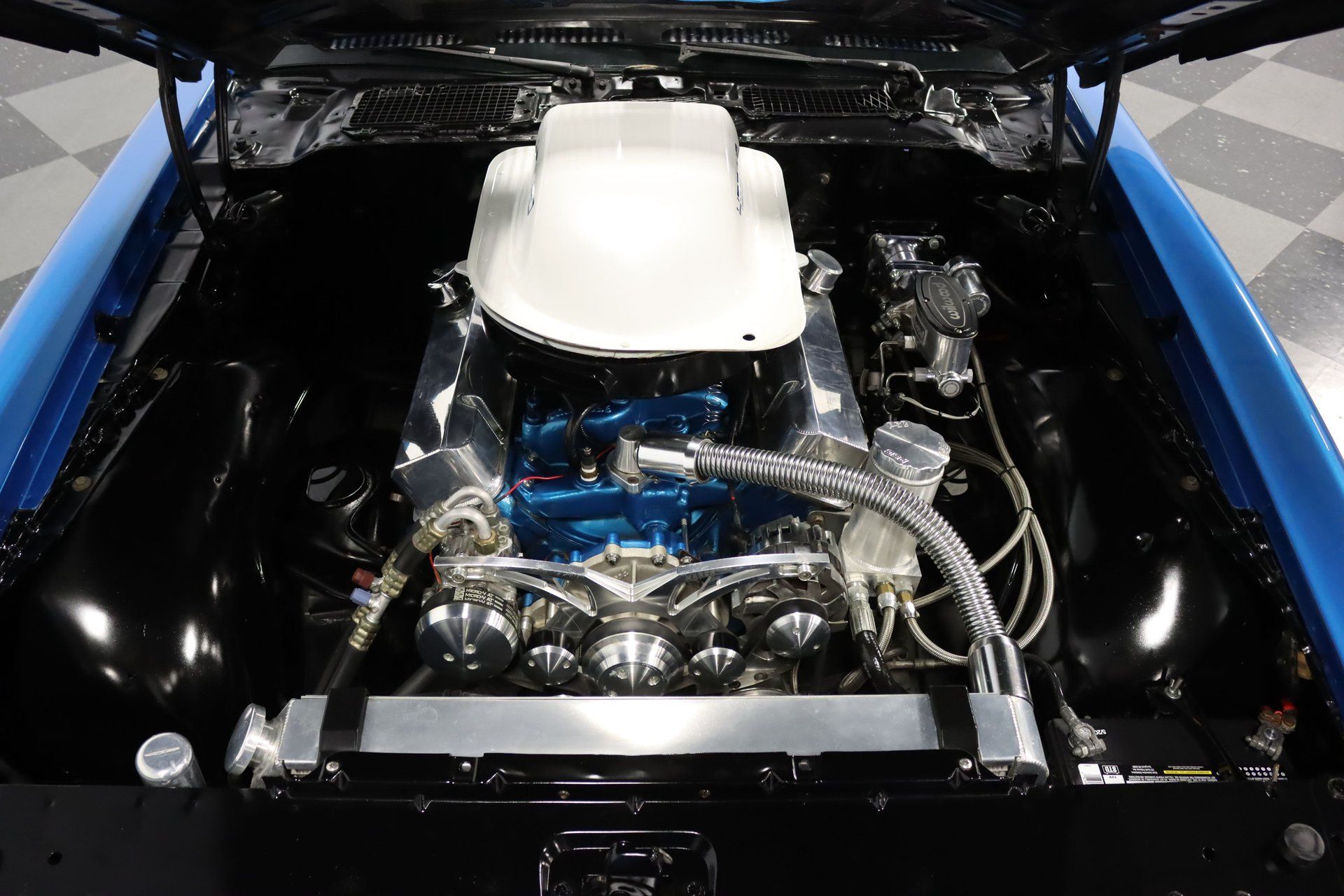 This stunning 1971 Pontiac Trans Am was given the "open checkbook" approach during the build process, and it is apparent that no detail was left untouched. Meticulously built with care and precision, this Trans Am restomod covers all bases in regards to appearance, performance, and comfort. If interested in taking home this one-of-a-kind Pontiac Trans Am restomod, contact Streetside Classics today. The car is listed at $89,995, but feel free to make them an offer they can't refuse.