There's a lot to unpack on this week's Motorious podcast.
---
Some topics deserve more love, a little more time, and a deeper discussion. Since the last episode of the Motorious Podcast, we've had several requests to give a little more attention to hot stories in the automotive industry. Here's what we covered:
A New Bullitt Movie Is Being Made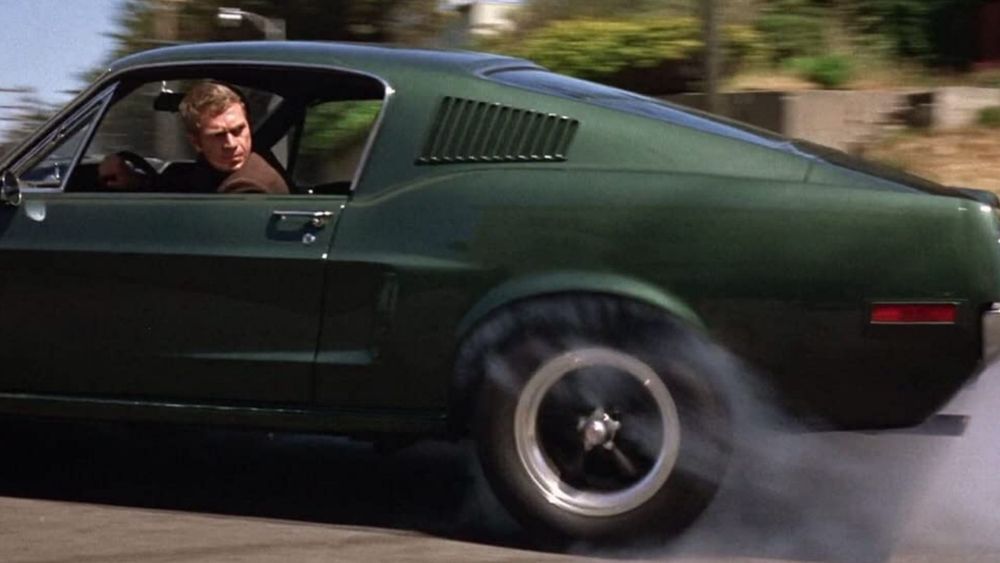 A lot of people have been saying Hollywood is out of ideas, or at least that it's scared to experiment and tell original stories these days. That's why we're drowning in a sea of sequels, remakes, and reboots. Sure, those have always been around, but now they dominate movie screens. Case in point: a new Deadline report claims Steven Spielberg is working on a new Bullitt movie.
The report says there is no script and details for the Bullitt movie are being finalized, so pretty much everything is up in the air. It might be a complete retelling of the first movie, a continuation of the storyline, or maybe something else entirely. The sources Deadline spoke with the claim the movie won't be a remake and instead will use Frank Bullitt in a new storyline, but we'll see. And yes, the possibility of completely screwing up what many consider a masterpiece is quite high.
Read more here.
Fox News Shames People For Driving A V8-Powered American Car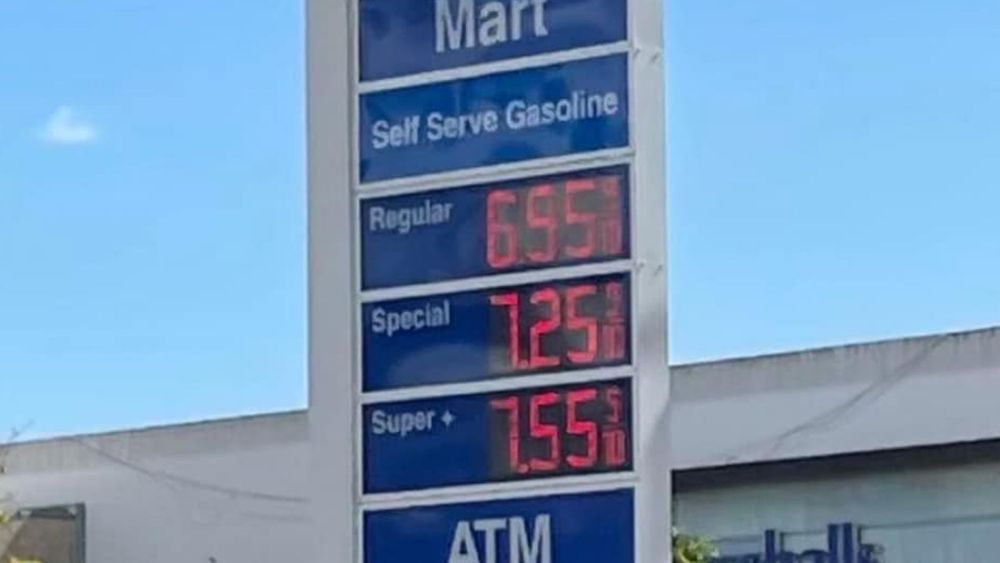 Fox News recently ran a tone-deaf yet predictable article trying to ridicule anyone for owning a V8-powered American car. It was such an elitist, lazy attempt at superiority on the part of Gary Gastelu, the outlet's Automotive Editor, that I just had to respond as well as call attention to the condescending attitude.
The focus of Gastelu's article is mocking what he says are the least fuel-efficient American vehicles. That's right, he concentrates only on the Big Three, ignoring any foreign automakers because they get a pass for some reason. There are plenty of Mercedes, BMWs, Land Rovers, etc. which guzzle gas. I can only assume this focus is fueled by an elitist mentality. I'm quite familiar with this attitude that everything American is for commoners and therefore is automatically inferior. This is especially true when it comes to so-called domestic vehicles.
Read the full story here.
Felicity Ace With Cargo Of Electrified Cars Has Sunk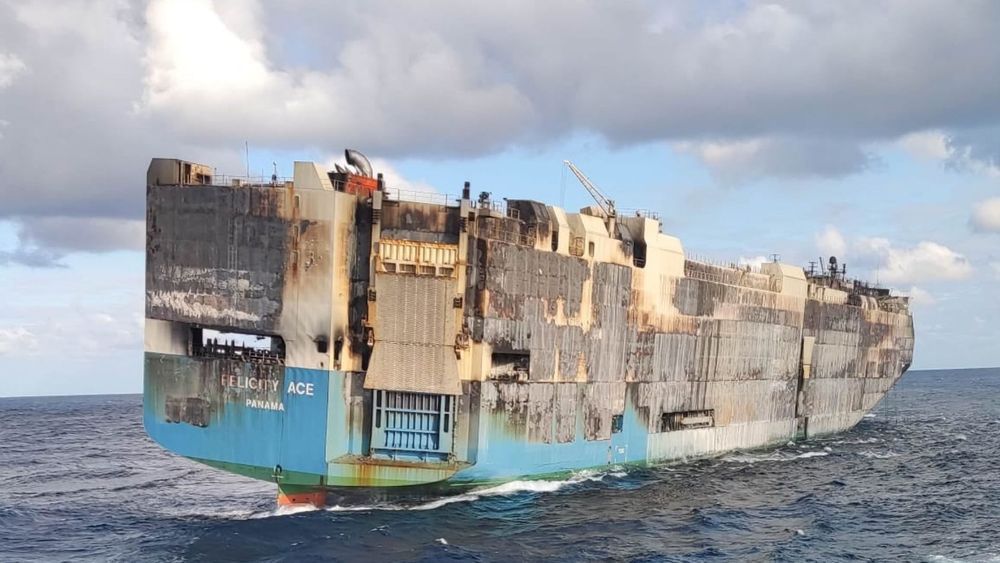 As we covered last month, a large cargo ship, the Felicity Ace, laden with about 4,000 vehicles onboard caught fire in the middle of the Atlantic Ocean. Putting out that fire would seem to be a fairly easy task since there's all kinds of water. However, the burning lithium-ion batteries from the many electric and hybrid vehicles in the ship made fighting the blaze more difficult. Portugal was reportedly putting together a ship with special equipment to smother the flames using dry chemicals. It appears they were too late, because the Felicity Ace sunk.
Read the full story here.
1957 Chevy Mysteriously Discovered In Canadian Lagoon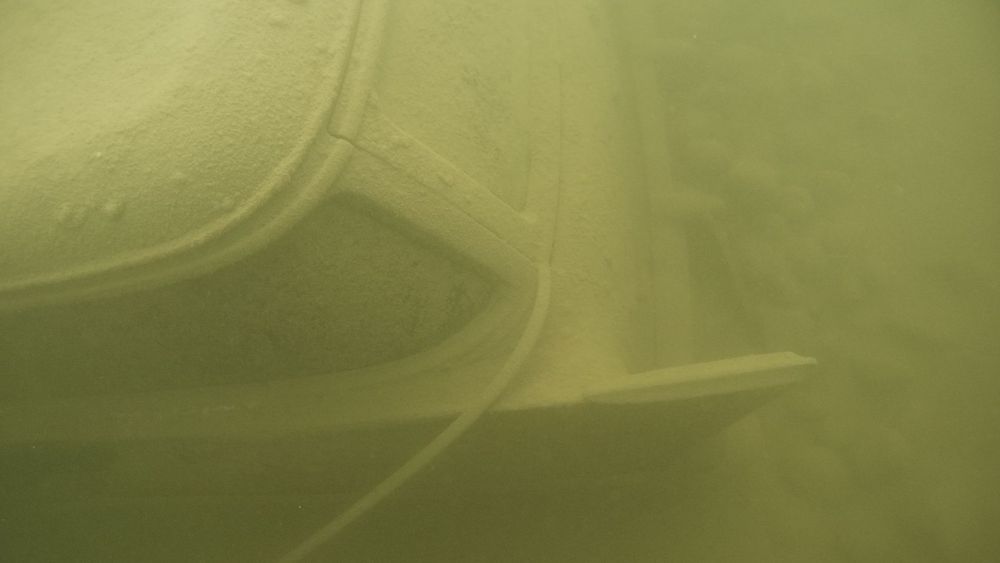 On February 7, the Lake Superior National Marine Conservation Area in Ontario, Canada posted on its Facebook page about a vexing automotive mystery. While exploring the Nipigon Lagoon last summer, a team discovered a classic car underwater. The organization had no idea what kind of vehicle it was or why it was there, mainly because all the badges had fallen off, so it took to social media for help.
It wasn't too long before enthusiasts pinpointed exactly what the wagon in the murky photos was: a 1957 Chevrolet 210 station wagon. Being such a popular, iconic model made it pretty easy to identify, so that part of the mystery was solved in short order.
Then it came out that other divers not only had already discovered the '57 Chevy but other vehicles sunken in the lagoon. Of course, a lot of people will immediately think a grouping of cars underwater surely means insurance fraud or that they were all stolen and dumped after they were used to commit other crimes. But the real reason is far more interesting.
Read the full story here.
C8 Corvette Does Its Best Impression Of A Bowling Ball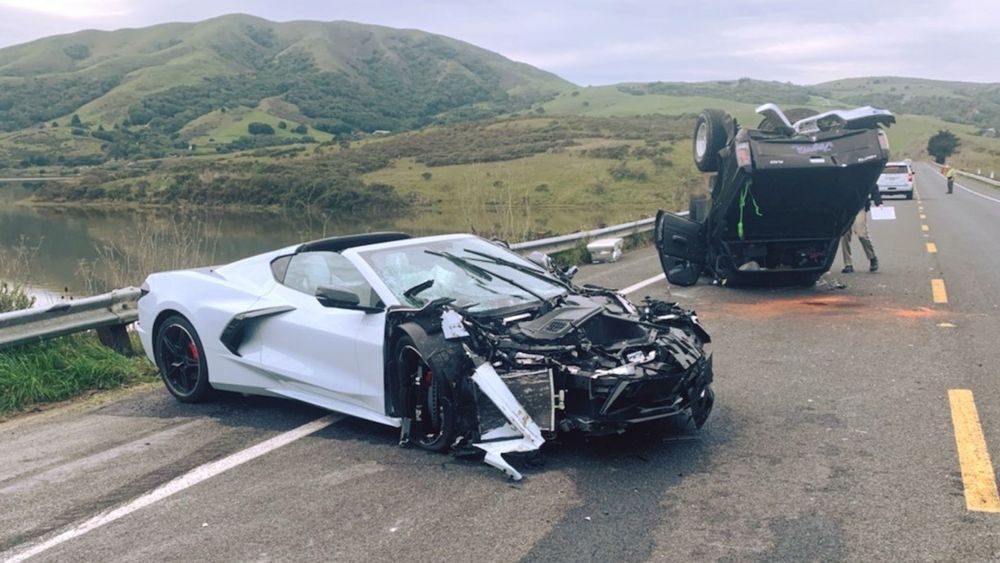 Driving a powerful high-performance sports car certainly is an exhilarating feeling. Unfortunately, for some people it's so intoxicating they start doing really stupid things behind the wheel while on public roads. Hey, if you want to hot dog it on a track with nobody around, spinning out and flipping your Corvette, by all means go for it. But a guy in California did one worse, using his C8 Corvette like a bowling ball, flipping a truck onto its roof in the process of mangling his mid-engine sports car.
According to California Highway Patrol, on February 26 at about 12:00 pm officers were called about a two-vehicle collision on Point-Reyes-Petaluma Road in West Marin. When they arrived, officers and other first responders found the C8 Corvette with extensive front-end damage in the same lane as a pickup truck which was flipped onto its roof.
Just looking at the pictures, it seems like this was a head-on collision and the Chevy driver was on the left side of the road. Since the sports car sits so low, it basically scooped the truck up off the road, flipping it.
Read the full story here.
Detroit Cops Bust Chop Shop After Dodge Hellcat Theft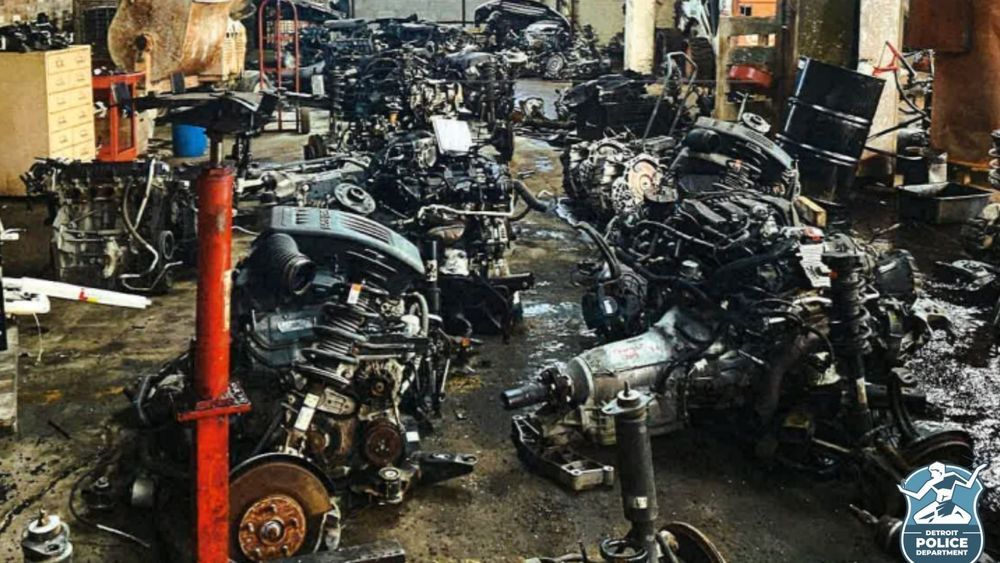 The recent theft of a Dodge Charger Hellcat from a dealership in Detroit ended predictably. The Mopar was being stored on a lot on King Road, when it along with three other vehicles were swiped in early February. Then, in the latter part of February, police found the Hellcat on the side of a road, most of its parts stripped. For anyone living in or spending time around Detroit, that's sadly a familiar sight.
After doing some investigative work, police raided a chop shop on February 28. They found a myriad of parts from the Hellcat they say are worth about $75,000. That right there is why so many stolen cars get stripped of valuable components and then dumped. With parts in tight supply all over the place lately, people will pay a premium for shocks, engines, water pumps, etc.
Read the full story here.
Enzo Ferrari Barely Survived WWII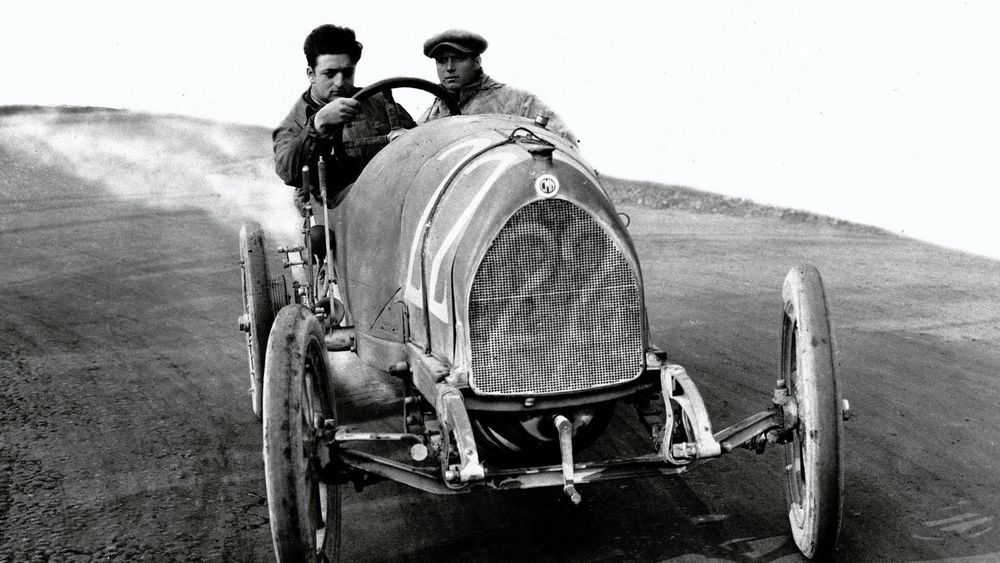 For the 1940 Mille Miglia, 42-year-old Enzo Ferrari finally achieved his dream, finally entering two cars fielded by Scuderia Ferrari. Previously, the man gained quite the reputation while working for Alfa Romeo, but he wanted to do things his way. Thanks to legal restrictions, his race cars couldn't bear the Ferrari name quite yet. Still, the man was finally spreading his wings as a legend was emerging. Then World War II broke out, putting car races on ice and everything Ferrari had worked to build in jeopardy.
Enzo would face many more restrictions over the next five years, along with threats against his burgeoning business as well as his very life. The industrialist somehow strengthened his empire during that especially turbulent time, thriving in a fractured, vicious Italian political landscape. He did so by playing all sides in the civil conflict as only Ferrari could do.
Read the full story here.