Did you expect anything less?
---
Thanks to all the lockdowns, the Petersen Automotive Museum has really stepped up its YouTube channel, which has come to include celebrity garage tours. For the tour of Tim Allen's car collection, which is housed in a good-sized warehouse, they had to release two videos. Considering he's one of the few celebrities who rivals Jay Leno when it comes to obsessive automobile collecting, that shouldn't be a surprise to those in the know.
Learn about the all-electric Dodge Charger starring in the next Fast and Furious movie here.
The average person probably isn't too aware of Tim Allen's automotive collection since he's not flashing it around on MSNBC like Leno. That makes this tour all the more interesting because we feel like we're getting a sneak peek at something usually not on display. Helping promote that feeling is the amazing array of cars and automotive memorabilia kept in the warehouse.
Right off the bat when he opens the door for the Petersen camera crew, you see a Tesla Model 3 sitting like he pulled up in the thing. Yep, that's right, Tim the Tool Man Taylor apparently has a daily driver EV.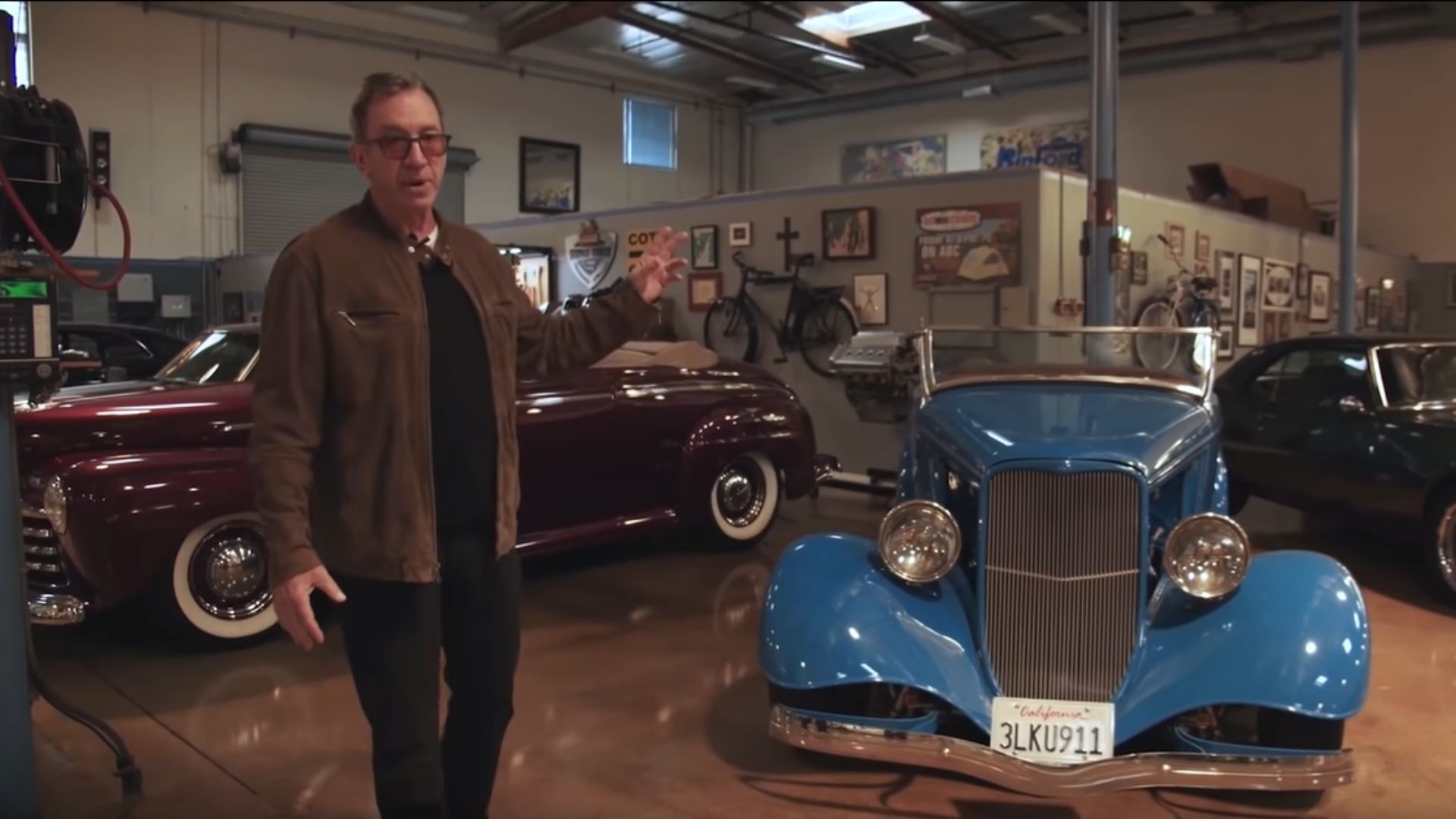 However, there are plenty of classics in Allen's collection. One example is his wife's immaculate 1972 Ford Bronco, a vintage off-roader which will impress many. We also learn the man is a big fan of Karmann Ghias, the Volkswagen many have sadly forgotten existed. Other classics housed in the collection include a Volvo P1800, Chevy 409 Bubble Top, Ferrari 330 GTC, Pontiac GTO Ram Air 4, Shelby Cobra, Shelby GT350H, Jaguar E-Type, and even a Studebaker Sleeper Cab. In other words, Tim Allen's automotive tastes are pretty eclectic, although they don't seem to include anything Asian.
One of the most interesting "classics" in the collection is a Ford F100 built with the help of McLaren to commemorate the company's 100 year anniversary. It's really a restomod with a performance chassis, bracing in the bed, modern powertrain, etc. Built about two decades ago, it carries some of the hallmarks of that time, but Allen says he's not going to update it.
Also included in Tim Allen's collection are some modern collectible cars. One of the most noticeable when the camera crew first enters the warehouse is a Ford GT, since those stick out like a sore thumb anywhere. The man also has a 1996 LT5 Impala, which is a nice sleeper from back in the day. Allen really did it up big with some Cadillac and Jaguar interior components, including the fold-down shelves on the seatbacks like what you find in a limousine.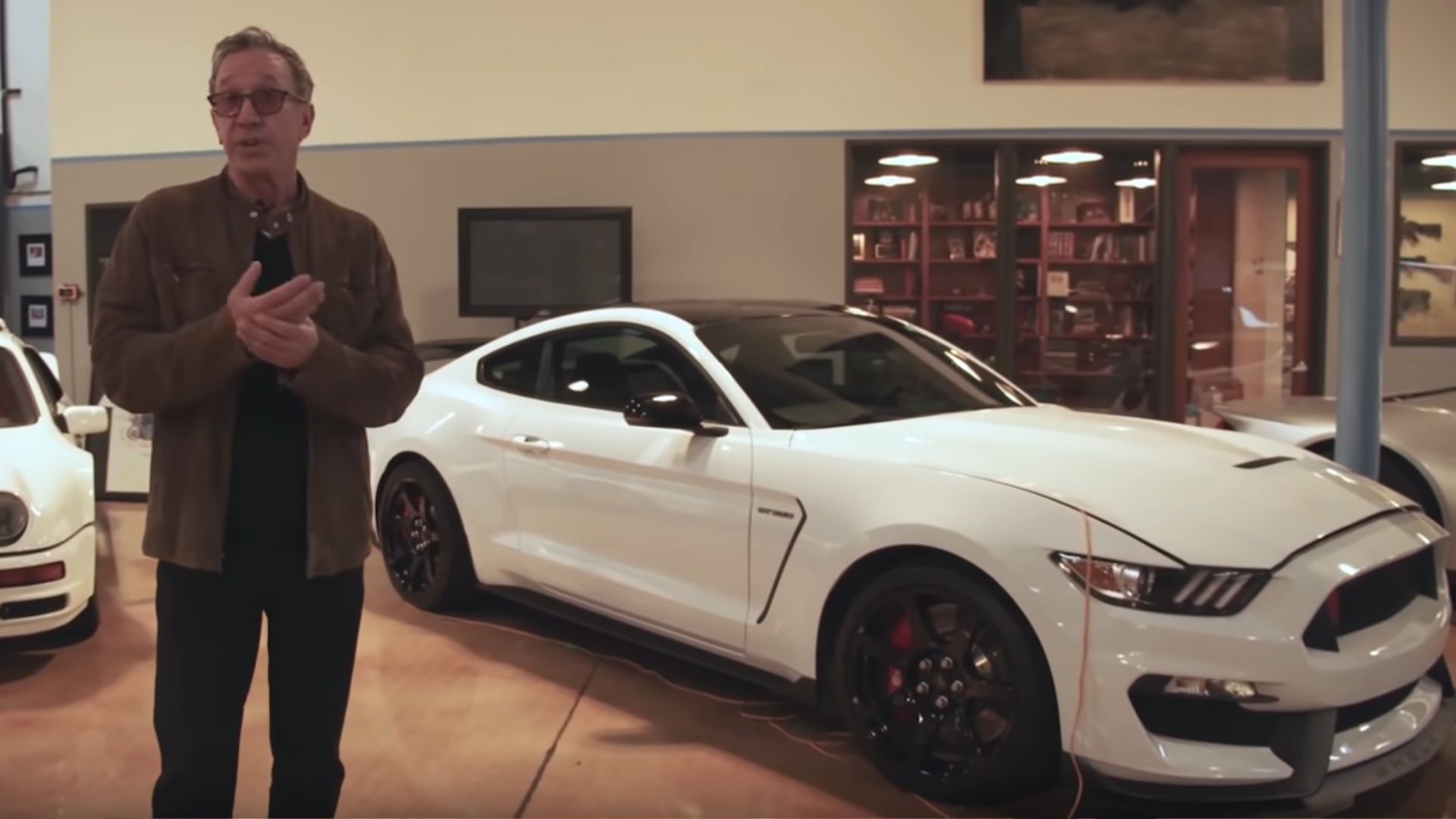 Another modern collectible, and one we think doesn't get as much love as it deserves, Allen also owns a Shelby GT350R. Some people complained that these cars were too "nice" or not connected enough to the original GT350Rs, missing that they're marvelous track cars and could've taken the Mustang in a little different direction. It wasn't to be and production has no ceased, so we predict in several years or so when people realize what these really were all about, prices will skyrocket.
Two cars from Home Improvement are in his collection, proving for any of the doubters that they were indeed Allen's personal rides. One is the '46 Ford Custom with a flathead V8 and a chrome chassis. It's a beautiful car which got a fair amount of screen time. Then there's the '33 Ford Custom, which was the first hotrod built for the TV show. Allen says he learned a lot about hot rods through this car, although it sounds like he would build it differently if he had it all to do over again.
You can't help but admire all the memorabilia on the walls and in glass cases. The most obvious and largest of them all is a giant light-up Home Improvement sign, a nice reminder of Allen's most iconic role.
There's a whole lot more in the two videos, so be sure to check them out.