You can't argue with a red-on-red 'Vette!
---
Even if it wasn't for the limited production due to the global COVID-19 pandemic, there's no doubt the 2020 Chevrolet Corvette would still go down as the coolest and most collectible car to be introduced this year. If you absolutely have to have a first-year, mid-engine C8, then this one is still like new, and it will definitely have you singing Little Red Corvette.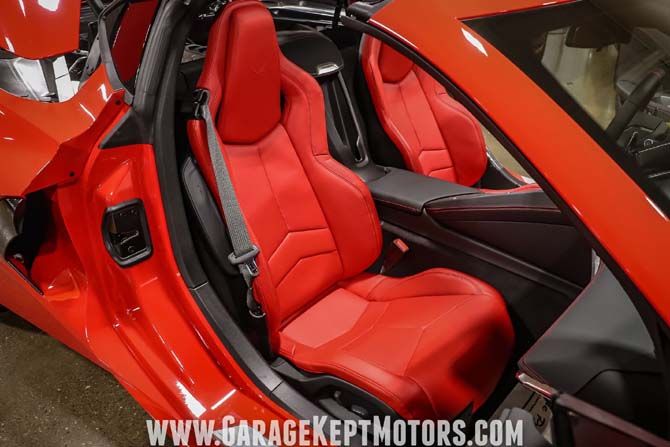 With a Torch Red exterior and Adrenalin Red interior, this C8 is about as inconspicuous as a split-window Corvette, and it's as good as new... literally. Not only was this Corvette just produced in June, it only has 18 miles showing on the odometer! What really helps this Stingray stand apart is the optional wheels (19 inches up front and 20 inches at the rear) and the dealer-installed high-wing rear spoiler.
Even if it wasn't for the production shutdown and less-than-expected production for the 2020 model year, the first-year C8 Corvettes were still destined to be special and collectible thanks to its ground-breaking mid-engine design that Zora Duntov, the Father of the Corvette, has been pushing for since his earliest involvement with this car. Being the non-Z51 model, this Corvette features a 490-horsepower output from the 6.2-liter LT2 V8 proudly displayed through a glass window. The C8 Corvette offers supercar styling and performance at a fraction of the price.
With limited supply and skyrocketing demand, prices for C8 Corvettes continue to surge. As such, this 2020 Chevrolet Corvette Stingray being sold through Garage Kept Motors is currently being listed for $104,900, which isn't even that bad considering Copart was recently trying to sell a wrecked C8 for $107,699.