The man makes his customer happy once more and it's obvious why.
---
Plenty of people love restomods and for obvious reasons. While it's great to see a faithfully-restored classic car, it's also fun to see what kinds of fresh spins people can put on such a vehicle. That's exactly what we get regularly from Chip Foose and crew. This time around the famous designer has had his way with a 1969 Chevrolet Camaro in the video posted below.
For many, the '69 Chevy Camaro is a holy icon, something you just don't mess with. They're not going to like the Foose spin on this one, just like some were ultimately offended at how he tweaked a Jaguar E-Type not too long ago. Also, a fair amount of YouTube commenters didn't like the rock music playing while Chip was working. You really can't please everyone.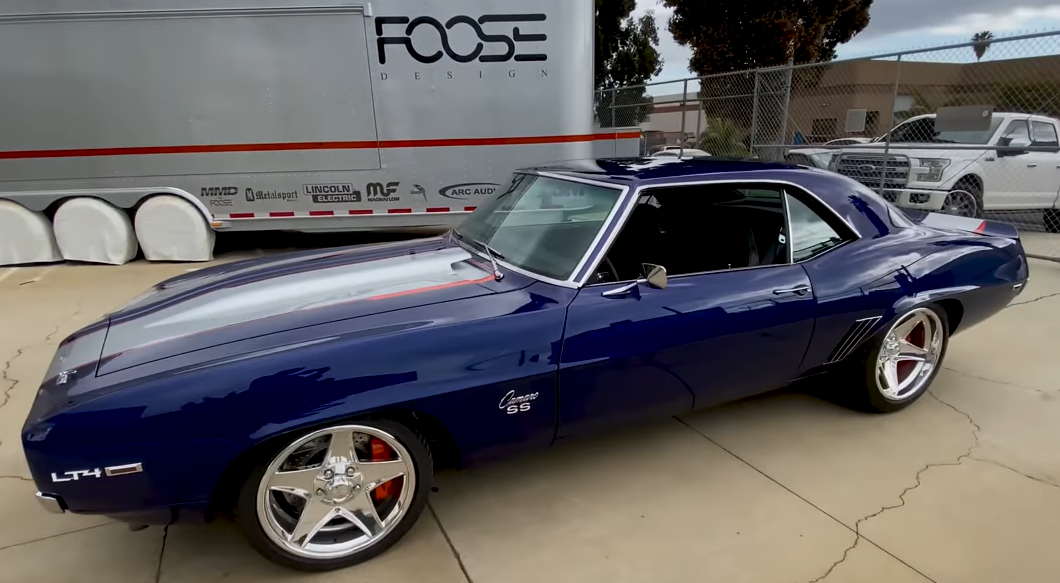 This car is pretty loaded up on goodies. As you'll see later in the video it's wearing a nice Glasurit Paint Deep Impact Blue and Custom MHT Foose Star Thruster wheels tucked in nicely. White stripes with orange pinstriping add an appropriate retro flair.
There's also a custom Arc Audio sound system, modified Cobra Seats, and a custom interior. An GM LT4 crate motor (painted orange, of course) provides plenty of power while the Magnaflow exhaust system makes it sound even better. A Baer Brakes 6P caliper system clamping down on slotted and cross-drilled rotors also provides extra stopping performance.
If you haven't watched Foose and his team work before, you'll note their keen attention to detail. That's one of the man's secrets to success, or really any builder's secret who is successful.
One thing is for sure: whether you liked the results or not, the customer did. In the video you get to see the owner of the '69 Camaro react when Foose pulls off the cover at the SEMA Show and the guy is overwhelmed. At the end of the day, Foose of course has his reputation to defend, but he's also aiming to please the one paying for the build.
Photos credit: YouTube
More Chip Foose Magic