How a $1,400 Craigslist find was transformed into a custom, jaw-dropping SEMA show truck!
---
If you've ever attended SEMA, then you know that the vehicles exhibited in the parking lots outside of the Las Vegas Convention Center are usually just as entertaining as those inside the halls. For anyone who was in attendance at the 2019 SEMA Show, this 1983 Chevrolet C30 Camper – aka, Brown Sugar – is instantly recognizable, and it's currently being sold for $179,990. Yes, you read that right: this custom Chevy truck costs about as much as a 1969 Dodge Charger Daytona, but this asking price isn't nearly as shocking as the 1985 Chevrolet K20 that recently sold for $84,500!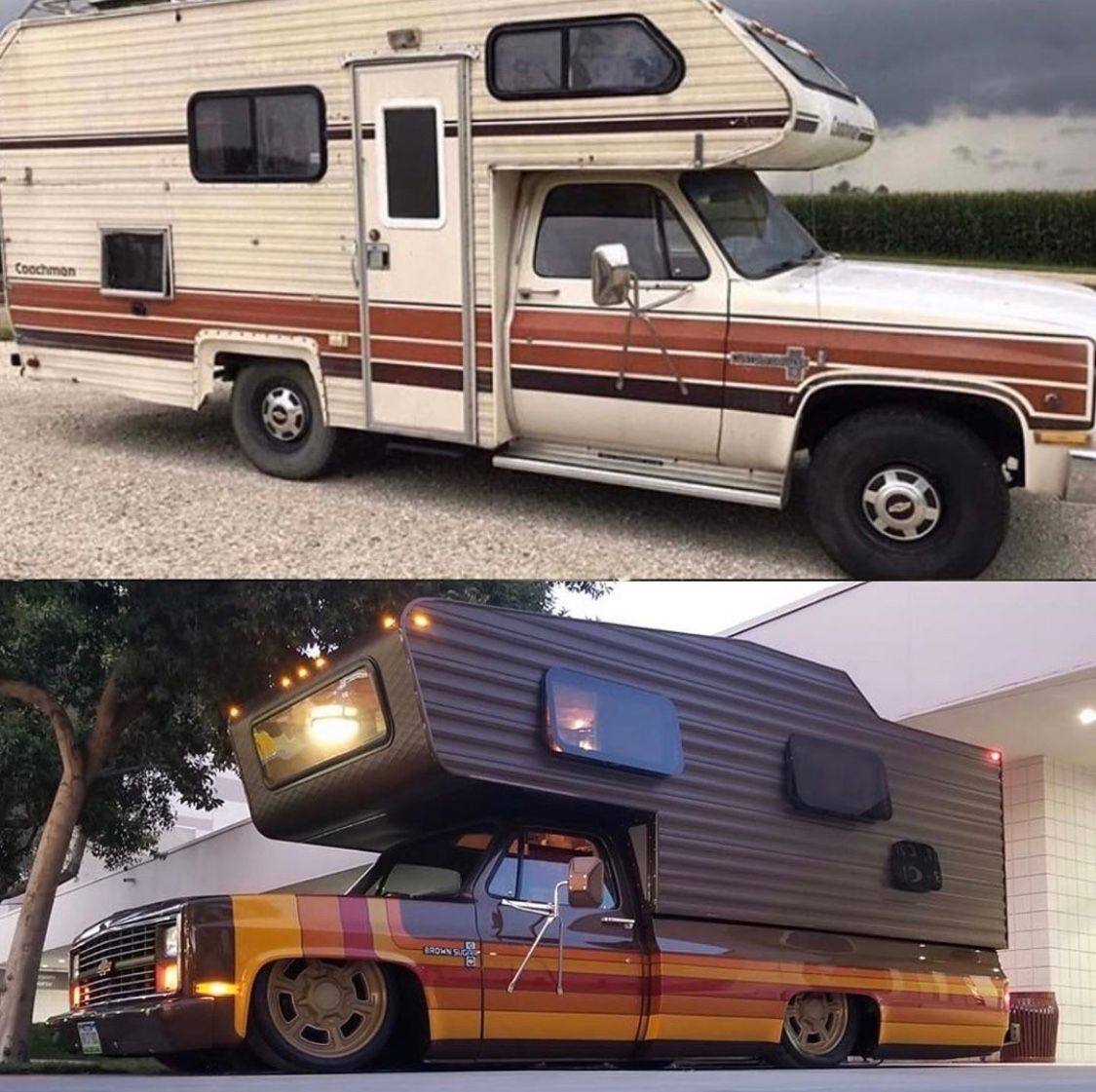 Built by River City Rods and Fabrication of Davenport, Iowa, this custom Chevy started out as a $1,400 camper found on Craigslist with original hopes to flip the truck for a profit before using it as the basis for an intense SEMA project. Not much is original on this truck, and that starts with the retro-themed six-color paint job from PPG. This truck is slammed to the ground riding on a custom air ride suspension to give it that perfect stance.
As eye-catching as the interior is, the inside of Brown Sugar is even more incredible. The front passenger compartment is a sea of brown with stylish plaid accents, and the dash and door panels appear to be wrapped in stitched leather. Things only get better when you move into the camper's living space with plenty of exposed wood throughout and a leather bench seat. The fabrication work alone is jaw dropping with unique touches that include subwoofers crafted from whiskey barrels and a sink made from a vintage Coca-Cola cooler.
In true SEMA style, even the engine compartment of this Chevy camper is a ready to show. The truck's brown paint scheme flows seamlessly under the hood, and the built 5.3-liter LS V8 sits hidden under a custom air intake cover. The valve covers are customized with a black finish and the old-school Chevrolet script, while the rest of the mechanical components get a similar brown finish as the rest of the truck.
Grand Rapids Classics has this custom Chevy camper listed for $179,900, but you can click HERE to make an offer on this amazing SEMA show truck.