A little worse for the wear, but at least the car is back with its owner.
---
There are some wild stories of stolen classic cars with each one as heartbreaking as the next, but police in Bellingham, Washington are at least recovering these cars before they have a chance to be stripped or sent overseas. Earlier this year, Bellingham Police Department recovered a 1969 Chevrolet Chevelle SS that was taken from its owner's garage and involved in a police chase, and now the city has recovered a Foxbody Mustang just hours after it was reported was stolen.
In fact, the Bellingham Police Department reports that through August 11th, 14 vehicles were reported stolen and, of those, 10 were recovered – a statistic that doesn't include this Foxbody Mustang. According to a Facebook post by the car's owner, the Mustang was stolen late August 11th or early August 12th while it was parked, and the thief smashed out the driver's side window and punched the steering column to start the car.
The owner says he just got the car, and judging by the blue taped areas, he may have been doing some paint correction to the body. Sadly, there is now more work as in addition to the window and the steering column, the wheels were also damaged when the thief apparently lost control of the car, jumped a curb and ended up parked in someone's gravel driveway.
It isn't clear if police were in pursuit of the Mustang or if any arrests were made in connection with its theft, but we're glad the owner at least got his car back.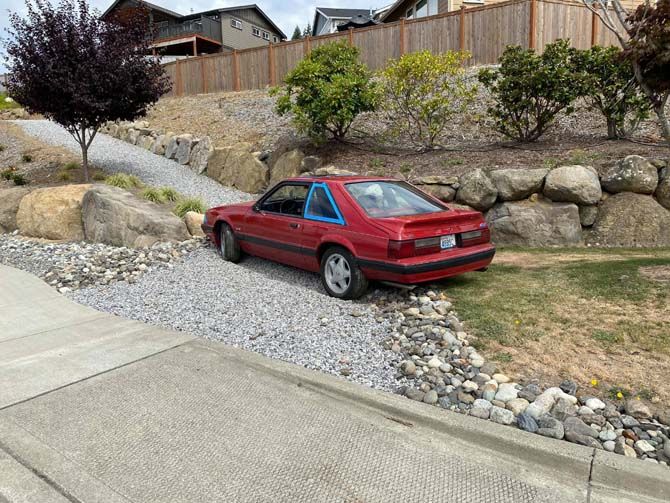 Source: Facebook