Jeep's go-anywhere off-roader hasn't had a V8 since the 1980 CJ-7.
---
As Ford prepares to unleash the 2021 Bronco, the Jeep Wrangler has no intentions of giving up its customers easily. With the Bronco debut coming on Monday (July 13th), Jeep got off-road enthusiasts fired up with a Twitter post showing the sketch of a Wrangler (or Gladiator) with a Ram Air-style hood with the "392" numbers on the side as a clear teaser to Hemi-powered version of this off-road legend.
This, of course, is a clear suggestion that Jeep is at least considering the use of the 392 cubic-inch Hemi V8 in the Wrangler and/or Gladiator. If this teaser does become a reality, it would be the first time the Jeep Wrangler has ever received a factory V8 engine. The Jeep CJ-7 offered a V8 up until 1980, and since then (including the 1987-present Jeep Wrangler), it has been a series of four-and six-cylinder engine options.
Sadly, there is no word as to whether or not Jeep actually plans to deliver a V8 Wrangler or when such a vehicle would be ready. This teaser sketch comes just a day after Jeep confirmed that the Wrangler-based Gladiator pickup truck will be getting the 3.0-liter EcoDiesel V6 rated at 260 horsepower and 442 lb-ft of torque.
In addition to the excitement surrounding the engine, the sketch also seems to mark another noteworthy upgrade for the current Wrangler: the return of half doors. Although the JL Wrangler was supposed to offer half doors when it launched for the 2018 model year, this feature never panned out. The sketch clearly shows a version of the Wrangler's removable door without a full-framed window, but it doesn't have the unique "donut" cut out that was originally revealed on the JL. Previous generations of the Wrangler (JK, TJ and YJ) have all offered half doors.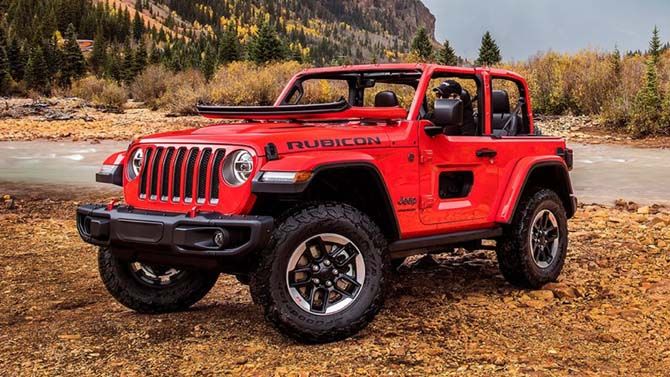 Source: Twitter