There can only be one…
---
The fight between the Hellcat and ZL1 is so intense it's spilled over into Europe, as you'll see in the included video. We fully expect this will stir up some heated discussions between Mopar and GM fans, especially since the scene of this drag race is in such an exotic, unexpected location somewhere in Germany. Before we dive into things, we also want to say we're proud of these Europeans for skipping something like an Audi R8 or Mercedes-AMG GT R and instead opting to enjoy some wonderful American muscle cars instead.
Watch old school Chevrolets race modern Mopars here.
First of all, some of you are probably wondering if the headline is a typo. After all, there's no Dodge Challenger Hellcat XR Widebody in North America. That's right, the XR is made just for the European market and to conform to the European Union's ever-tightening regulations. Showing just how few Hellcats there are in that market, the guy who shot this video states there are only 50 XRs on the continent.
We just can't imagine what life would be like without Hellcats rolling down the street everywhere. What cars do European car thieves steal? How do they roast tires on the cheap there?
The Chevy Camaro ZL1 also isn't exactly common in Europe. Back in the day Chevrolet sought to make the Camaro and Corvette popular by slapping their name on the Manchester United jerseys so all the soccer – oops, football – fans would blindly start buying them. Well, it didn't work and really it's the Europeans' loss.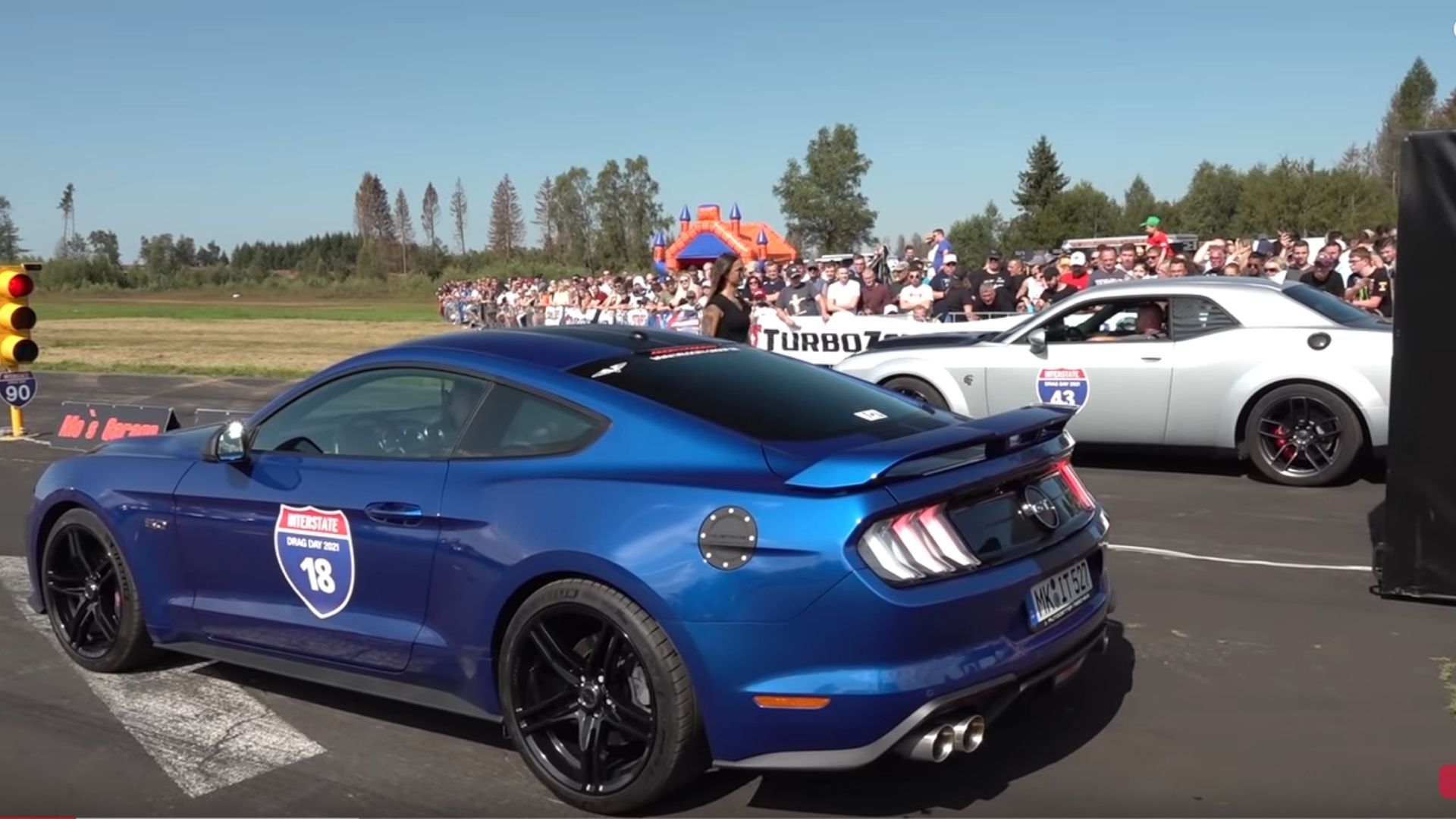 Aside from all the Euro market stuff, this is about two modern American muscle cars in European spec duking it out on a track in Germany in front of a European crowd. As a bonus, you also get to see the Hellcat take on an S550 Mustang GT. Oh, and the Hellcat has a passenger and the track is far from flat. There's a lot going on, so check it out.