Welcome to Clown World, everyone…
---
It's 2021 and someone apparently posted a Dodge Charger from the video game GTA Online for sale on Facebook Marketplace. That's right, they're trying to get $1,500 for a digital car you can only use in a game which encourages you to steal, deal drugs, and run from the police. This is so beyond ridiculous we would normally think it's some sort of prank, but these days it seems like enough people love living in fantasy and denying reality that this listing could be dead serious.
Check out a Dodge Charger with a 9.9-liter Hemi V8 here.
In a screen capture of the Facebook Marketplace listing, which was posted to Reddit, the "owner" says the car has 130,654 km on it. That means this is somewhere outside of the United States where Dodge Chargers are more exotic, because this kind of attempt around here would just be mocked and ridiculed.
Maybe this is a scam – we don't know if you can really transfer ownership of a car in GTA Online like you can in Forza. If this is a scam, it shows criminals are getting increasingly creative with how they separate naïve people from their money. After all, if you can't trust people who play a game called Grand Theft Auto, who can you trust?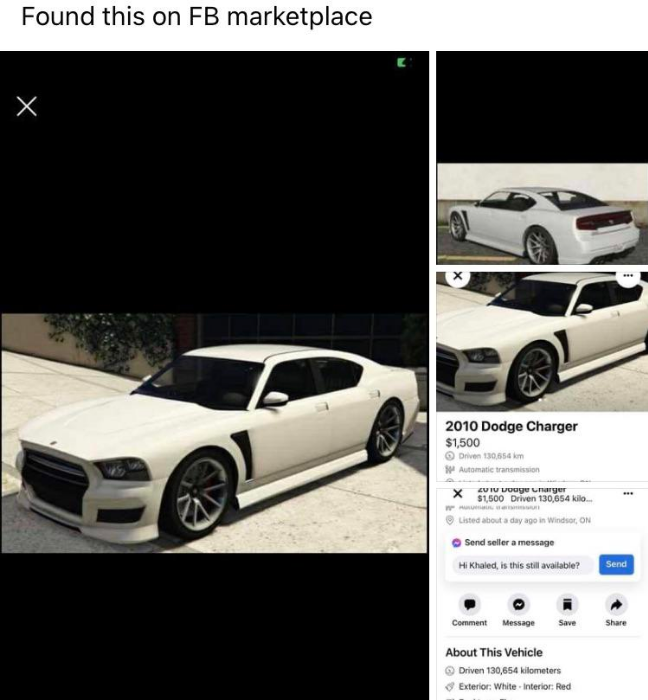 The other possibility is that this is a scam and the scammer thinks someone will believe the car is real, not a digital creation. You would think the basement price would be enough to make someone suspicious. If this is true, just wait until these criminals figure out there are digital renderings of cars out there which fool people into believing they're actual crazy builds.
Either way, this is a good reminder to not believe everything you see online. Scams are prevalent with things like vehicle rebirthing, so take your time and don't be too eager to buy something which seems too good to be true.
Source: Dexerto