He's tired of the scofflaw drivers and he's taking matters into his own hands…
---
Update 03/28/2021: We thought it was worth a quick note to update that GoFundMe has removed the campaign, but the screen shots will live on forever.
Original story on 03/09/2021 at 02:45 pm est: A man named Alex Kahn has organized a GoFundMe fundraiser to rid the city of Atlanta, Georgia of Dodge Chargers. Yes, you read that right, this guy wants to ban a certain car model, which we're sure is totally legal in every way (insert sarcastic tone here). Look, we get it, Kahn's tired of the hooligans speeding, doing burnouts, and performing street takeovers in their Mopars, but this seems like killing a fly with a bazooka.
See the aftermath of a C8 Corvette falling off a car lift here.
But Kahn has had it with these "Hemi rocket barges" and thinks you should too. In fact, he wants your money, which apparently will go to "the oversight of an exploratory investigation into a plan of action for the first stage of creating meaningful legislation" aimed at getting Dodge Chargers off Atlanta's public roads. Phew, talk about word salad.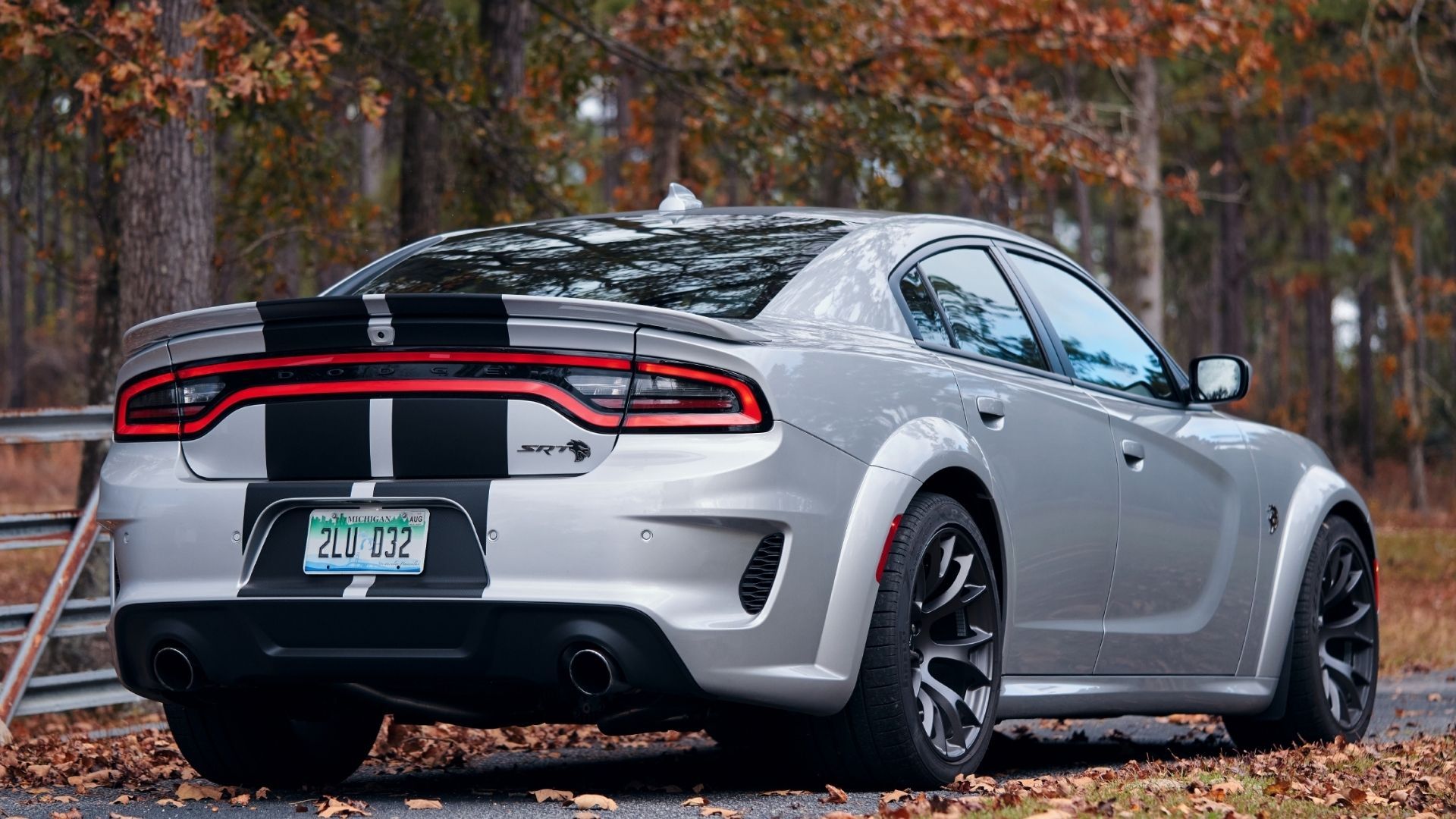 This GoFundMe post is just littered with hilarity, like Kahn going on about having Chargers "banned… from the perimeter." Is he talking about checkpoints? They do those in oppressive regimes, you know. Also, percentage symbols go after numbers and grammar as well as spelling do matter. And Chargers don't reach 300 mph. Just saying.
First question we have is what about all the legitimate, law-abiding citizens who drive Dodge Chargers? Does Kahn seriously think everyone with a Charger engages in unsafe, possibly criminal behavior on public roads? Last we heard, this sort of stupidity knew no boundaries when it came to car brands or models, although the modern Dodges do seem to attract the criminal element, but they're not the only cars with such an appeal. And not all Dodge drivers are criminals.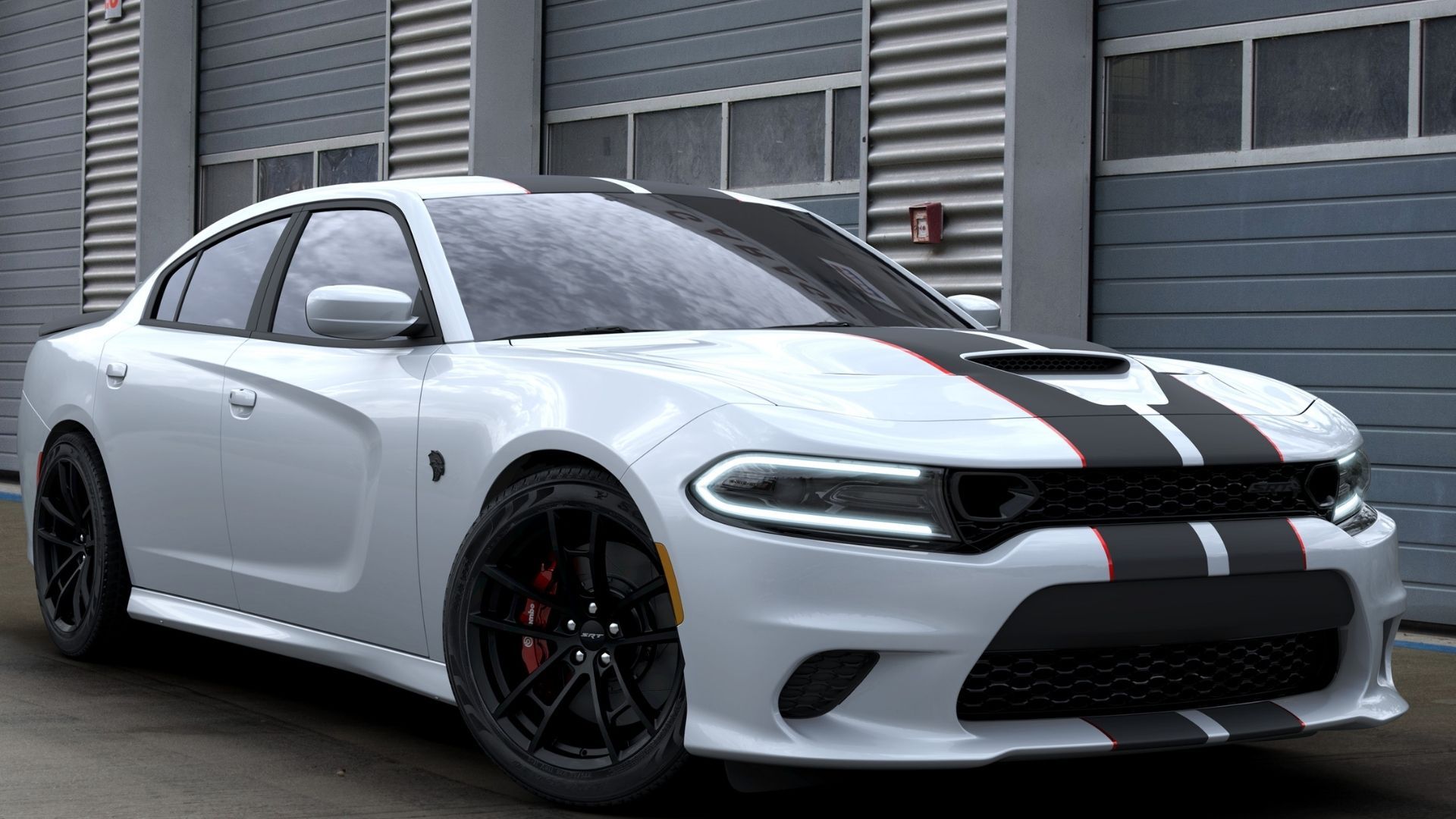 Also, what about the Dodge Challengers? Does he not know the difference between the two? It's pretty easy to tell them apart, but non-gearheads seem to struggle with even the simplest concepts about cars.
Just in case Kahn comes to his senses and ends this GoFundMe campaign, we've included screenshots. Although, he has a great analogy of this campaign moving forward like a Charger "slamming through an innocent business storefront" versus those business storefronts which commit murder and so forth. Gotcha. The man is looking for $1,000 and at the time of writing this article has collected a grand total of $55 from 7 donors. This is pretty adorable stuff.
If you want to donate to what we feel is an ill-defined and ill-advised campaign, check it out for yourself right here.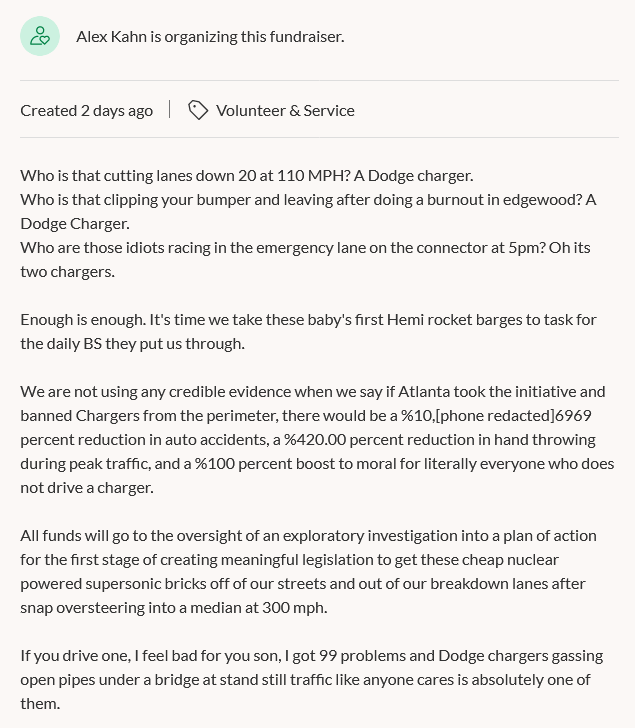 View the Web Story
Campaign Seeks To Ban Dodge Chargers
C8 Corvette Falls Off Lift
Chip Foose Takes On The New Bronco
Facebook Find 1965 Chevy Impala SS
Split-Window C8 Corvette
Beautiful 1969 Pontiac GTO Brought Back From the Dead