Talk about the perfect LS swap!
---
The best thing about Chevrolet's LS engine is that you can stuff it under the hood of just about any car imaginable including a Lamborghini Diablo, and if you're considering an LS swap for your next project, be sure to check out the all-new LS427 crate engine from Chevrolet Performance. As its name suggests, this crate engine is an LS V8 with a 427 cubic-inch displacement and 570-horsepower output.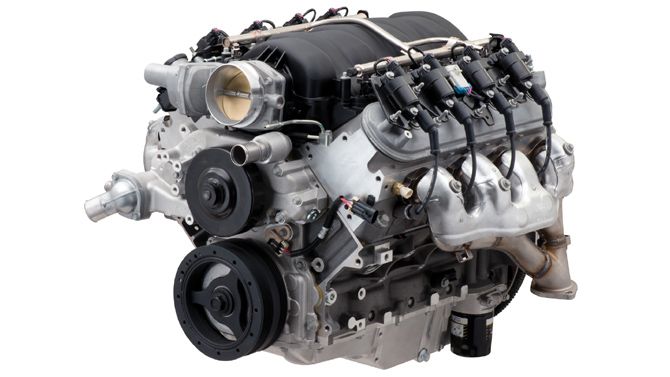 Although it is based on the 7.0-liter LS7 V8 used in the C6 Corvette and 2014-15 Camaro Z/28, this engine differs from the production V8 with a unique high-lift camshaft, high-rate valve springs, CNC-ported heads, low-profile fuel-injected intake manifold, forged steel crank, titanium rods and a wet-sump oiling system with an aluminum oil pan. These beefed-up components help increase the LS7's tune from 505 hp and 481 lb-ft of torque in the Z/28 up to 570 hp at 6,200 rpm and 540 lb-ft of torque at 4,800 rpm (on premium-grade pump gas!), and the engine redline is 7,000 rpm.
"The all-new LS427/570 builds on the legendary, racing-bred performance of the LS7 to create the most powerful naturally-aspirated LS crate engine in [Chevrolet's] portfolio."
The LS427/570 crate engine must be used with a special engine computer, which is sold separately. The good news is that this engine is available right now through Chevrolet Performance dealers, but the bad news is that this engine is intended for "competition use only" indicating that it isn't street legal.
Chevrolet did not announce how much this crate engine will cost, but rest assured, it will be far less than the $191,000 price that someone just paid for a 1967 Lamborghini Miura V12 engine!
Source: Chevrolet Performance