A real-life corner-carving classic that was fabricated and built by a veteran Baja racer.
---
Writing about cars, you see plenty of insane mashups and crazy engine swaps. One of the most popular platforms would be the Ford Mustang. Whether the Mustang was built for drag racing or flexing its muscles at a car show, there are an endless amount of builds revolving around the first-ever pony car. While the Coyote engine isn't exactly considered a crazy engine swap considering it hails from a modern version of the same breed, it does give this 1965 Ford Mustang an edge and plenty of modern horsepower to work with. That isn't the only thing done to this trick pony.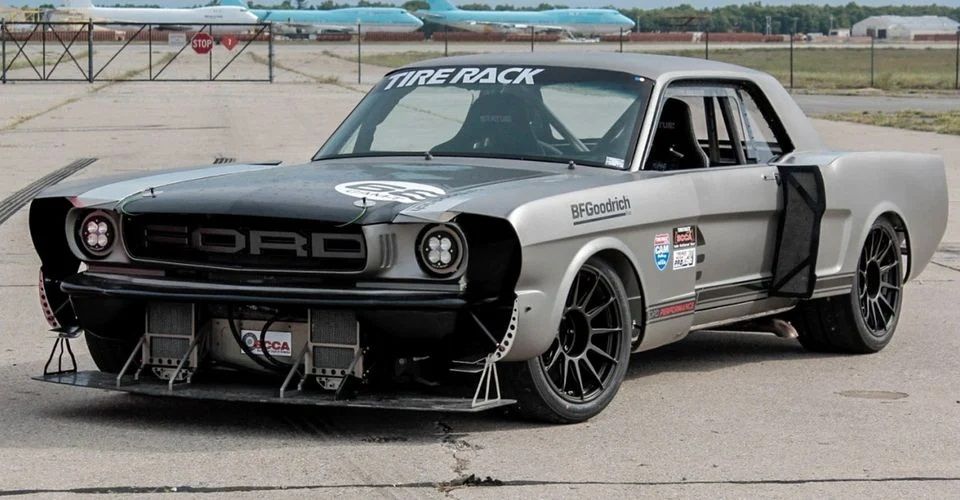 This wild '65 Ford Mustang was spotted by Muscle Cars & Trucks at an SCCA Autocross event in Oscoda, Michigan. Since the owner of this custom Mustang spent plenty of time racing Baja vehicles, he wanted to build something robust that could handle the amount of abuse thrown its way. He put the car under the knife and gave it the treatment and fabrication that normally a trophy truck would receive. A developmental car, the Mustang was designed as a guinea pig to test various future products.
The exterior of this classic '65 Mustang is nothing short of wild. One might first notice the large "Ford" grille that looks like it came straight from a Ford Raptor truck, and this pony has been given fierce fenders that are incredibly wide. Adding to its aesthetic are a set of 18-inch CCW wheels that switch shoes depending on conditions - either 315 series Yokohama tires or 335 BFGoodrich tires.
To carve corners without nailing any cones, this modernized Mustang features modern suspension components including front and rear subframes from the current Mustang S550 platform as well as Penske coil-overs all around. As mentioned above, powering this classic is a modern and potent Ford 5.0-liter Coyote V8 engine that is mated to a new 10R80 10-speed automatic transmission.
More mechanical highlights include plenty of parts from a Shelby GT350 including an intake, throttle body, brakes, and oiling system. A set of Kooks headers and a Motec control system were installed on the nearly stock drivetrain.
Open the doors to a gutted interior that just screams race car. Basically, inside the car is a full roll cage and Status racing bucket seats complete with safety harnesses. Not a whole lot more can be found car besides the obvious necessities. Even the door panels are missing to save every ounce of weight.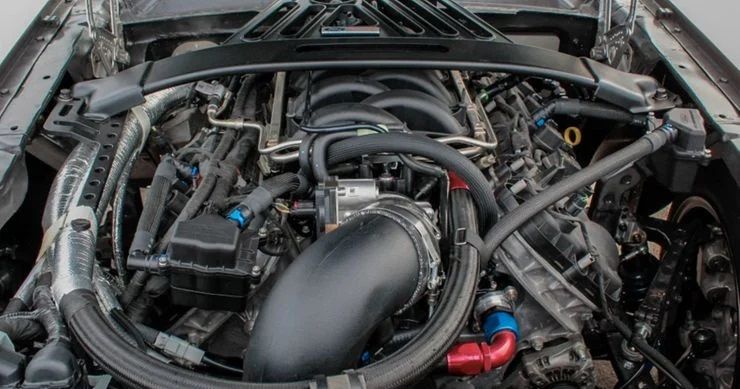 While this custom classic Mustang may not win any show trophies, it is certainly ready to throw down on the autocross course and will likely turn every head while doing so.
Source: Ford Authority