Crowd-killing jokes aside, this modified Mustang looks like an impressive build.
---
The 2021 model year will have just about anything car lovers could want with the revived Mustang Mach 1 and the Ram 1500 TRX off-road truck heading to dealers later this year. If you're looking for something that combines attributes of both of these performance vehicles, then you'll want to check out this modified 1983 Ford Mustang.
While it's getting pretty common to see the off-road "safari" treatment added to classic cars like the Porsche 911, this build has a truly unique look. Rather than just jacking up the suspension and adding big tires, this car has wider and taller front fenders that show off a Ford Raptor-like appearance. This '83 Mustang has been given the headlights from a newer (1987-93) front-end treatment, and speaking of lights, this off-roader features an LED light bar up front and a old-school KC light bar on the roof.
Sadly, the details of this Mustang are extremely limited with no mention of engine, transmission or suspension are used, but obvious upgrades include a serious front end skid plate and beefy, five-log axles. While there's no mention of a roll bar inside, this Baja-ready Fox Body does have five-point racing harnesses. And even though this 1983 Ford Mustang is ready to tackle off-road driving, the seller has it registered for street-legal driving.
The Southern California seller indicates that this 1983 Ford Mustang off-roader is being sold with two sets of tires – Firestone mud terrain tires and a set of paddle tires for sand – with both mounted on bead lock wheels. The current asking price is at $35,000 on Facebook Marketplace, which is considerably more than the C5 Corvette buggy that recently sold for $24,000.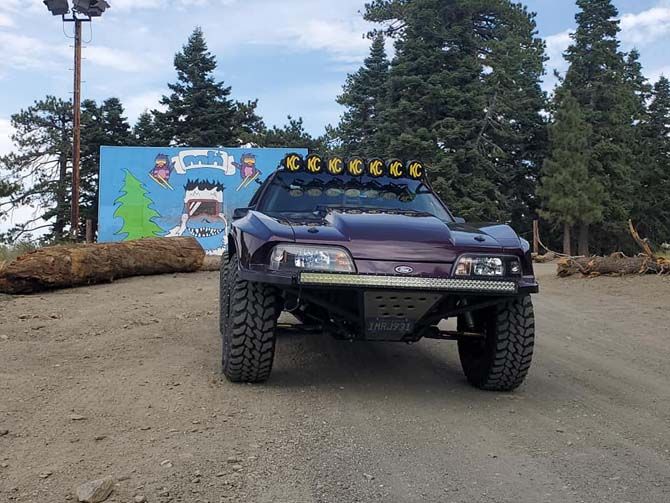 Source: Facebook Marketplace