An unfortunate accident resulted in this rare Japanese sports car becoming a one-off custom creation.
---
We hear stories all the time of rare cars being crashed or unceremoniously destroyed, but rarely do we find out what fate has in store for these cars. In the case of this ultra-rare 1996 Mitsubishi 3000GT VR-4 Spyder, a devastating collision (while parked) resulted in it being transformed into a custom car that is truly one of a kind.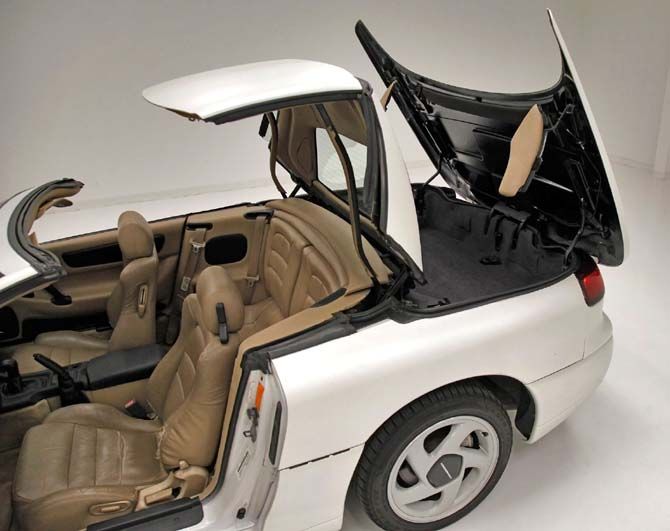 What you see here is a Mitsubishi 3000GT Spyder  that has been customized to look like a Dodge Stealth; the 3000GT and Stealth were Japanese-made sister cars under Chrysler and Mitsubishi's Diamond-Star joint venture. According to the listing, this Mitsubishi had been parked in a driveway when it was hit and totaled. As rare as these Spyders are, we're glad the owner chose to create a custom build rather than sending this Japanese sports car off to the junkyard.
In a partnership between Mitsubishi and ASC, the 3000GT coupe was assembled in Japan and then shipped to the U.S. where it was transformed into a convertible with an easy-to-use retractable hardtop making it the first such convertible that had been offered the U.S. since the 1959 Ford Fairlane Sunliner. In total, just 1,034 Spyders were made over the Spyder's two model years (1995 and 1996), and the twin-turbo models are even rare with only 84 examples made in 1996; of those 84, just 21 were painted in white.
Of course, a Dodge Stealth convertible was never made, and that's where this custom creation comes into play. Rather than scrapping this rare-but-wrecked Mitsubishi, it was given a complete rebody to look like a Dodge Stealth. The convertible top, hood, rear decklid and doors appear to be carried over from the 3000GT Spyder, but everything else is what you'll find on a Stealth including the body cladding, wheels and bumpers. Even the Dodge Stealth airbag was added to the interior. This car was done up to look like the Dodge Stealth R/T twin turbo, which is a counterpart to the 3000GT VR-4 this car started its life as. These sports cars featured a 320-horsepower DOHC V6 under the hood, a six-speed manual transmission and all-wheel drive.
As is the case with many custom cars, this Dodge Stealth R/T Twin Turbo Convertible (née Mitsubishi 3000GT Spyder VR-4 Spyder) comes with a reconstructed title due to its accident and subsequent rebody, and as such, it's being listed for sale through Classic Auto Mall for $13,900. You can click HERE to make an offer on this custom Mitsubishi, which is perhaps just a quick restoration away from being a show car.