How can the ultimate muscle car get any better?
---
There's no denying that the Chevrolet Chevelle is the ultimate muscle car, but to car designer Chip Foose, one thing always bugged him – the bumpers. In a recent series of videos, we've already seen Foose commit automotive blasphemy by giving his take on iconic classics such as the Ford Bronco and Jaguar E-Type, but he's also shown that cars like the C5 Corvette and AMC Pacer had a little room for improvement. Where does the legendary 1970 Chevrolet Chevelle fit into this? Keep reading to find out.
Ok, breathe.
Unlike the Bronco and E-Type, Foose doesn't really mess with the Chevelle's basic design. It's cool watching him give the car a custom look in what he calls a "cartoony type of sketch," but what he really wants to change about the design is just the rear bumper. Chevrolet updated the Chevelle for 1970 giving it a more squared-off front end and a redesigned rear end that used rectangular taillights mounted in the rear bumper. A year later, Chevy tweaked the design again with only two headlights up front instead of four and four taillights in the rear instead of two.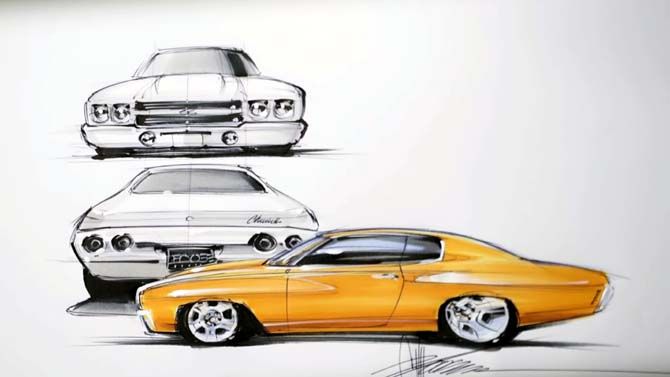 Foose's idea is to combine the quad headlights of the 1970 Chevelle with the quad taillights of the 1971 Chevelle, which he points out could probably be accomplished easily in real life by just swapping out the rear bumper. The extra rear lights add balance in the Chevelle's design, and Foose also modified the front bumper of the Chevelle to give it round turn signals positioned under the grille similar to the 1969 Camaro. To balance this revised front bumper, it would have looked killer for the rear end to get centrally mounted exhaust outlets integrated into the bumper.
Overall, we like what Foose did with the 1970 Chevrolet Chevelle. What do you think?