Aww, your Jeep's LED light bar is so cute!
---
Born out of military necessity, the Hummer H1 became an icon of off-roading opulence in the '90s, and as these rough and rugged SUVs get more affordable, expect to see more custom versions like this 2000 Hummer H1 2000 Hummer H1. Ready to take on any terrain day or night, this bad boy is up for sale through Motorgroup Auto Gallery.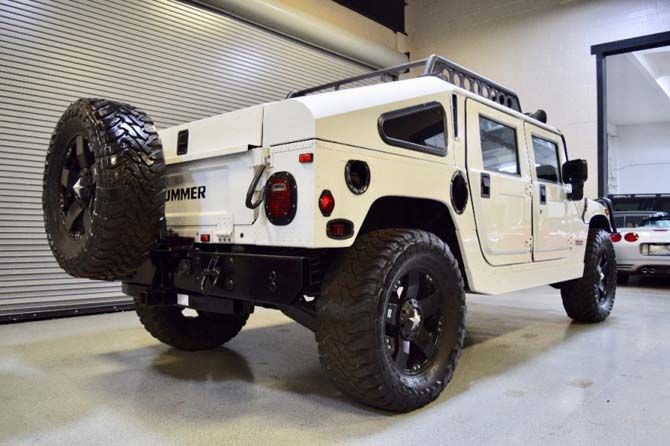 This Hummer is the four-door truck version of the H1, and it has the military look thanks to a slantback bed cover that is constructed from aluminum. That style gets even better with a roof rack, push bumper and a light bar with 15 (!) high-quality PIAA round lights that are sure help illuminate any trail any time. For maximum off-road capability, this Hummer rides on 38x13.50-inch tires with 20-inch wheels, and the factory central tire inflation system is still operational.
From the outside, the black-and-white color scheme gives this H1 a cool look, while the custom two-tone black-and-tan leather interior provides luxurious seating for five people. This rugged truck has had just two owners since it was brand new, and it shows extremely well inside and out.
Lurking behind that menacing push bumper is a 6.5-liter turbodiesel V8 that offers up plenty of low-end torque to get this beast through and over any obstacle you can find. With just under 90,000 miles showing on the odometer, this beast has plenty of life left in it, and it's ready to hit the trails or car shows.
Contact Motorgroup Auto Gallery has this custom H1 Slantback listed for $79,995, so be sure to contact them for more information on this legendary off-roader or any of the other cool and unique vehicles in their inventory.