And it wears that iconic Gulf livery!
---
Back in the 1960s, a rivalry between Ford Motor Company and Ferrari was in full swing. After Ferrari completely dominated the 24 Hours of Le Mans, Henry Ford II decided that Ford would join the competition. With a determination to defeat Ferrari, a Ford racing team was established. Soon after, the late Carroll Shelby joined the efforts, and it was Shelby's decision to hire driver Ken Miles for the job. Shelby and Miles worked exceptionally well together, and the team went on to build a car that they believed could take down rival Ferrari  - the Ford GT40. The new Ford GT40 proved victorious against the Italian rival with Ken Miles behind the wheel, as the American automaker went on to win the 24 Hours of Le Mans in 1966. Fast Lane Classic Cars is excited to offer the opportunity to own a 2015 Superlite GT that sports the iconic Gulf livery and pays homage to the 1966 winning car.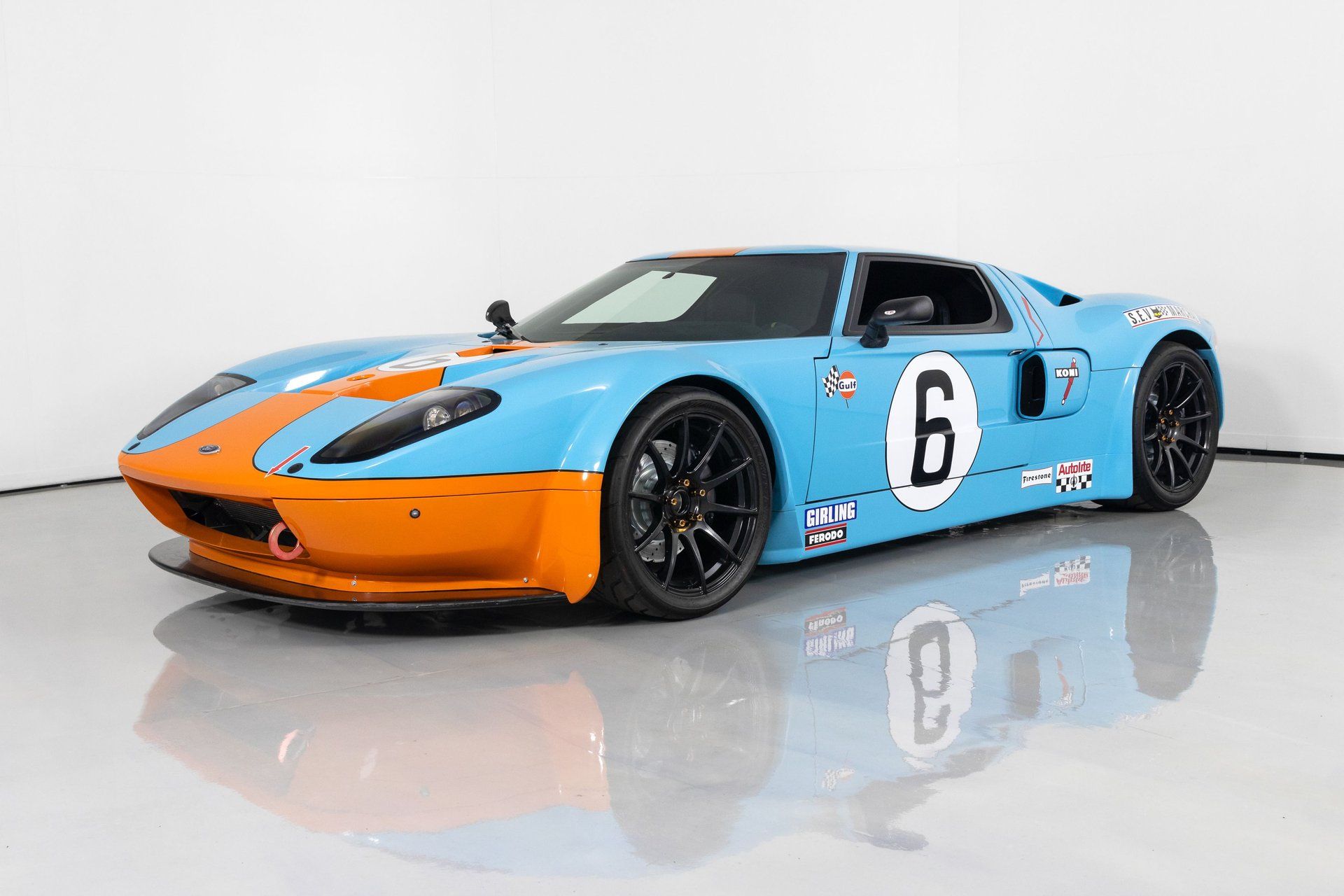 In 2005, the Ford GT was introduced, a car based off the iconic Ford GT40. This time, the car wasn't built with intentions to race or take down any outstanding rivals. However, people saw potential in the car, and some of the examples were turned into competitive race cars. A husband-wife team, Dave and Andrea Robertson, got their hands on two Ford GTs to run in the American Le Mans Series (ALMS) in the GT2 class. The cars were under constant development, and these Ford GTs proved worthy as they took home pole positions at Petit Le Mans. This small racing team decided that they would knock off an item off their bucket list which was to race at actual Le Mans. In 2011, the Robertson Racing team was accepted at Le Mans. Despite not having the financial means, speed, and sponsorships behind them like the other racers, they did have persistence and reliability on their side. Even more, this was the first time an all-Ford car had seen the track since the GT40 claimed its win. Amazingly, the Robertson team nabbed a podium finish in third place at their only Le Mans race.
This story has everything to do with the car you see here, the Superlite GT-R. The "R" in the name stands for Robertson. The Ford GT they raced at Le Mans was used to create close replicas of their winning car. Based off the winning car's body and the Championship-winning aluminum semi-monocoque chassis design, these replicas could be powered by any popular V8 configuration to turn your car into a track beast and for just a portion of the price to obtain an original car.
Completely race-ready, this Superlite GT-R is ready to take on the competition. The exterior even wears iconic Gulf livery that pays homage to the winning 1966 car. Sitting in the gold heat-wrapped engine bay is a Ford Road Racing 5.0-liter Coyote V8 built specifically for the car, and it was dyno tuned by Comp Cams in Memphis, Tennessee. Sitting on a TIG-welded aluminum monocoque chassis, handling is provided by a QA1 dual-adjustable coil-over suspension with dampeners along with a front air lift system. Stopping power is provided by Brembo brakes complete with cross-drilled and slotted rotors on all four corners. Custom ceramic-coated headers send spent gases out the exhaust and provide a mean exhaust note.
Inside the cockpit are Sparco carbon fiber Ford GT bucket seats equipped with RJS racing belts for safety. Housed in the dashboard are Speed Hut Ford GT gauges with a center-mounted tachometer, and in front of the driver is a removable Alcantara steering wheel. Even more, this GT-R features a Porsche Skeleton billet shifter assembly with reverse lockout along with a fully adjustable Tilton pedal assembly.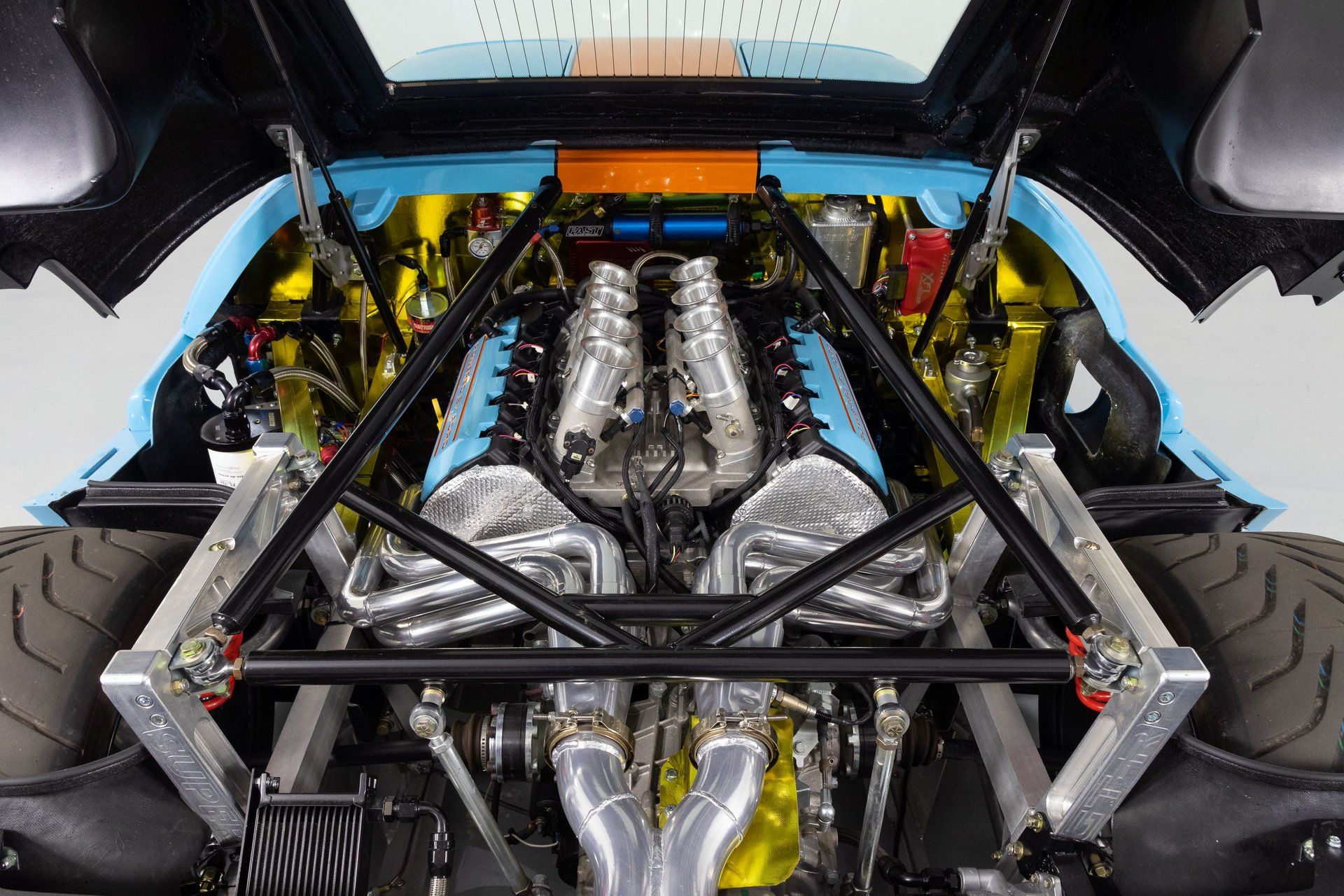 If interested in this amazing and race-ready 2015 Superlite GT-R, contact Fast Lane Classic Cars today. This beauty is listed for $189,995, but feel free to submit an offer they can't refuse. Who wouldn't want to wake up knowing that this beast is awaiting to offer thrills on the racetrack?