Traditionalists beware: A seven-foot-wide, naturally-aspirated modified American muscle car that doubles as a powerful, rolling piece of artwork.
---
The beautiful thing about building a car is that you have the freedom to do whatever you want. Of course, building a muscle car that doesn't follow the norm is sure to leave traditionalists with sweaty palms and a furrowed brow. Perhaps, that's when you know you're doing something right. That is sure to be the case here with Riley Stair's seven-foot-wide 1970 Pontiac Trans Am that doubles as a piece of artwork as well as a track-ripping dominator.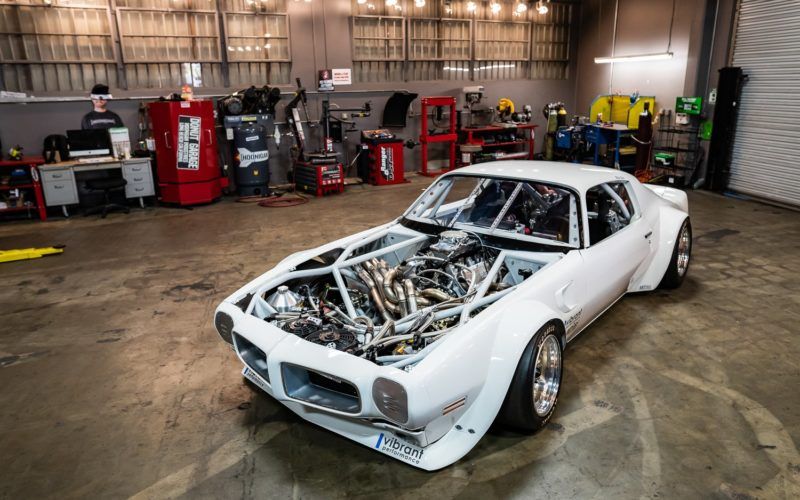 Sitting both wide and low, this highly modified '70 Pontiac Trans Am was seen flaunting at the SEMA show in 2018 and was easily one of the most eye-catching builds on the property. That is an incredible feat considering that SEMA plays home to some of the world's most insane car builds. Even better, owner Riley Stair built and fabricated the car himself just outside of his parent's garage bay.
The width of this '70 Trans Am measures 7-feet-wide, and this track monster has a redline of 700-horsepower at 10,000-rpm. Even more impressive is that this wild motor complete with captivating headers is completely naturally aspirated. There are no power-adders such as a blower, turbochargers, or nitrous to help launch this beast into motion, just a high-compression engine with a goal of 1,000-horsepower.
So, for the purists that may have trouble appreciating a wide-body 1970 Pontiac Trans Am muscle car, just know that this car was built by a young man outside of his parent's garage. As we struggle to get more and more of the younger crowd into our hobby to keep it growing, everyone can appreciate the amount of work and ingenuity that went into creating this insane muscle car build that doubles as a rolling and powerful work of art inside and out.
Source: Classic218