This was the only year for the square-faced ZR-1.
---
One of the coolest sports cars to come from the 1990s is the C4 Corvette ZR-1, and these high-powered 'Vettes continue to be popular in the collector car market. This lightly modded, low-mileage 1990 Chevrolet Corvette ZR-1 will be up for grabs through Premier Auction Group's upcoming June 6 online auction.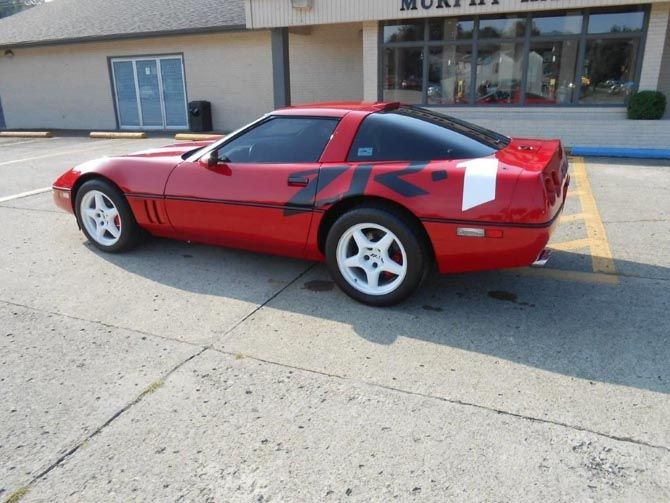 From the factory, the ZR-1 was a relatively low-key high-performance car as it took a sharp eye to identify one from a standard Corvette, but that definitely isn't the case with this first-year ZR-1. Aside from the obvious Bright Red paint job and white five-spoke wheels, this Corvette is also sporting "ZR-1" stickers across the hood and rear fenders. Not that the ZR-1 needed any more performance, but this car adds Corsa exhaust and Wilwood brakes with bright red calipers. This ZR-1 definitely won't be confused for one of the "lesser" Corvette models. In addition to its rarity and unique styling, this 1990 Chevrolet Corvette ZR-1 is also special since it has just 40,000 miles on the odometer.
Produced from the 1990 through 1995 model years, the Corvette ZR-1 was known for its dominating performance capabilities. Some of this came from the more powerful 5.7-liter, 32-valve LT5 V8 that was tuned to produce 375 horsepower – a significant increase over the standard Corvette with the 250-horsepower L98 V8. In terms of styling, the ZR-1 has subtle yet distinctive styling differences compared to the regular Corvette. This includes unique body work from the A-pillars back, which was all required to accommodate an extra three inches of rear track width. The doors, fenders and rear fascia were unique to the ZR-1, and the 1990 model year was the only year that combined this rounded rear end with the C4 Corvette's squared-off front end. Starting in 1992, all Corvettes received a rounder front end and a similar rear treatment as the ZR-1.
The C4 ZR-1s are getting harder to come by in clean, unmodified condition, and while this car is lightly modified, it's still an incredibly well-preserved example that should be an extremely popular car at this weekend's auction. If you want a shot at this well-preserved 1990 ZR-1, be sure you're registered to bid.