This low-mileage old-school Caddy is a stunning smooth cruiser.
---
With its long body complete with sleek lines, the 1966 Cadillac Deville convertible is a sight to behold. Its name "Deville" is a French derivative of de la ville or de ville that translates to "of the town". Coupe de ville, or town car, is the body style of a car that was produced from 1908 to 1939 that has an external driver's position but features an enclosed space for passengers. This beautiful and low-mileage '66 Cadillac Deville was a barn find according to the description, and it is up for bids through Awesome Joe's Auctions. This virtual auction ends in 3 days.
Shining brightly in a burgundy hue, it's hard to believe that this old-school Caddy was saved from spending the rest of its days in a dusty old barn. Protecting the black interior is a beautiful contrasting power white top. This classic is equipped with Twilight Sentinel headlights that sense the outside light automatically depending on lighting conditions. Adding to its classic style are Bias Ply Whitewall tires.
Powering this beauty is a 429-cubic-inch V8 engine that generates 340-brake-horsepower that is shifted down via a 3-speed automatic Turbo Hydra-Matic transmission. Even better, the car only has 43,882 miles as stated on the title which is enough to know that the car has enjoyed the road from time to time but still incredibly low miles for 54-year-old car. Thanks to power brakes, this car is easily brought to a halt.
As mentioned above, the car features a stunning black leather interior with plenty of room to fit your loved ones. More interior features include an AM/FM radio with a power antenna, power seat, air conditioning, power steering, and power windows.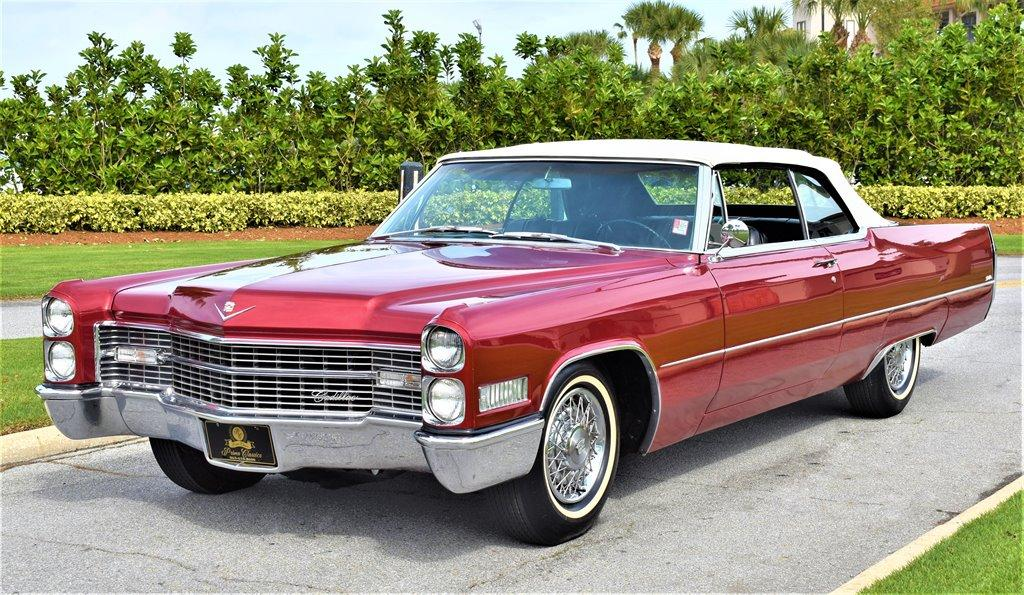 If this stunning 1966 Cadillac Deville convertible would look right at home in your garage, make sure to check out the listing by Awesome Joe's Auctions and place your bid. This classic Caddy will make a beautiful cruiser for its next owner.
More Car News Here...